After my last trip in Feb to try and catch grayling where despite the awful conditions I actually caught a small 'lady', I was itching to have another go. With the weather a lot better and the end of the river season approaching, I booked another day off and arranged another trip with 'Scotty's Guided Grayling Tours'. This time there was another musketeer in the shape of Scott's dad Roger, we all met at 9:30 before heading to the Silk Mills stretch which looked a whole lot better than last time!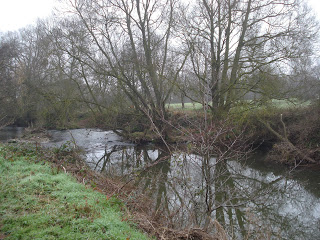 The Silk Mills stretch wasn't orange this time!
As last time we decided on a mobile approach, with just one rod and taking it in turns, we started off in the same swim as last time and flicking a stick float out to the middle, bites came quickly and we caught lots of small trout and a couple of dace but no grayling so we moved on down the river to the next likely looking spot. The next swim looked really fishy and Scotty had a cracking dace and a nice chub of around a pound and a half.
Scott with his chub
A couple of fish were lost before we were on the move again, the next swim was lovely and I missed a few bites before getting the first 'lady' but as she was only small at about 3oz, I was hoping for better things to come. Scotty then had two on the trot with the biggest about 12oz before Roger had a go and he had a brace of a similar size as well.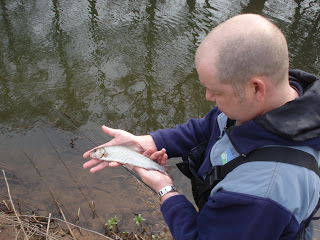 Scott with one of his ladies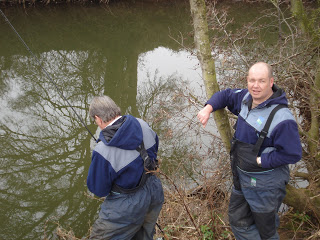 Two of the three musketeers (Scott and Roger)
I had another go and caught a beautiful little grayling, again about 12oz, before Roger had a small spottie and we decided to stop for lunch before heading for the fast stretch of the Tone for the afternoon.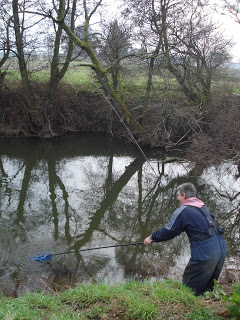 Me landing my grayling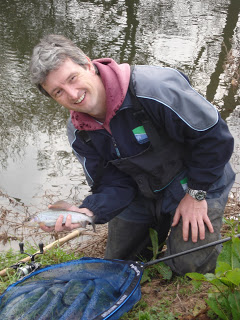 Another lovely little 'lady'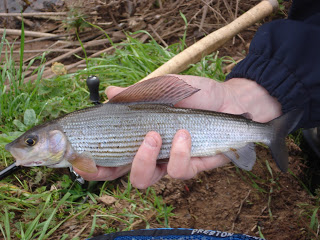 Isn't she lovely?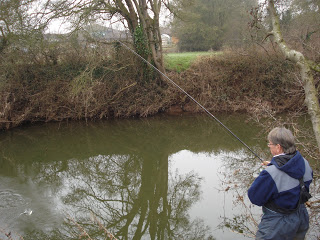 Roger about to swing a small spottie
After a brief stop at Tescos for some sarnies, it was off to the fast stretch which I'd never fished before. Matches are being won here with over 30lb of chub at the moment so hopefully we'd get a few of them as well. The first swim saw us catch a succession of minnows before Scott dropped off a nice grayling swinging it in, I didn't fare much better when I lost two in two chucks as they twisted and turned in the fast flow. Roger had a nice grayling along with a chublet and a dace and a couple of small salmon parr. Scott had a chublet before we moved on again.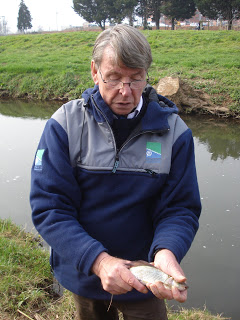 Rog with another grayling
Our next stop was a swim that produces a lot of chub in matches and Scott was the first to catch here but it turned out to be a grayling which was followed in by a pike! He then had a nice chub around the pound mark before I had a go and had one of a similar size, Roger had one as well which was grabbed by the pike on the way in but thankfully let go.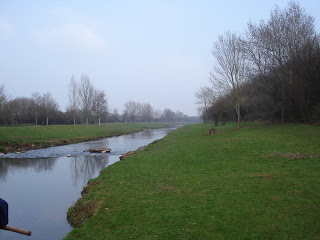 The fast stretch
Our last swim was leading up to a small stone weir and Scott and Roger both caught chub quite quickly before I had another grayling just before the float went over the weir! While we were there a young lad came down and tried crossing the river by the weir, he got up to his waist before turning back, and he was only wearing jeans and trainers!, strange lot these Taunton youngsters! I finished with a small trout before we decided to call it day.
Another cracking day (definitely better than being at work!) and we caught loads of fish including 9 grayling, chub, dace, trout, salmon parr and minnows. I'd even dug out my old Avon scales (remember them?) hoping I might catch a 1lb+ grayling to set a new pb but the biggest fish we'd had was Scotty's first chub, still it gives me an excuse to come back again next season!
Next up is Barney's Pairs Open on the Isle and Dillington on Sunday, the forecast is awful with strong winds and rain so wish me luck and be sure to come back to see how I got on.