I've been an angler for 32 years and realised the other day that I'd never caught a 'Lady of the stream', a grayling. I spoke to Scotty who said he used to catch loads on the Silk Mills stretch of the River Tone so I booked today off with the aim of catching one. Snow had been forecast and I woke early to find we'd had a light dusting in Chard, a quick text to Scott revealed it was just raining in Taunton. On my way over it was raining quite hard and after weeks of the rivers being low and clear I was hoping it wasn't going to go the other way with the river bank high and unfishable.
After a quick brew at Scotty's it was off to Morrisons for a hearty breakfast. When we finally got to the river I was disappointed to see it well up and a horrible orange colour. Scotty wasn't too hopeful that we'd catch anything but we decided to give it an hour. We decided on a mobile approach and just set up one rod with a stick float (something I haven't done for years), and would try in any likely spots.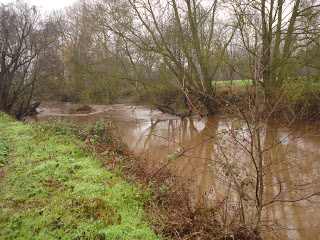 The river was a horrible orange colour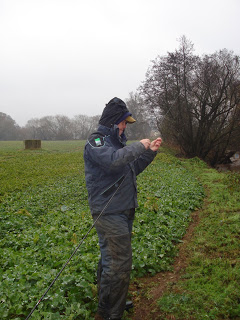 Scotty didn't think much of our chances!
The first swim we tried had some slacker water on the inside but after a couple of run throughs, I had managed to catch a stick before the float got stuck up a tree (not a great start!). The next swim looked quite nice although a little boily but I did have what looked like a bite on worm which I missed! We moved further on down and found a swim with a nice slack behind a bush. The rain had finally stopped and it seemed a degree or so warmer. Scotty missed a bite where one maggot was gone and the other was ragged out which at least meant something was feeding. Next chuck he had a decent bite and swung in a nice dace, not our target species but at least we'd avoided the blank.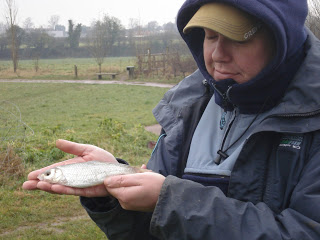 Scotty was first to catch with a nice dace
With Scott off the mark, it was my turn, after a few minutes the float slid away and a better fish was on, we thought it might be a trout but it actually turned out to be our target species, a lovely little 'Lady' of perhaps 10-12oz. Job done, mission accomplished!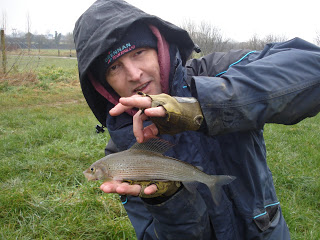 Another new species under my belt!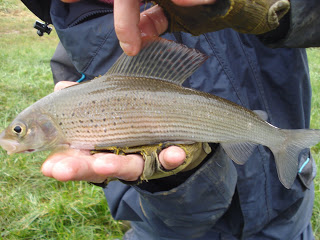 My first grayling
We stayed in this swim a little longer and I had a small trout and a dace and Scott had another dace before bites dried up and we moved on down stream. Our next stop was a nice run leading up to some branches in the water and it screamed fish. It took a while to get the first bite but then I had a nice chublet of 12oz. I really thought we'd get some more but it didn't happen and we were thinking of moving on again when Scott struck into a decent fish which turned out to be a clonking roach which had to be getting on for a pound.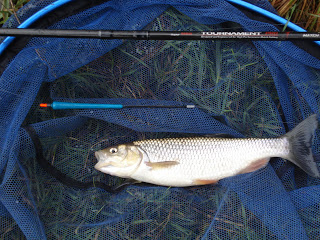 My chub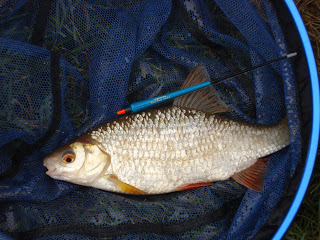 Scott's roach
No more action saw us heading back to the van with a brief stop off at the swim where I missed that bite earlier. I had another small trout and with the light fading that was enough for the day.
A really enjoyable day and a fantastic result after seeing the state of the river where neither of us had much faith we were going to catch anything, let alone a little lady. I think I'll certainly be back again when the conditions are more favourable. Now I've got the bug maybe I'll have a go for mullet next!
The next trip for me will be on the Isle on Sunday for the annual open, lets hope it's better than last week!