Badge number three arrived today, for my perch caught at Dillington recently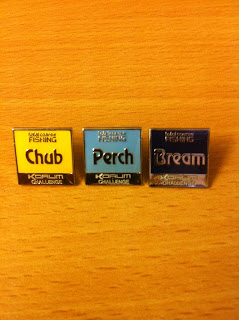 I'm still hopeful I can get tench before the weather turns colder, come to think of it I've actually had tench, roach, carp, eels, crucians and rudd in recent matches but just haven't weighed them or had photos taken! When the river fishing starts, I'll hopefully be able to add dace and maybe pike and possibly barbel if I can arrange a trip.
Also my Thailand trip approaches fast, I wonder if they do badges for siamese carp and redtail catfish!
Badges so far
Perch – 1lb 7oz – Dillington Pond
Bream – 2lb 13oz – Chard Reservoir
Chub – 3lb 5oz – River Isle