I was really looking forward to getting back to Summerhayes and hopefully a nice days skimmer fishing. But with 29 fishing, Pete had decided to use Sellicks and Lily and I was desperate to avoid Lily as a good weight of silvers on there is 10lb and that won't normally be enough to compete against Sellicks. I'd picked Janders up and when we got there, Brendon was there and he had been texting me all week to say he was going to whoop my ass again (what is it with him and my ass!). Pete announced the draw and I hung back hoping most of the pegs on Lily would go before I delved in. Brendon pulled out a peg on Lily and of course I didn't laugh (much!) but then poor Janders also ended up on there as well and blamed me for going on about it all the way there in the car!
I pulled out peg 13 on Sellicks (phew) and I have struggled on it the last time I was there but it has been producing some good silvers weights lately. I had the owner Pete on 12 and a silvers side bet was soon arranged. Rob Birch was my left hand neighbour. My peg has loads of lilies on the inside and a small island to the left, basically carp city but as always I would target the silvers and hopefully have a nice day. As me, Janders and Brendon weren't on the same lake we decided to have a £1 each winner takes all on overall weight.
I set up two Malman 0.6 gram Pencils and a dibber for fishing just off the island but didn't really expect to pick this rig up. The all in was shouted and I cupped in half a pot of micros at 10 metres and some 6mm pellets by the island before starting on my skimmer line with a 4mm expander on the hook. The rig settled and the float slid away and I was soon netting my first decent skimmer, great start and I hoped it would be the first of many. I had a few blades before catching my first carp but no more proper skimmers, which was a tad worrying. Nobody around me was catching and all of a sudden it looked like it was going to be hard. I did manage a little tench before the end of the first hour but stuck at it as I was sure the decent skimmers would move in at some stage.
The second hour was worse and apart from a few tiny skimmers and another carp, I was really struggling but then so were Rob, Pete and Ray Wickham. There were loads of carp moving about and I thought about setting up a shallow rig but I didn't have many 6mm pellets with me and kept thinking the skimmer line would have to improve. The swim was fizzing but I could still only catch small skims so decided to dump in a pot of micros and have a look by the island. I slipped on a banded pellet on my dibber rig and toss potted in a few of my meagre supply of 6mm's and had a few indications but the only fish I had was another tiny skimmer so chucked that rig up the bank.
I went back over the 10 metre line but if anything it was now worse and I couldn't buy a bite! With half the match gone, I was just going through the motions as nobody around me was catching apart from the odd carp. Mark Leahy was walking and said he'd caught quite a few skimmers up in the water so maybe that was why I couldn't catch? He also said Brendon was catching silvers quite well on Lily and had around 5lb which meant I was a long way behind him. I really should have set that shallow rig up for carp but felt I'd be too far behind others who had gone for carp from the start.
I was getting odd carp on soft pellet and so were Rob and Pete, Ray seemed to be catching carp quite well although he was losing a few too. With about an hour to go, Scotty turned up and while he was talking to Pete I hooked my first fish for ages and netted a cute little crucian but I was sure it wouldn't do me any good and was resigned to my worst day at Summerhayes for ages. Scotty sat behind me for a bit and and I missed several bites while he was there which he reckoned were liners. I did manage a couple more carp and a few more blades to end with 24 fish (7 carp, 1 decent skimmer, 1 tench, 1 crucian plus blades) and I knew I wouldn't be picking up today. The only reason I was going to weigh in was for the various side bets.
I packed up and met Janders and Brendon by the car, Janders had struggled and was still blaming me for him drawing on Lily, Brendon was admitting to 7lb of skimmers and 5 small carp and said I'd beaten him today which immediately made me suspicious as he tells so many porkies he can't even lie straight in bed! As the weigh in started it became apparent that it hadn't fished that well at all with several people not bothering the scales and Mark Leahy had chucked back 6-7lb of silvers. The early leader was Eric Fouracre with 45lb, which included 8lb 9oz of silvers from peg 8. Ray Wickham had 34lb 5oz from peg 11 and Pete had 27lb 2oz but crucially only had 1lb 10oz of silvers. My seven carp weighed 14lb 1oz and then my silvers weighed 4lb 5oz to give me a 18lb 6oz total (so I had a £1 to come from Pete at least), Brendon once again repeated he had nowhere near that! Rob Birch had 25lb 14oz but had suffered from a carp leaping back out of his keepnet (they really are good at that here!).
Jamie Parkhouse on peg 15 then went to the top of the leader board with 63lb 14oz, Alvin on the next peg had 24lb 1oz but his net included 12lb 4oz of skimmers and I couldn't see anyone beating that today. There was a 37lb 8oz from peg 19 and Glyn Wickham had 43lb next door, even he said he couldn't catch silvers and only had 2lb 13oz of them, pegs 21, 22 and 23 didn't weigh which just goes to show how tough it had been for most. Then we got to Lily and in the early pegs Steve Jackson was top weight with 35lb 11oz from peg 4, then Bruce Hunt had 47lb 1oz from peg 10 to go into second place. Janders had really struggled for 3lb 12oz, Bill on 12 had 28lb 14oz before we got to Billy Bullshitter (Brendon Ions) on peg 14, his 'small' carp weighed 12lb and I knew he'd pip me with his silvers, which to be fair he wasn't too far off his estimate of 7lb as he weighed 7lb 12oz to give him a 19lb 12oz total.
Billy won the £3 side bet but worse still, it looked like he'd frame in the silvers as Pete was paying three today and I knew the gloating would reach epic proportions and I don't think he'll have enough credit on his phone for all the texts I will be getting! He'd had a lot of small fish for a decent weight of silvers on Lily but had to resort to getting his canal rigs out and fishing pinkie and squatt for them! The side bet score is 4-3 to me and I need to beat him next time or he'll pull level and I'll have to buy ear plugs and turn my phone off!
Back at the results and with Eric Fouracre framing, Billy was actually second in the silvers behind Alvin and I made a point of telling him he was only second by default and then wished I hadn't said anything as I was called out in third and picked up £18 which keeps my good little run of brown envelopes going. I didn't get my pound off of Pete though so it will have to be double or quits next time.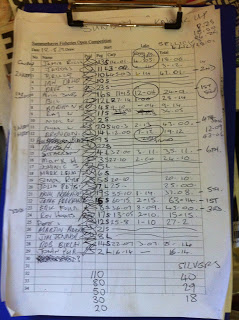 Today's weigh board, there were quite a few DNW's
It was really hard going today and the silvers just didn't want to know although I reckon Mark Leahy chucked back a framing silvers weight! I'm dying to get back on Longs but I think it'll be on Sellicks again in two weeks time.
1 – Jamie Parkhouse (Summerhayes) – 63lb 14oz
2 – Bruce Hunt (Summerhayes) – 47lb 1oz
3 – Eric Fouracre (Sedges) – 45lb
4 – Glyn Wickham (Summerhayes) – 43lb
5 – 37lb 8oz (sorry, couldn't read the name on the board!)
Silvers
1 – Alvin Jones (Alvin Jones Car Care) – 12lb 4oz
2 – Brendon Ions (Torquay Tarts & Bullshitters) – 7lb 12oz
3 – Jamie Rich (Against Men and Fish) – 4lb 5oz
Next Sunday I'm back at Dillington so come back to see how I get on, I must admit I'm not overly looking forward to it as fishing the whip does my head in but you just can't compete otherwise. I'm not knocking it as you get plenty of bites out there and there are some quality roach being caught, it's just not my cup of tea.