I saw Tackleuk were holding an open at Coking Farm and after talking to Scotty about the venue, I booked in. I'd never fished the venue before and Scott said you would need around 25 carp to win and that they average 3-4lb apiece. I was up at 6:30 which is unheard of for me before meeting Scotty in Ilminster and then picking up Roger in Ilchester. We made a quick pit stop at Mcdonalds in Sparkford for breakfast before making our way to the venue and I can heartily recommend the breakfast wrap!
When we got there some of the other anglers had already arrived including Bait Tech's Steve Tucker. Scotty walked round to peg the pond and fish could be seen moving everywhere, he said he'd be fishing shallow although the straight lead to the island also works well but as I didn't have any rods or reels with me, I would be fishing the pole all day! A lot of fish could be seen in peg 7 so I was quite pleased when I pulled out peg 8. You can drive to and park behind your pegs so I was soon setting up. I had my Garbolino with me again today and made sure I had two pole rollers with me as I expected to be fishing 13 metres all day.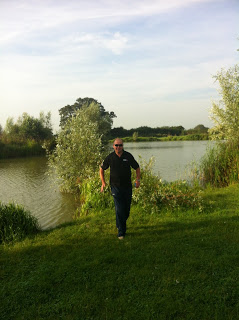 Scotty pegging out
I set up three dibbers all at different depths all with 0.14mm bottoms and B911's with a hair rigged band for fishing hard pellets. I only had 6mm pellets and Scott said that rudd and roach can sometimes be a problem so he let me have some 8mm pellets. The only anglers I could see were Scott and Roger and the chap in peg 7. Although it was a bright, sunny day there was quite a strong gusty wind which put off any chance of me going further than 13 metres.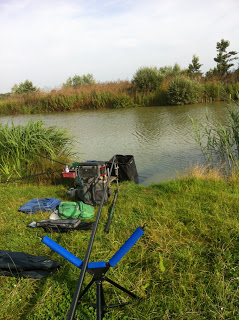 My peg for the day
Scotty blew for the start and most people started on the lead or method feeder, I went straight out with a rig set about three foot deep with a 6mm pellet and started feeding 6mm pellets over the top. I was getting indications straight away and started catching 6oz roach and a slightly better hybrid but I knew I wouldn't win anything with them so switched to 8mm pellets. My first proper fish was a foulhooked 2.5lb skimmer, I then had a carp but lost one next chuck which I suspect was foulhooked so I shallowed up a little bit. I could hear lots of splashing from the guy on my right and I could see Scotty and Roger getting odd fish too.
I was still getting lots of knocks from small fish so upped my feed and this combined with the bigger pellet seemed to work as I added another four big skimmers in the first hour and probably had getting on for 20lb, which was bang on target. I felt if I could catch five decent fish an hour I would do a good weight. The second hour was similar and I added four more carp and two more skimmers and there seemed to be a lot of fish out there. Scott was still catching well on the tip although from all the swearing I guessed Roger was losing a few on the next peg to him.
In the third hour, I had a funny half hour where I lost a carp and then next chuck hooked another which I had under control and was down to the top two when it made a beeline for the reeds on my right and was successful and I had to pull for a break and lost my hooklength. I landed the next carp but missed the second roller while shipping back and lifted the pole off the front roller because I didn't want the wind to blow it over. After unhooking the carp and firing out some feed I went to ship out but the butt section was rubbing against the leg and screw of the back roller, not wanting to scratch my shiny, nearly new pole I went to try and lift it away from the leg by the number four section and you can guess what happened next! Yep, there was a sickening crunch as the number four section snapped in half – what a doofus!
Luckily it was a fairly clean break and I was able to telescope it through and wrapped some gaffer tape around it and was soon back in action. I was still catching quite well and felt I was ahead of the guy on my left as he'd had a slow start. By the halfway mark I had 11 carp and 7 decent skimmers but was a long way behind Scotty who I heard say to Rog that he'd had 24 carp and probably already had 100lb! The fourth hour was a bit slower and I tried not feeding and slapping the rig in and would get odd fish and even had to put my third keepnet in. With two hours to go I felt there was a good chance I could break the 'ton' for the first time and beat my biggest match weight in the process.
The penultimate hour was similar although the wind was making presentation difficult and if I could have used a shorter rig I think I'd have caught a lot more. I got to 29 fish with an hour to go but then lost two fish in two put ins before reaching my target of 30 fish with 45 mins still left on the clock. Scotty was now catching on the pole and was looking good for yet another match win. I had two more carp and was on 32 fish with 10 mins left, then I hooked another and it was obviously a good fish, I was still playing it when the all out was called and eventually netted a 8lb mirror five minutes after the whistle. I ended with 24 carp, 9 good skimmers and a couple pounds of bits and really had no clue what weight I had although I hoped I'd done enough to break the 100lb mark.
Scotty had finished up with 42 carp and was admitting to around 160lb, I missed the first few pegs weighing in and when I caught up with the scales, Steve Tucker was leading with 107lb 8oz and as he'd had over thirty carp, all of a sudden I wasn't so sure I had the weight I thought I had! Scotty weighed a fantastic 165lb 6oz to go into the lead and the only person who could come close was Ashley who had around 35 carp but before we got to him it was my turn. My first carp net went 43lb 2oz and then my second carp net (which had a couple more in) weighed 55lb 2oz to put me on 98lb 4oz with my silver net to go. My silvers weighed a level 23lb to give me a total of 121lb 4oz and I'd smashed my previous best match weight by more than 40lb! I also went into second place but this only lasted until we got to Ash who weighed 152lb 14oz and pushed me down into third.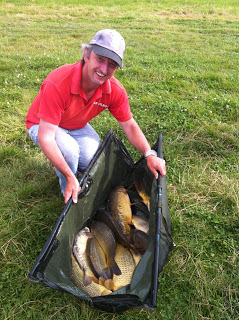 Me with part of my 121lb 4oz catch
I picked up £30 for third which will help pay for a new pole section and I was quite pleased with my first visit here. Talking to Ash afterwards he said he'd caught on a really shallow rig (which I hadn't tried) and he fed a lot more than I did, which is worth remembering for next time.
1 – Scott Russell (Tackleuk) – 165lb 6oz
2 – Ashley Tomkins (Tackleuk) – 152lb 14oz
3 – Jamie Rich (Against Men and Fish) – 121lb 4oz
4 – Steve Tucker (Bait Tech) – 107lb 8oz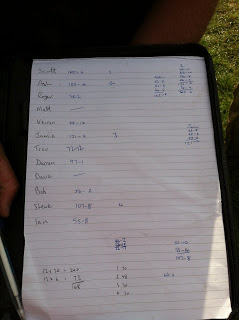 Todays weigh board, four 'ton' plus weights and good backing weights too
Tomorrow I'm back at Summerhayes for part two of my double header and originally it was going to be on Sellicks but apparently he's got 28 booked in and is going to use Lily too! So if I get pegged on Lily any chance of a nice days silvers fishing is out the window, maybe he'll stick us on Longs!