The pond has been fishing well in recent matches with 16-17lb weights needed to win and some quality roach featuring but that has been with plenty of colour in the water but that had dropped out today. I must admit I wasn't really looking forward to fishing the whip all match so decided to fish a 10 metre pole line as well. At the draw there were only six of us and I really fancied pegs 17 or 18 and luck was on my side this morning as I managed to pull out 18. I had Richy White next door (on 17) and a £1 side bet was soon organised.
I set up the usual crowquill whip rig and also a Drennan 0.5 gram Tipo for fishing the longer line. I mixed up some groundbait (50-50 Sensas Lake and Roach) and on the whistle cupped in three balls containing maggots, casters and hemp on the 10 metre line before starting on the 4 metre whip. I was feeding casters and hemp with caster on the hook and was getting bites straight away but missing loads. After an hour I had 20 roach including some better ones and was just ahead of Richy at this early stage. I could see Fieldy and Heardy opposite catching quite well and was sure they would already be ahead of me. I was also feeding down towards the reeds to my left and getting odd fish from there as well but was missing/bumping/dropping off way too many fish.
I got to about 40 fish after two hours and was already fed up with the whip so tried my longer line but there were so many small fish, the bait just wouldn't reach the bottom. After three fish I gave that up for a bad job and carried on getting odd roach, rudd and perch on the whip. From what I could see nobody was really bagging and I didn't think 17lb would win it today. With that in mind I decided to cup in some chopped worm at 10 metres and see if I could catch some eels which would boost my weight. I carried on getting the odd fish for the next half an hour before feeding another pot of chopped worm. I flicked the whip out while I changed my hooklength on the pole from 0.10 to 0.12mm and switched to a heavier elastic. I noticed I had a bite on the whip and struck into a 4oz eel so at least I knew there were some about!
With over half the match gone, I was still ahead of Richy who had around 40 fish to my 61 so thought I'd try my worm line. I shipped out with the head of a worm on and started getting bites from small perch and the odd better roach straight away, I was feeding casters quite heavily over the top so hopefully some would be getting down to the eels. Richy came up and said he was struggling a bit now and while he was with me I had my first eel of around 4oz from the chopped worm line. I was still getting quite a few roach and perch so cupped in some more worm and caster before going back on the whip for 30 minutes. The whip line had now slowed up and I just added a few more small roach before deciding to spend the last 45 minutes over the worm.
I'd just gone back out when I saw Fieldy playing something a bit more substantial and he netted a 1.5lb perch to put him in the driving seat. Then Richy shouted up that he'd just had a decent hybrid and he was now closing the gap between us. As I looked back my float slid away and I hooked something that felt a lot better and I was glad I'd upgraded my hooklength, I eventually netted a decent perch which was probably around the same size as Fieldy's and felt I was up around there. I was hopeful of getting another eel or two but only added a few small fish in the last 20 minutes. I finished with 90 fish and when I heard Fieldy say he'd had 89 I thought it might be close for second as Heardy had 156 fish and would probably win yet again.
The scales started on the far side and when they reached us, Heardy had weighed 11lb 5oz, I asked Fieldy what he'd weighed and he replied 12lb 7oz which took me by surprise but then he said he's actually had 189 fish! So that confirms it, all fishermen are compulsive liers (me included). Steve Parker had weighed 5lb 6oz and Rob had 6lb 7oz and then Richy weighed 5lb 11oz.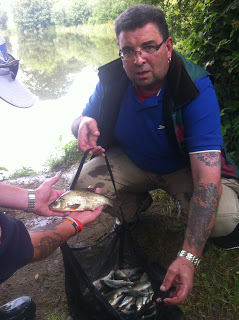 Richy with his 5lb 11oz
I had no clue what weight I had but I did know I hadn't beaten Fieldy or Heardy but had I done enough for third? Yes was the answer as my fish weighed 9lb 9oz and out of interest I weighed the perch which was 1lb 7oz and I'll enter it for Mission Impossible badge number three!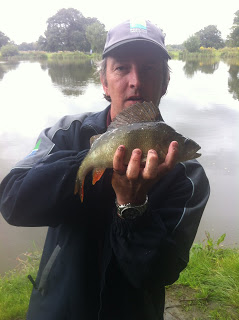 My 1lb 7oz perch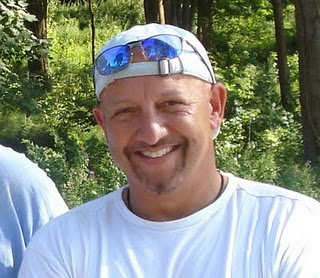 Fieldy won his second match on the trot
1 – Graham Field (Taunton) – 12lb 7oz
2 – Martin Heard (Tiverton) – 11lb 5oz
3 – Jamie Rich (Against Men and Fish) – 9lb 9oz
I picked up £15 for third and a pound off Richy but had bumped/missed enough fish to have won it but I'm sure the others had missed plenty of bites as well. I'm not a fan of whip fishing and I'm glad I've only got to fish a couple more matches here as it would just do my head in. I've said it before but if the club thinned out the small fish (which would do the river the world of good), it could be a cracking venue and the addition of some more skimmers wouldn't do it any harm either.
Anyway, next week I'm back at Summerhayes so pop back to see if I can keep this good run going and if I can get my revenge on Brendon and win my pound back!