As I've got the week off, I booked into the match on Sellicks today, Brendon was also fishing and had been texting me loads about how he was going to whoop my ass again (I'm starting to get a bit worried about his fixation with my ass!). The forecast wasn't great today with fairly strong winds and rain on the cards. There were fourteen fishing today which is pretty good for a midweeker. Pete announced the draw and Brendon pulled out peg 2 which he wasn't overly pleased with and to be fair it's not a great silvers peg, I said I quite fancied 19 or 21 and pulled out the latter and was well chuffed.
I had Ian Dawe on my right, nobody in 22 and Bruce was in 23 and said he'd be going for silvers, Roy Hughes (another silvers angler) was on 18. I set the usual 0.6 gram Malman pencils up and also a paste rig but with the wind, I never picked it up all day. With the wind I decided to fish down the middle at about 8.5 metres, where I could control the pole comfortably. For bait I just had Bait Tech 4mm expanders, micros and I also had some worm left from the weekend as a change of hookbait.
The all in was shouted and I cupped in half a pot of micros down the middle and went straight over it with a sort pellet. I had to wait 5 minutes for my first bite and was soon netting a 4oz skimmer, three more followed before I had a decent one and probably had 1.5lb in the first 30 mins and felt a good weight was on the cards. Then I've lost a good skimmer on the way in and next chuck lost a foulhooked carp and things started to go pear shaped. I was still getting a bite every put in but from small blades of about 1-2oz apiece and then I had my first vermin (carp).
The next hour only saw me catch blades and the odd carp, I even tried worm but just had tiny fish on that. I did manage two more proper skimmers to put me on 2.5lb and my catch rate needed to improve if I was to stand any chance. The third hour started the same and I felt I needed to do something so cupped in a full pot of micros at 8.5 metres before coming a section short and toss potting in some pellets there. Two more small blades from this line and I was soon back over my main line, I then had a decent 1lb+ skimmer to put me on about 3.5lb. Brendon turned up and said he was struggling and probably had 2.5lb and from what I could see around me, nobody was catching much in the way of silvers. Bruce had given up on the silvers and was now catching odd carp.
After Brendon left I had another skimmer plus blades, another carp and two more skims to put me on about 5lb of silvers at the halfway point. I reckoned 10lb would be a good weight today. Ian on the next peg was fishing a similar line to me and was getting odd skimmers and carp and I could see Roy netting odd fish as well. I would get a couple of decent skimmers before reverting to catching blades and the odd carp. In the fourth hour the ratio of carp to skimmers increased and I found myself playing carp for long periods although the pulla bungs helped but I did manage another couple of skimmers to put me on about 6lb of silvers with two hours to go. I thought if I could catch eight more proper skimmers it would give me my 10lb target.
The fifth hour was pretty much the same and I had more tiny skimmers, plus another couple of carp and a couple of skimmers to put me on about 7lb with an hour to go. I was missing quite a few bites which I put down to small fish and I tried not feeding until I caught another fish but it didn't really work. I got off to a good start in the last hour with two decent skimmers in two chucks to put me 8lb but then suffered a run of carp. I still felt I could get close to my target but the remaining 30 minutes only saw me put a few more small fish in the net. I finished with 52 fish which included 10 carp and normally 20 silvers will get you 10lb but today I'd had a lot of small fish and thought my 8lb estimate wouldn't be too far off.
Brendon shouted across and said he'd had about 8lb, so it could be close today for the £1 side bet. Bruce had ended up with 23 carp and Martin had 21 so the overall winner would come from one of those two today. After some early showers it actually turned out quite nice and even the wind died off for the latter part of the match. I packed up and went round to watch the weigh in which would start with Brendon, Adie Bishop said Brendon had around 4lb of silvers and even Brendon started to say he thought he had about 6lb instead of his initial 8lb estimate which I thought a little odd. I started to think he'd done better than he was admitting and he was woefully under estimating his weight.
Pete arrived with the scales and Brendon had a couple of carp for 5lb 8oz and when he pulled his silvers net out, it was obvious he'd done well. Pete called out a level 16lb to give him 21lb 8oz total. Now I know I'm crap at estimating weights but he was 200% out with his guess!!!!! I gave him my pound as I knew I didn't have that and was hoping there wouldn't be any other decent silvers nets. He'd done well off peg 2 (which isn't a known silvers peg), especially after struggling early on but I knew I'd now have to suffer loads of gloating from him for weeks to come!
Adie Bishop had 35lb 9oz on the next peg to set the bar before a chap called Martin (not Heardy) on peg 6 took over the lead with 38lb 2oz before Heardy stormed to the top of the leader board with 56lb 7oz from peg 13. Steve Jackson moved into second place with 41lb 13oz from peg 15 before Roy Hughes had 11lb 4oz of skimmers to go into second place in the silvers and I thought I'd miss out today. Ian next to me had 7lb 12oz of skimmers and 17lb 12oz of carp before it was my turn. My ten carp weighed 19lb 10oz before my silvers went 14lb 3oz which was more than I thought (for a change!) and put me into second place but it was agonisingly one skimmer short of Brendon's weight. Then Bruce came close but his 23 carp plus a few bits weighed 49lb 8oz to put him in second place overall.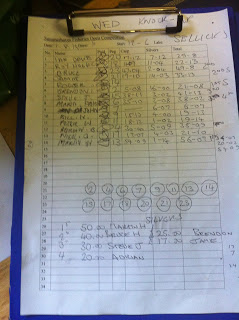 Today's weigh board
1 – Martin Heard (Tiverton) – 56lb 7oz
2 – Bruce Hunt (Tiverton) – 49lb 8oz
3 – Steve Jackson (Summerhayes) – 41lb 13oz
4 – Martin H (Summerhayes) – 38lb 2oz
Silvers
1 – Brendon Ions (Torquay Tarts) – 16lb
2 – Jamie Rich (Against Men and Fish) – 14lb 3oz
So I picked up £17 for the silvers second and had a really enjoyable days fishing but had made a few schoolboy errors today. With the tow on the pond I should have tried laying some line on the bottom with worm and I also should have dotted my float down to a pimple as I had quite a few tentative bites that didn't develop. Oh well, next time I will do better!
On Sunday I'm at Dillington but I'm a bit out of touch there so come back to see how I get on.
P.S. it didn't take long for the gloating to start, I had a text from Brendon as soon as I got home saying how he was awesome today and that he was going to lay in bed naked with my pound tonight (I knew he was a strange lad that one!).