I was up early again and on my way, everybody at the draw was saying they didn't want to draw Lily lake as it would be won with a low weight and if anybody ties on points it goes to weight. Glyn Wickham and Brendon kept on that I would be on Lily and I was sincerely hoping that wouldn't be the case. Pete announced the draw and Glyn's face was a picture when he drew out peg 11 on Lily, then Brendon pulled out 7 on Lily and I thought it might be safe to go into the draw bucket. I opened my hand and I was only bloody on Lily too!, serves me right for laughing at those two I suppose. I was on peg 12, which at least put me in an open water peg away from the carp friendly lilies.
I had Glyn on the next peg to my right and a chap called Lewis was the next angler along on my left, on peg 14. The Wickhams had been practising the pond and said that 10lb would be a good weight but carp would be a real problem. I set up a 0.6 gram Malman pencil to fish in open water with pellet and would also use it for fishing over my chopped worm at 5 metres. I also set up a Colmic Jolly with a size 18 808 to 0.10mm to fish at two sections where I would feed casters. I thought if I could just keep putting something in the net I would be doing okay.
The all in was sounded and I fed some micros at 11.5 metres and some choppie at 5 metres before flicking a few casters in to my right. I started on the long line and soon had a tiny skimmer, followed by a 2oz rudd. Glyn had a better skimmer of 6oz or so and then I had one of a similar size to stay in touch and was quite pleased with my steady start. I then hooked and lost my first carp so came a section short and started toss potting in micros there. Glyn had another couple of 6oz skimmers and was pulling away from me. Nobody else seemed to doing much although Lewis and Roy opposite were getting odd fish. Pete Wakeling on peg 2 was already catching carp although he kept telling us he was catching crucians and tench! After an hour I only had half a dozen small fish plus the one decent skim.
I had a quick go with caster on my short line but never had a touch, next stop was the chopped worm line, I waited ages for a bite but then had a decent skimmer followed by a couple of blades before the carp moved in. After a couple of carp I would switch lines but they were turning up everywhere and I was hardly feeding anything. Glyn was still getting the odd skimmer amongst the carp but I felt I was doing okay in the section. Then Lewis had a big eel and then another and was now probably winning the section. In desperation I fed another line at 5 metres but this one with micros. I started catching blades and then had a couple more skimmers and was at least catching when most people seemed to be struggling.
I had a good spell before those poxy carp showed up here as well, Glyn then caught a good eel and it was nip and tuck between him and Lewis for the section. I could see Brendon was getting odd skimmers and I started to worry that he might push me down a place as well. Then Adie Bishop had a good eel and Pete latched into one as well and I didn't really know what to do. If I stuck it out on my worm line, all I could catch was carp and the same with my long line. I decided to stick it out on my 5 metre pellet line as I would get a run of blades before catching a carp. I did manage another 6oz skimmer before losing one at the net.
The amount of carp we were catching was getting daft, Brendon would be killing himself laughing as my white hydro stretched across the pond and then I'd look up and he'd be playing one too. At times there were four or five of us playing carp at the same time. Lewis added another eel and Glyn added some rudd up in the water plus another couple of bonus skims caught shallow and it really was too tight to call between them. I must admit I wasn't too upset when I heard the all out shouted and was even playing yet another carp at the time! I ended up with 45 fish (plus about 20 carp) and thought I probably had around 3-4lb although it's difficult to tell with those blades as they don't weigh bugger all. I did know I'd blown out badly and the best I could hope for was third in the section and I wasn't confident of that!
The weigh in started on Sellicks and it would be interesting as the other two section winners from yesterday (Steve Jackson and Alvin Jones) were in the same section. In fact Alvin won the section and was top weight on the day with a brilliant 22lb 8oz of mainly skimmers and would win the festival as nobody else could post a two point score. Jacko also blew out and ended with five points on the day to give him a six point total. The next section was won by a guy called Dominic with 17lb 8oz from peg 13 and as he'd scored two points yesterday, he'd be there or thereabouts. Roger on peg 17 had 14lb 7oz and two points to go with the two he scored yesterday. I knew that even if I got three points today to give me four I would lose out on weight to the anglers on Sellicks with the same points.
The scales reached our section and Lewis the eel man weighed 8lb 14oz and I thought Glyn might have a bit more than that. My fish went 5lb 5oz before Glyn weighed 10lb 7oz to win the section and give him three points overall, Adie Bishop had 3lb 11oz before Brendon beat me by 10oz and I handed him his pound back. We had a fiver on the overall position so he needed one or both of the remaining anglers to finish between him and me. Roy weighed 4lb 1oz before Pete had 5lb 2oz so I'd beaten Brendon overall and had a fiver to come, which cheered me up a little bit. I was sure my total of five points wouldn't be enough to finish in the frame today.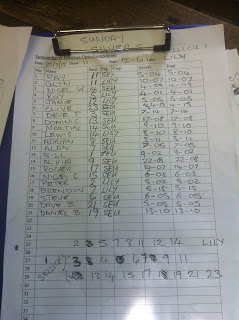 The weigh board for the second day
Back at the results and as expected Alvin won with a perfect two point score, followed by Dominic with three points who beat Glyn on weight, Roger was fourth with four points and then I was called out in fifth and picked up £40 so it wasn't quite the disaster I'd thought it was going to be.
Section winners today
Section 1 (Sellicks)
1 – Alvin Jones (Summerhayes) – 22lb 8oz
2 – Bill Hopping (Summerhayes) – 9lb 2oz
3 – Dave T (Summerhayes) – 7lb 14oz
Section 2 (Sellicks)
1 – Dominic (Summerhayes) – 17lb 8oz
2 – Roger (Summerhayes) – 14lb 7oz
3 – Daniel B (Summerhayes) – 13lb 10oz
Section 3 (Lily)
1 – Glyn Wickham (Summerhayes) – 10lb 7oz
2 – Lewis (Summerhayes) – 8lb 10oz
3 – Brendon Ions (Torquay) – 5lb 15oz
Overall festival results
1 – Alvin Jones – 2 pts
2 – Dominic – 3 pts (on weight)
3 – Glyn Wickham – 3 pts
4 – Roger – 4 pts
5 – Jamie Rich – 5 pts
A really enjoyable event and I hope Pete runs some more like it although next time can we be on Longs both days please! I'm back here on Wednesday so come back to see if I can have a better silvers day then.