I was so looking forward to this mini festival and was actually awake really early, I got to Summerhayes at 10:00 and the draw wasn't until 11:00! There were already quite a few 'stars' there, including the Wickhams, Nigel Garrett and Steve Jackson. Last match I had a crisis of faith and got Pete to order me a kilo of worm and two pints of casters. I still intended to fish my normal pellet approach but I wanted a back up in case I couldn't catch. Brendon had been texting me all week saying his victory would be sweet this weekend and wanted a £1 side bet each day with a fiver on the overall position after the two days, so I had an extra reason to try and do well. After paying my entry for the two days and paying for bait, Martin suggested a superpool of a fiver to make sure I had nothing left in my wallet, I just about had enough dosh to pay Brendon if I lost!
Pete announced the draw and I went in quite late, I pulled out peg 2 which can be okay but I have struggled in this area before. I was hoping to avoid having any of the worm head superstars in my section but luck wasn't on my side as I had Nigel Garrett on peg 38 with loads of room, Daniel B next to me on peg 1, Ray Wickham on peg 4, Pete on peg 5 and Glyn Wickham on peg 7 with Adie Bishop on peg 8. To do well in the festival it was imperative to get off to a good start with a section win the ultimate aim but a second in section would still give you a chance going into day two.
I set up two Malman 0.4 gram pencil floats, one with a spread bulk and two droppers and the other with a much more positive bulk. Both rigs had size 16 808's to 0.12mm bottoms and white hydro elastic through my top two's. For bait I had the usual micros which I had dampened down plus 4mm Bait Tech expanders for the hook plus my worm and caster. It was pretty windy so I plumbed up my main line down the track at 10 metres plus a line at 6 metres towards the empty peg on my left for the worm line. I had a quick chat with Glyn before it was time for the kick off. On the whistle I cupped in half a pot of micros at 10 metres and a full cup of chopped worm and caster on my shorter line.
I started with an expander on the hook over my pellet line and normally bites come quite quickly but I had to wait ages for a bite which of course I missed! I missed the next bite as well before finally connecting with a 2oz skimmer which I netted to be sure. I then had a little tench and a decent skimmer and things were ticking along quite nicely. But then I couldn't buy a bite and only added one more skimmer to finish with about 1.5lb after the first hour. It was already looking like being hard on our side as Nigel only had a couple of fish and Ray had three so it was all quite tight at this early stage. I fed my chopped worm line again and would leave it for at least three hours before trying it.
The second hour was rock hard and I only added one more skimmer to put me on about 2lb but that was still looking good in the section. I also had a couple of nuisance carp and hoped they wouldn't be too much of a problem. Going into the third hour, Nigel Wickham walked round and said he'd only had one skimmer although Alvin Jones was catching well but as he was in a different section I wasn't too worried. I fed some more chopped worm and thought I might have to try it earlier than expected. Both Nigel Garrett and Daniel were now fishing short trying to catch bits and pieces and although they were getting odd fish I wasn't too worried as it wasn't a fish a chuck.
I tried my chopped worm line with the more positive rig for 5 minutes but had no indications so went over my longer line with a piece of worm. I missed a couple of bites before catching another skimmer and thought perhaps I'd cracked it but then all I could catch was poxy carp again. I did have another good skimmer before the end of the third hour to put me on about 3lb with half the match gone. Everybody seemed to be latching into carp as they moved onto our skimmer lines and they were proving to be a real pain. From what I could see, Pete, Glyn and Adie were all struggling so I was still doing well in the section.
I had another skimmer on pellet at the start of hour four, plus a few small roach and was at least putting something in the net. I could see Ray bullying a carp but then proceeded to net a 3lb tench!, which put him firmly in the driving seat. Then next put in he added another smaller tench and he was pulling away from the chasing pack. I added a crucian and a skimmer but he replied with two fish of his own and he still had the buffer of those two tinca's. I had a purple patch where I had a good skimmer before losing a 'flier' and then had another and was up to around 5lb with two hours left. I tried the chopped worm line again but never had a bite on it and that was the last time I tried it.
I kept swapping between soft pellet and worm on my main line and would get odd small roach (and carp of course!) but I did manage another little crucian. Ray had slowed up somewhat with an hour and a half to go but worryingly Glyn seemed to be catching skimmers quite well now and I started to feel third in the section would be the best I could get and I'd be out of it for tomorrow. Then out of the blue I had two chunky crucians on worm and was slowly closing the gap on Ray.
The last hour was really good for me and I had another four or five crucians plus a couple of carp, all on pellet. I missed a bite with only a minute to go so quickly baited up with a soft pellet and didn't bother filling the toss pot, the float sank from view and another fish was on, the all out was sounded and I shouted 'fish on'. I played the fish with kid gloves as it didn't feel like a carp and it turned out to be a 10oz crucian which I safely netted. I ended with 28 fish plus about ten poxy carp but as I'd had a few small roach, I thought I had about 7-8lb. Glyn was admitting to 10lb and I was sure Ray had beaten me so third in the section was looking like a reality. Although I'd missed a few bites, I'd only lost one skimmer which I don't think would have made a lot of difference.
The first section saw most people record double figures and the top two in the section were Alvin Jones on peg 26 with 19lb 7oz and Roger on peg 32 had 15lb 8oz. The next section on had also fished quite well and Steve Jackson won this section and the match with 21lb 4oz from peg 11 and the runner up was Dominic in peg 17 with 18lb 9oz. The scales reached my section and Glyn had a bit more than he thought with 12lb 14oz, Ray came close with 12lb 8oz and I thought that would be that and was amazed when I plonked my fish on the scales and the needle settled on 15lb 2oz! I really thought I had about 8lb, certainly no more than 10lb and was well chuffed to record a section win.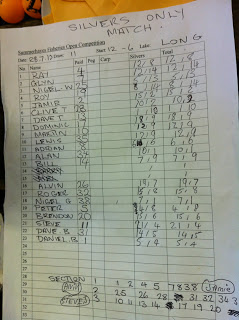 Todays weigh board
So Steve had a nice pick up with his section money and the superpool and him and Alvin won the blind pairs as well. I picked up £25 for the section win to top off a great first day.
Section 1
1 – Jamie Rich (Against Men and Fish) – 15lb 2oz
2 – Glyn Wickham (Summerhayes) – 12lb 14oz
3 – Ray Wickham (Summerhayes) – 12lb 8oz
Section 2
1 – Steve Jackson (Summerhayes) – 21lb 4oz
2 – Dominic (Summerhayes) – 18lb 9oz
3 – Brendon Ions (Torquay) – 15lb 6oz
Section 3
1 – Alvin Jones (Summerhayes) – 19lb 7oz
2 – Roger (Summerhayes) – 15lb 8oz
3 – Dave B (Summerhayes) – 14lb 5oz
So a good start for me, I just need to do well tomorrow now (peg 23 on Sellicks please!). Also Brendon did well today and beat me on weight but the side bet was on points so I have his pound for safekeeping until tomorrow at least. After the match Pete and his lovely wife laid on burgers and drinks which polished the day off nicely. I still think a perfect two point score will win and it might even come down to weight but three points might be enough to sneak in the overall frame. Come back to see how I get on tomorrow night.