I booked into Summerhayes today as it would be my last chance for a practice before the silvers festival next weekend. It also looked like summer had finally arrived with a weird orange thing in the sky above us. The match was on Sellicks and there was a decent turn out, I drew quite late and pulled out peg 4 which is a really good carp peg but I would be fishing for silvers today as carp will win nowt next week. The owner Pete was on peg 2 and it was also the golden peg but despite my best efforts he wouldn't have a side bet on silvers with me, can't think why!
With a nice short walk, I was soon set up with a Malman 0.6 gram pencil for down the track at 10 metres, I also set up a couple of dibbers in case I had to go across to the far bank at 14.5 metres. I also plumbed up a short line to give me somewhere else to go if my 10 metre line died. The whistle blew for the start and I cupped half a pot of micros on my 10 metre line and the same plus some corn on my shorter line. I started with a 4mm Bait Tech expander on the hook and was feeding micros through a small toss pot. First put in I had a bite and safely netted skimmer number one, next chuck I had another and was off to a flying start.
Along with the 4mm soft expanders I also had some I'd dyed red to give me a change of hookbait, I tried one early on but never had a bite on it! After the first hour I had eight decent skimmers and a couple of blades to put me on around 4lb and I thought 3lb an hour would be there or thereabouts so I was ahead of target at this early stage. Pete had a couple of carp and so did the chap on my left but nobody was really flying yet. Glyn Wickham was on peg 23 and I thought he'd be hard to beat today. Bruce Hunt was a few pegs up from me and going all out for bits and it would be interesting to see how he got on today.
Things slowed up a bit in hour two and I decided to play about with my feeding today if missed bites became a problem. If I missed a bite I wouldn't feed again until I caught another fish and this worked to some degree as I had a few more skimmers but lost two decent ones at the net and was up to 5.5lb and now behind my target! Hour three was better and I had some more decent skims plus bits and was now on 8lb at the halfway point. Pete was now catching well although he'd lost some lumps and snapped his elastic!
The fourth hour started really well and I had two skimmers quite quickly before I went back to waiting for bites, I also lost another skimmer but I was ticking along nicely but then my bites dried up and I only added one more skimmer to put me on 9.5lb with two hours to go. The fifth hour saw me catch my first carp and despite my fairly frugal feeding, a second carp also showed up and I reckoned they'd pushed the skimmers out. I only added two more skimmers and a few bits to put me on 10.5lb with an hour to go. The last hour saw more carp show and I had one trying to jump out of my keepnet again, as a precaution I put my landing net over the top. It tried again and hit the landing net but didn't escape, that's that sorted I thought. The next thing I knew it had leapt again and this time found the gap and bounced on the pallet and it's bid for freedom was successful! That's the second time it has happened to me here but I wasn't too concerned today as I was more worried about the silvers.
Pete was now flying and looked to be on for a golden peg win. I did get one more skimmer before it was carp again and I had another five to put me on eight carp (it would have been nine with the escapee) and I was on around 11lb of silvers. I did manage one more skimmer and my final tally was 34 skimmers, which I thought would go about 11.5lb and those eight carp. I'd lost three or four decent skimmers plus two carp but I hadn't missed that many bites today but I wished I'd tried my other line when those carp moved in. I packed up and went round to watch the weigh in which started with Glyn in peg 23. He had 25lb 9oz of carp and 16lb 10oz of silvers and I was pretty sure I didn't have that. There was a 39lb but Glyn's 42lb 3oz was still leading with over half the pegs weighed. I started to think if he framed I might win the silvers by default!
Bill Hopping on peg 13 had fished the maggot all day and weighed 11lb 3oz and I thought I might pip him, Bruce was admitting to 130 fish but as he'd also fished the maggot, it would be interesting to see what he weighed. Bruce's fish went 10lb 4oz and then the next peg had 55lb 13oz of carp and pushed Glyn into second. The guy on my left had 27lb 2oz and then it was my turn, my eight carp weighed 17lb 5oz and when I pulled my silvers net out, I knew it would be close. The needle stopped at 15lb 10oz and I was a pound short – bugger! To make matters worse, Pete weighed a brilliant 74lb 1oz which saw him win the match and the golden peg – well done mate, but it pushed Glyn down to third overall and as the silvers win was worth a fiver more he had that and I had to settle for second and picked up £18. A really nice days fishing and I would settle for that on day two of the festival next week!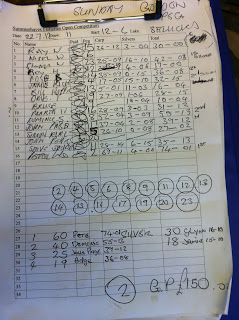 Todays weigh board
1 – Pete Wakeling (Summerhayes) – 74lb 1oz
2 – Dominic S (Summerhayes) – 55lb 13oz
3 – John Page (Summerhayes) – 39lb 12oz
4 – Adie Bishop (Summerhayes) – 36lb 8oz
Silvers
1 – Glyn Wickham (Summerhayes) – 16lb 10oz
2 – Jamie Rich (Against Men and Fish) – 15lb 10oz
Next week is the two day festival and a good start is essential, I reckon 20lb on Longs and 10lb on Sellicks/Lily would be up around there so come back to see how I get on (I just need to avoid Glyn's section now!).