The final match arrived and I must admit I was feeling a little nervous as I really wanted to win the knockout final after losing in the final of the pairs knockout and I was also in contention of a minor league placing. Mark Mockridge was hot favourite to win as he had a corner to come and his joker to play, Steve Bush still had his joker to play and pre match they were looking good to fill first and second spots. Les called up the remaining four who hadn't drawn corners and Mark M pulled peg 1, Butch had 10, Dunner 11 and poor Picky had 20, although it had done okay in the last match. Then Les called me and Hoff up and when he pulled out peg 7, I knew I was up against it, I opened my peg and had 15, which I was quite pleased with as it's a middle peg and should be good for fishing up in the water.
Brendon Ions (who was standing in for Janders) pulled out 14 and wanted a side bet to add extra pressure. I had the legend who is Graham 'Dino' Pepper on 16 but was a bit worried as I didn't have any ear plugs and he was sure to have a good whinge throughout the day. I set up my usual three rigs, a dibber for shallow, another for down the edge and a five metre meat rig. I could see the Hoff across the pond so at least I'd be able to tell how I was getting on in the knockout. Les signalled the start and I cupped in meat on my five metre and margin lines before starting out shallow with a banded pellet whilst flicking out five or six 6mm pellets constantly. Blaker on peg 4 got into a fish quite quickly and then Hoff had one shallow and I was behind already – great!
I then had my first carp to settle the nerves and raced into a 3-1 lead over Hoff by the end of the first hour. Then in the second hour Hoff pulled it back to 3-2, then 3-3 before going 4-3 up although I did manage my fourth and the scores were all square going into the third hour. Brendon was catching well and ahead of me with five fish and apparently Dunner was catching in peg 11. Dino hadn't had a bite yet and the moaning had started with a vengeance. Bish in peg 5 had a couple of carp and Les had caught a carp and some eels on the waggler in peg 3 (proper fishing!). Mark M had yet to catch in peg 1 and from the bank side grapevine most of the pegs to my left were struggling.
In the third hour I had two more carp to take a 6-4 lead over Hoff but he pulled one back and at the half way point it was still nip and tuck between us. My main concern was that his inside line can be very good late on and he could overtake me in no time. I was still feeding both my other lines with meat and started to think about trying them as indications were becoming less frequent on my shallow line. Kev Baker on peg 6 had lost a couple of foulhookers and Bish was on three fish while Blaker was stuck on four. I had one more carp to put me on seven to go two ahead of the Hoff but he had another and I just couldn't pull away from him. I tried my five metre line but never had a sniff on it, I had been feeding my shallow line with pellets while trying the shorter line and I could see carp milling about out there so back out I went.
I was just thinking how I hadn't lost a fish yet when I lost the next one I hooked which I think was foulhooked and then lost the next one too! Was it all about to go pearshaped? I kept thinking those lost fish were going to cost me when I hooked another and safely managed to net a good mirror of 6-7lb to go two fish clear again. I then tried to 'mug' a fish and as it tore off the line must have been wrapped around the pole tip as I lost the rig and everything. While I was faffing about putting a new rig on, Hoff pulled it back to 8-7 and I was sure he was going to pip me in the last part of the match from his inside line. Blaker was now getting odd fish and catching me up as well. Dino's moaning had now reached epic proportions and he'd even set up a shallow rig to try and catch a fish. Les was still getting eels and had added another carp as well. Dino finally hooked a carp only for it to come off and his day was going from bad to worse.
With about half an hour to go, my mate Andy turned up, I hooked a fish while he was there and it wasn't doing much and as I unshipped to the top three, the hook pulled out (another foulhooked fish?). Dino then actually hooked and landed a carp to get off the mark. The score was still 8-7 to me and I was wishing the time away, with twenty minutes left I hooked another good fish and this time safely netted a mirror that had to be around 8lb, Les said to put it in my net as we were near the end. I finally had some breathing space and Hoff was now back out shallow but hadn't added anymore, I hooked another which wasn't on long before coming off and then Les blew for the all out, but had I done enough?
I packed up and Andy gave me a hand with my gear back to the car (cheers mate) before I went to watch the weigh in. Mark M had struggled in peg 1 and weighed 11lb 14oz and it was now down to how Bushy had got on to see who would be crowned league champion. Les had a nice mixed bag on the waggler weighing 18lb 8oz, which included carp, eels and skimmers. Blaker had a level 27lb and would probably win that section meaning I couldn't overhaul him in the league. The next decent weight was Hoff who had 28lb 14oz and I thought I probably had more than that but would have to wait to see what the scales said. Dunner said he'd had ten carp in peg 11 but actually weighed 12 carp for 43lb 4oz and I wasn't sure I had that. Oz had 23lb 2oz in peg 12 before Bushy put 14 carp for 61lb 12oz on the scales and would surely win the match and possibly the league with that.
Brendon had 31lb 4oz and handed over a nugget before it was my turn, my first net containing four carp went 24lb and I needed my second net to go over 20lb to beat Dunner. My second net with five carp went 22lb 14oz to give me a 46lb 14oz and I moved into second place but more importantly I'd beaten the Hoff and won the knockout! The next few pegs struggled before Mike (from somewhere near Exeter) weighed 19lb 8oz and then poor Picky just missed out on the section with 19lb 4oz and to make matters worse he had to hand a £1 over to me! The final score on our sidebets was 7-4 to me.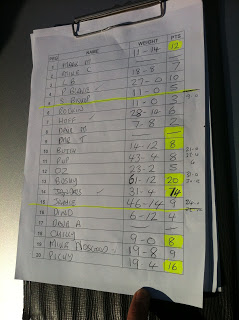 The final weighboard of the series
So I finished in second place on the day and was hoping I'd done enough for a minor league placing as well. After much deliberation the final scores on the doors were read out. I picked up £75 for second on the day and then £50 for the singles knockout before Les read out the league results in reverse order. I sneaked into fifth with 92 points and picked up £20 to take todays winnings to £145 which was very nice. Blaker and Hoff tied for third in the league on 96 pts and then Mark M was called out in second with 101 pts, which meant Bushy had won with 102 pts making it a really tight finish. I have to say Bushy fished a really good league, framing in six out of the ten matches. I felt sorry for Mark who had led the league for so long only to be pipped by one point in the last match. Steve Bush had a very profitable day as him and Bish won the pairs knockout earlier in the series and picked up their winnings for that today.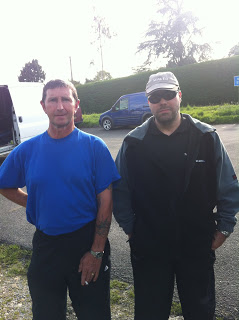 Pairs knockout champions Steve Bishop (on the left) and Steve Bush who also won on the day and was crowned Spring League Champion.
1 – Steve Bush (Chard) – 61lb 12oz
2 – Jamie Rich (Against Men and Fish) – 46lb 14oz
3 – Alan Dunn (Chard) – 43lb 4oz
Sections
A – Paul Blake (Chard) – 27lb
B – Mark Hollister (Chard) – 28lb 14oz
C – Brendon Ions (Torquay) – 31lb 4oz
D – Mike Hosgood (Exeter) – 19lb 8oz
Final league positions
1 – Steve Bush – 102
2 – Mark Mockridge – 101
3 – Mark Hollister – 94
3 – Paul Blake – 94
5 – Jamie Rich – 92
Pairs Knockout Champions – Steve Bishop and Steve Bush
Individual Knockout Champion – Jamie Rich
So a good end to the league for me, I picked up in eight of the ten matches, winning twice in the process. An awful first match where I only scored two points and not playing my joker when I had peg 1 has probably cost me third in the league but I'm pretty pleased with my campaign.
Well all that leaves is for me to say a big thank you to Les for organising another good league although the fishing was tough for some and a massive thanks to the anglers who made it such a pleasure to fish each week and the banter was fantastic!
Next week I'm at Summerhayes for a final practice before the two day silverfish festival, come back to see how I get on.