The weather over the last couple of days had been horrendous with a months worth of rain falling in a single day and floods all over the place. Thankfully the forecast was much better for today and there was even an orange thing in the sky later in the day! We were a couple short for this match as the patchy fishing meant some anglers just couldn't face seeing out the league. Les did the draw for the singles knockout and Bushy got drawn against the Hoff which meant I would face Bish and both him and the Hoff had corners to come. In the draw bag I went and pulled out peg 19 which I really didn't want as the pallet is high off the water and I really fancied a peg more in the middle of the pond.
Hoff drew corner peg 11 which made him favourite to beat Bushy in 16, Bish drew 20 which is the worst corner so I had a chance at least and I would be able to keep an eye on how he was doing. Dave M was in peg 1 with his son on 3 with peg 2 empty, Picky was next door to him on 4. Butch was the next peg to my right on 18 with Exeter Mike and Bushy the next pegs along from him. To stay in contention in the league I really needed a good result today and hoped all the rain we'd had wouldn't stop the fish from coming shallow. I set up the usual rigs, a dibber for shallow with a hair rigged band, another dibber for down the edge and a deep rig for meat at five metres.
The start time arrived and I fed my inside and five metres with meat before starting shallow. Mark M got off to a flying start and had a carp first chuck, Picky wasn't far behind and Bish had a carp quite quickly too. I was pinging 3 or 4 pellets out constantly but the first hour was slow and I had my first carp just as the hour was up. Mark had five in the first hour and Picky had two or three as well and I was well behind. Hour two started better for me with carp number two and then I hooked a good fish and had done all the hard work when the hook pulled out at the net – bugger. I needed that fish as Picky had another which he had weighed at 9lb 2oz and Mark added a couple more fish and even at this early stage I couldn't see anyone catching them. I had my third carp and was keeping pace with Bish at least, Butch had one and shouted down that Exeter Mike was on five fish already and I was well down in the section already as I was sure that Bushy would be catching in 16.
In hour three I couldn't buy a bite and tried both my meat lines without any bites but it seemed to have slowed up for everyone around me as well. Carp could be seen cruising around but they weren't interested in feeding. Going into the second part of the match I still wasn't getting bites on the shallow rig and had to resort to trying to 'mug' fish. I had a good one quite quickly before losing a small one at the net and then had number five and I started to think I might be able to close the gap on Mark and Picky. Me and Bish were neck and neck and it was going down to the wire. Picky had another decent fish and Mark kept getting odd fish to stay a couple ahead.
I managed another carp shallow and 'mugged' another to put me on seven and Bish was stuck on six. I tried my margin meat line and had some indications but I think they were roach bites as I didn't connect with any of them. I just couldn't get any more fish shallow and was willing the time to tick away and was relieved when Les blew for the all out as Bish hadn't added anymore and reckoned his fish were small (but I've been had like that before!). I knew Mark and Picky had beaten me as they both had around ten fish including some lumps. Exeter Mike only added one more fish to put him on six and I started to think I might have an outside chance of winning the section, depending on how Bushy had gotten on.
I packed up and on my way back met Les who said the pond had fished poorly and even pegs 10 and 11 had struggled. Dave M in peg 1 had one carp but chucked back without weighing and told Les he couldn't face coming back next week, Mark then had 47lb 14oz and Picky came close with 44lb 6oz before the weights nose dived and the next angler to put a respectable weight in the weigh sling was Chilly with 22lb 4oz from peg 7 and then Kevin Baker (fishing for Mike T) in peg 10 had 29lb 8oz to go into third place. Hoff had 25lb 4oz and Bushy was hoping a few more anglers would beat him in that section but then Les had 23lb 14oz and Pup had 24lb 8oz which meant Hoff had finished second in his section and Bushy needed to beat Picky to go through in the knockout. He weighed 42lb 8oz which meant the best he could finish was third and Hoff would beat him on points. Janders never had a bite in 14 and definitely won't be back next week. I gave his pound straight to Picky and the score is now 6-4 to me with one match to go.
With Bushy in third place overall, I still thought I might nick the section but then Exeter Mike's six carp went a level 33lb and I knew that was that. This just left the knockout showdown between me and Bish, my seven went 28lb 4oz and his six went 22lb 14oz which meant I'd done it and will face the Hoff next week in the final. I was left cursing that decent fish I lost at the net which I gave a bit too much stick and would have got me the section. I ended up with six points which meant I'd pulled a few on Dino and one on Blaker but Hoff has overtaken me as he played his joker today and got 18 points.
Knockout semi final results (points scores in brackets)
Mark Hollister (9) beat Steve Bush (8)
Jamie Rich (6) beat Steve Bishop (5)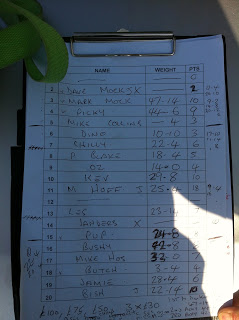 Another patchy weighboard and I really don't know what's up with the pond!
1 – Mark Mockridge (Chard) – 47lb 14oz
2 – Alan Gage (Chard) – 44lb 6oz
3 – Steve Bush (Chard) – 42lb 8oz
Sections
A – Andy Winters (Chard) – 22lb 4oz
B – Kevin Baker (Chard) – 29lb 8oz
C – Mike Hosgood (Exeter) – 33lb
The league is still really tight although Mark should win it as he has a corner to come and he still hasn't played his joker. Bushy still has his joker to play and should be there or thereabouts after next week but the minor league places are all to play for.
League standings with one match to go
Mark Mockridge – 89
Mark Hollister – 88
Paul Blake – 84
Jamie Rich – 83
Steve Bush – 82
Graham Pepper – 81
So my winning streak comes to an end, be sure to come back next week to see how I do in the knockout final, will I be Roger Federer or Andy Murray?