I was looking forward to getting back to some silver fish action today and there was quite a large contingent of Chard boys fishing including me, Andy, Janders, Exeter Mike and Brendon Ions. Brendon has been putting loads of practice in and was determined to get his pound back from the last Perry St match. I've been getting loads of texts from him saying I'd need to bring some cream for when he whoops my ass today so I had an added incentive to do well.
Pete announced the draw and I pulled out 11 which is a really good carp and silvers peg and obviously I'd be targetting the silvers. Andy drew 13 which was the next peg along on my left and Heardy was the next angler on my right on 7. Apart from the £1 side bet with Brendon on silvers weight, I had the usual £1 with Janders (on overall weight) and £2 with Andy (£1 for silvers and £1 for overall weight). There was a bit of a blustery wind but I was fairly sheltered. In a bid to try and avoid missing so many bites today I set up two identical Malman 0.4 gram pencil floats. One had a spread bulk and two droppers and the other was much more positive with the bulk just above the hooklength. Both rigs had size 16 808's and 0.12mm bottoms. I did set up a dibber but never picked it up all day.
The whistle went and I cupped in half a pot of damp micros at 10 metres in front of me and the same at 10 metres to my left to give me another option. I shipped out with a Bait Tech 4mm expander and didn't have to wait too long for my first bite which I missed (nothing new there then!). Next chuck I had a decent 'flying' skimmer and after an hour I had 5 skimmers and a roach for about 2.5lb which wasn't too far off my usual 3lb an hour target. The trouble was I wasn't sure 3lb an hour would be enough today as Glyn Wickham won the silvers last match with 33lb and 32lb was second. The second hour was pretty similar and I was up to about 5.5lb of skimmers but was still missing loads of bites. Andy was struggling and only had one roach and a carp by this stage. Heardy was getting a few carp but it seemed to be fairly slow for the anglers I could see.
I tried the more positive rig and hit the next two bites (cracked it I thought) but then went back to missing bites! I had my first tench of about a pound and a couple of nusiance carp but also added a couple more decent fliers of about 1.5lb and finished the third hour with my silvers total at around 9.5lb. Andy was now getting regular bites and had a good skimmer and quickly followed this up with a cracking crucian of 2lb+ and was catching me up. Among the skimmers I was also getting quite a few roach, including a decent one of 8oz and even had a couple of gorgeous golden tench.
I was still missing hell of a lot of bites and thinking it might be down to small fish I even tried a grain of corn. I had four or five sail away bites but missed every one! Back on soft pellet and I would hit a couple of bites before going back to missing twice as many. I did get another tench and then had a good one of 2lb+ and my total was rising steadily and after four hours had about 12lb of silvers and was hoping for a good last two hours. I lost a fish which I reckoned was a tench and then had two more of the golden variety along with a couple more of those horrible carpy things. The final hour started well and I had a couple more skims and was on about 15lb with the best part of an hour to go.
But then I started missing loads of bites before losing a carp that snapped my hooklength. With time running out I picked up my other rig but all I could get was small roach on the drop so quickly put another hooklength on the more positive rig but missed a bite every put in until the end of the match, so frustrating! I ended with 46 fish of which five were carp and I'd also had quite a few small roach so felt my 15lb estimate wouldn't be too far off today although I was admitting to 13-14lb to be on the safe side. I wish I could just sort out those missed bites, at one stage Andy reckoned he'd missed 28 on the trot. Glyn came up and said he'd had nearly 40lb of silvers and was hoping he'd done enough to frame. He said Ray (his Dad) had started well on the silvers but faded and nobody else had done that well on them over the other side.
With Pete not fishing, the weigh in was soon underway and we packed up and went round to watch. We caught up with scales after the first few had been weighed, Nigel Wickham had 29lb 3oz off peg 37 and then I saw on the weigh board that Brendon had 16lb 11oz of silvers and I wasn't sure I had that. Bill Hopping was the early leader with 30lb 6oz from peg 32 and then Ray Wickham had 19lb 9oz of silvers and I felt I needed to beat Brendon to stand any chance of a pick up (and that was if Glyn framed!). Janders had a bad day at the office and handed over a pound, he reckoned the expanders I'd done for him and Andy had a red cross on the bag, while my expanders hadn't been doctored – as if I'd do that John!!!!!!
Then Glyn had a solitary 6oz carp before plonking a brilliant 37lb 7oz of skimmers and tench on the scales to give him a 37lb 13oz total and I was hoping he'd win it with that. It could have been more too, as he got broken by a couple of big tench. Exeter Mike had 20lb 15oz and then Andy had 16lb and handed over two quid and had suffered his worse day here to date. My five carp went 6lb 3oz and when I pulled my silvers net out, I still thought it might be close between me and Brendon but was a little embarrased when Pete called out 22lb 9oz to give me a 28lb 12oz total and I was second in the silvers with two to weigh.
Heardy did well to weigh 33lb 11oz despite a pole breakage and then Alvin pushed Glyn into second place when he weighed 42lb 14oz but with Glyn framing I picked up the silvers win by default and picked up £24 (and don't forget the £4 in sidebets!).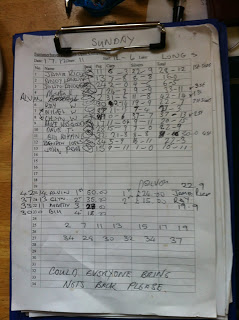 Some great weights given the windy conditions
The silvers weights are getting better all the time and that was my best silvers weight on Longs yet, I just wish I could stop all these missed bites and then 40lb+ is a real possibility.
1 – Alvin Jones (Summerhayes) – 42lb 14oz
2 – Glyn Wickham (Summerhayes) – 37lb 13oz
3 – Martin Heard (Tiverton) – 33lb 11oz
4 – Bill Hopping (Summerhayes) – 30lb
Silvers
1 – Jamie Rich (Against Men and Fish) – 22lb 9oz
2 – Ray Wickham (Summerhayes) – 19lb 9oz
Next week is the penultimate Spring League match at Perry St and I need a good result to stay in contention in the league and of course it's the semi finals in the knockout, wish me luck!