The weather was truly awful on Saturday and I was relieved to open the curtains and see it wasn't raining and the wind had dropped. I got out the pond and Les was soon drawing for the knockout and I was up against my nemesis Janders today. I pulled out peg 7 and decided to play my joker as it's been a consistent peg and Janders drew peg 13 which can be quite good. I had Picky on my right on peg 6 which just hasn't been the same since they took the tree out and Mike Collins was on my left. Blaker had peg 10 with Dino on 11 and I couldn't see me beating them and the best I could hope for today was 7 or 8 points.
I set up the usual three rigs, dibbers for shallow and the margin and a Drennan Carp for the 5 metre line. Les blew for the start and I fed meat on my two inside lines before starting up in the water at 11.5 metres. Kevin Baker (standing in for Rocking) opposite on 14 was also starting up in the water. He hooked one quite quickly only for it to come off and then I lost one as well. I then had one and lost another. Kev was hooking quite a few but most were coming off and I think they must have been foulhooked as I lost another and came back with a scale on the hook. Picky landed a good one which he had weighed at 8lb 8oz and I was playing catch up already.
After the first hour the score was 3-2 to the carp and they weren't really having it. Blaker was catching in 10 but other than that, most people were struggling. I was feeding meat by hand at 5 metres and also cupping some in on the margin about 8.5 metres to my right. The second hour was much the same and I landed another two smallish carp but at least I didn't lose any more. Picky had a couple more and I knew they'd be chunky paste fish. Kev was still hooking and losing them and I think I was still a fish or two ahead of him. Les and Bushy were both really struggling on pegs 15 and 16 although Bushy was in the other section. Mark M on peg 4 was getting a few and Dino in peg 11 finally started catching after losing a couple of fish.
After two hours and with four carp in the net, my shallow line slowed and I decided to try the 5 metre line for ten minutes. I was still feeding pellet on the long line and was just thinking about going back out when I had a 3lb carp on meat, a smaller carp followed to put me on 6 and then I missed two bites so had a quick try on my inside line. I had some indications but think they were small fish attacking my 4mm cube of meat. I didn't stay here long and went back out shallow as the fourth hour began. I was fairly happy with my six carp but knew I needed to beat Picky to stand any chance of the section as I was sure Blaker would frame from peg 10. Picky had slowed up but he had that buffer of that 8lb plus fish.
Loads of carp were cruising about but didn't seem interested in feeding, I did manage to 'mug' a fish shallow to put me on seven but was still behind Picky who had four of five good sized carp. Bushy was now catching shallow and Kev was still hooking quite a few and slowly catching me up. Dino and Blaker were also getting fish regularly and Dino went to get a good fish weighed and it was beginning to look like those two would fill the top podium places. Another try on my 5 metre line resulted in no more bites so I tried the margin line again. I was getting bites but just couldn't hit them, a switch to banded pellet was no better either.
I finally hooked a carp on meat on the inside but the hook pulled out (foulhooked perhaps?) and with Kev still getting odd fish I really didn't know whether to stick on the inside or go back out shallow. With an hour and a half left, Bushy was getting some good carp and could be challenging Dino and Blaker. I did get a small carp from the inside to put me on eight but with Kev still getting odd fish shallow I had another go but never had another bite so with 40 minutes left I was back on the inside. I had my ninth carp but Picky had another to put him on six or seven and I was still sure he'd beat me as my fish were all 2-3lb each. Bushy was now on nine as well and he'd had some right lumps.
I was now getting regular bites on the inside and had two more carp to put me on eleven and Picky replied with a foulhooked eel! I was praying for one more and with two minutes left my prayers were answered and I hooked number 12 which I safely landed after the whistle. I heard Dino say he'd had eight carp but he'd had some right lumps and Blaker had ten or eleven on peg 10. Quite a few people on the far bank had chucked their fish back, including Janders, Dave M and Les so the fishing had been pretty patchy. I packed up and took my gear to the car, on my way back I met Janders who paid me a £1 and I'm not sure he'll be coming back for the next match.
The scales started at Oz in peg 1 and he'd done well and weighed 30lb 6oz, he led until we got to Mark Mockridge on peg 4 and he had a level 37lb. Picky weighed 37lb 14oz and took the lead and I knew I didn't have that, my first net went 19lb 10oz and my second net 18lb 6oz to give me a total of 38lb and I'd ounced Picky by 2oz! Our side bet now stands at 6-3 to me but more importantly I should now win the section by default if Blaker framed. Blaker had 48lb and pushed me into second place before Dino had 49lb 12oz and I was down to third and I knew Bushy had beaten me as well. Kev weighed 24lb 6oz and would win that section (as only Dino weighed apart from him!). Bushy had 54lb and had done really well off a mediocre peg, the only other weight was Chilly who had the best weight off 20 so far with 35lb 8oz.
I picked up £30 for my section and scored 16 points for playing my joker and have now moved up into fourth place in the league and it's all very tight with Blaker and Mark M on 79 points followed by Dino on 78, me on 77 and Bushy on 74. Mark remains favourite though as he still has his corner to come and his joker to play. Bushy hasn't played his joker yet and nor has the Hoff who's on 70 points. The results of the knockout are below (points scores in brackets)
Mark Hollister (5) beat Butch Baker (3)
Jamie Rich (8) beat Janders (1)
Steve Bush (10) beat Andy Winters (8)
Steve Bishop (6) beat Mike Thomas (5)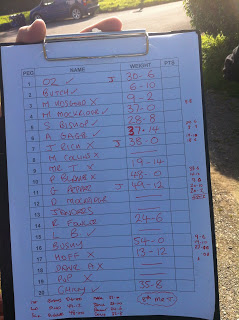 A patchy weighboard this week
1 – Steve Bush (Chard) – 54lb
2 – Graham Pepper (Taunton) – 49lb 12oz
3 – Paul Blake (Chard) – 48lb
Sections
A – Mark Mockridge (Chard) – 37lb
B – Jamie Rich (Against Men and Fish) – 38lb
C – Kevin Baker (Chard) – 24lb 6oz
D – Andy Winters (Chard) – 35lb 8oz
So a pretty good result today (unlike the footy where we just lost on penalties yet again!) and I'm in the semi finals of the knockout next match but it'll be tough as Hoff and Bish still have corners to come. Next week I'm at Summerhayes so come back to see how I get on fishing for silvers and if Brendon can win his pound back!