Yesterday me and Andy went to Seaton after the mullet again but it was a horrible day, wet and very windy and the river was a horrible chocolate colour, needless to say we never had a sniff of a fish and the best part of the day was the sausage and bacon sarnie in the morning. After that disaster I was hoping for better things today. After reaching the draw and paying my pools, Les drew for the first round proper of the singles knockout, I was up against Blaker and didn't fancy my chances much, especially after he pulled out peg 7 where he won a few weeks back. I opened my peg and the number one was staring back at me!, it's a corner but not the one I wanted. Everybody wanted peg 10 and Les drew that and played his joker, he asked if anybody else was going to play theirs and Blaker and Mike Collins (in peg 11) both did. I decided not to and was hoping I wouldn't regret it at the end of the match.
I had to feel sorry for Janders who drew peg 20 again, to draw it once is unlucky, to get it twice is really tough. My peg looked okay with some lilies about 11.5 metres to my right towards the corner but I hoped to avoid them and catch out in front of me with my usual shallow approach. There didn't seem to be many carp milling about which was a little worrying. I had Exeter Mike on peg 2, then Bish, Picky and Mark M, a tough section to win but peg one has been quite consistent and I hoped I could get decent points today. I set up the usual three rigs, a dibber for shallow with a hair rigged band, another dibber for the inside swim and a 0.4 gram Drennan Carp for fishing on the bottom towards the lilies. Bait was just pellets and meat.
Janders was putting his faith in Spam today as Blaker had recommended it so I will be referring to him as the 'Spam Man' from now on! The whistle blew for the start and I fed meat on the inside and at 11.5 metres before starting shallow out in front. The Spam Man got off to a flying start landing two fish quite quickly and Rocking and Dave A also both got early fish. I had a foulhooked carp to get me off the mark but then lost one when the hook just pulled out and that was the only action of the first hour. After those early fish it had all gone quiet and nobody at our end was catching. The second hour was good for me and I landed three more carp around the 5lb mark to go ahead of 'Spammy' who hadn't added anymore.
The third hour wasn't as good and I only added one more carp although I wasn't too worried at this stage as Bushy only had one on peg 18 and Exeter Mike had one or two next door to me. I tried my margin line with meat on the hook and had a couple of indications but there didn't seem to be many fish there. When Bushy lost a fish shallow and then added his second, I went back out and had two more carp quite quickly to put me on seven with two and a half hours to go. It was slow though and I decided to feed pellets by the lilies to give me another shallow option. Spammy had a tench and Mike had another fish but I was still ahead of the anglers I could see but I wasn't getting many indications now.
There were obviously fish by the lilies so I dropped the rig in and constantly feed three or four pellets over the top, I missed two bites before hooking a carp that tore through the lilies and snagged me and I had to pull for a break. Whilst I was putting a new hooklength on, Bushy had another and he was slowly but surely catching me up. Back out in front and the fish just weren't there, Spammy had another and Mike had a couple of fish from his inside line. With about an hour to go I hooked and landed carp number eight which turned out to be foolhooked but it gave me a little breathing space from the chasing pack. Bushy got to five fish and so did Spammy and I just couldn't get any more bites and was willing the time to tick away quickly.
Les blew for the all out and Mike was playing a fish and I was surprised when he said it was only his fourth fish as I thought he'd had more that that. I was hoping I'd done enough to win the five peg section but apparently Mark M had seven fish including some lumps so it could be tight. Bish had caught four carp and Picky had five or six so hopefully I'd done enough to beat them (and take a squid off Picky). From what I could see I should get decent points in my ten peg section and was really regretting not playing my joker now (a sort of reverse 'choker' if you like).
I took my kit back to the car and met Les on my return and was amazed when I asked how he'd got on and he said he'd struggled and that I'd win it!!!! I thought he must be winding me up as Hoff had caught well and Mike T had six or seven lumps as well. I was first to weigh and my eight carp went 36lb 12oz, Exeter Mike had just shy of 15lb and Bish weighed 19lb 6oz before Picky had 15lb 10oz and handed over a nugget (5-3 now matey!). Then it was Mark M's turn and I was sure he'd pip me as he'd caught on paste and they tend to be big fish, he weighed 29lb 14oz and I'd won the section at least. The next few pegs struggled before Blaker had 19lb 10oz and as long as he didn't win his ten peg section, I had a chance in the knockout. Les had been telling the truth and weighed 17lb 8oz. Peg 11 didn't weigh and then Mike T did really well in peg 12 with 32lb 2oz and crucially knocked Blaker down to second in that section.
When we came to the Hoff I was sure he'd do me but he weighed 32lb 8oz to go into second place and with no more surprises I'd won my second match in the league. Bushy had 26lb from peg 18 and Spammy had 16lb 6oz and handed over another pound and he said he hated peg 20 but at least he wouldn't be on it again this year! I picked up £100 for the win and I'm through to the next round in the knockout (but I was left cursing for not playing my joker and got called a few choice names by Les). In the league I moved up another place into fifth with three matches left, Mark M and Blaker lead with 70 points followed by the Hoff on 65. I need three good results but I reckon I must due a bad one soon.
The full results of the knockout are below (points scores in brackets),
Janders (6) beat Roy Fowler (1)
Jamie Rich (10) beat Paul Blake (8)
Steve Bush (8) beat Alan Dunn (1)
Andy Winters (4) beat Graham Pepper (3)
Mark Hollister (10) beat Mike Hosgood (4)
Butch Baker (5) beat Mike Collins (1)
Steve Bishop (7) beat Les Braunton (7) – on weight
Mike Thomas (9) beat Mark Mockridge (9) – on weight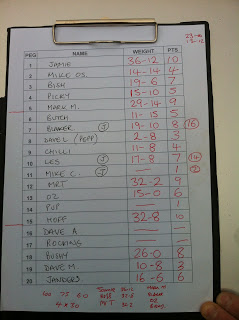 Weights were a lot lower this match
1 – Jamie Rich (Against Men and Fish) – 36lb 12oz
2 – Mark Hollister (Chard) – 32lb 8oz
3 – Mike Thomas (Chard) – 32lb 2oz
Sections
A – Mark Mockridge (Chard) – 29lb 14oz
B – Paul Blake (Chard) – 19lb 10oz
C – Steve Osborne (Chard) – 15lb
D – Steve Bush (Chard) – 26lb
So a really good day (apart from the joker obviously), that was my second win at Perry St this year (and only my fourth win here ever!). Come back next week to see if I draw crap, bugger up my joker and get knocked out of the knockout!