I have been trying to hook up (pun intended) with Russell Hilton who writes the excellent Tales From The Towpath blog for some time and we finally arranged to have a go at catching some pike today. I know next to nothing about catching pike so Russell said he'd bring all the gear and bait and sort out day tickets (top man). We decided on meeting at Newbridge on the River Tone as he's enjoyed some success there on past visits.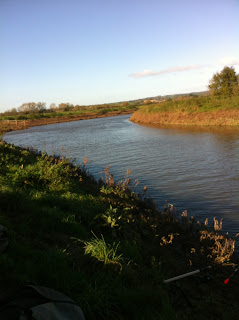 The Tone at Newbridge
The weather had taken a turn for the worst and there was a bitterly cold wind, also the Tone was quite coloured which isn't ideal for pike. We headed downstream where Russell had caught last time he was here and set up three different rods, a float rig, a leger rig and another to 'wobble' a deadbait. To cut a long story short we tried a couple of swims downstream of the bridge but had no action at all but we had a good old natter about all things fishy. After an hour or so and with both of us very cold we moved upstream of the bridge where we were a bit more sheltered from the wind. No takes here either and then a bloke from my work called Will turned up and we decided to relocate to the Tone at Ham which can also be good for pike.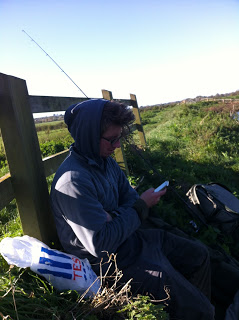 Russell trying to find an app to catch pike!
We fished by the sewage outlet which looked really fishy but alas the pike didn't want to play ball but I still had a very enjoyable day as it's always nice to meet fellow bloggers and Russell is a really nice guy. Hopefully we'll meet up again and have a go at those tench and bream on the Tiverton canal when the weather warms up a bit. So my attempt at adding to my 'Mission Impossible' badges failed miserably today but it wasn't all bad news as I got home and my Speci badge had arrived for the red tail catfish I submitted just after I got back from Thailand. I make no apologies for publishing that photo again as it was a stunning fish.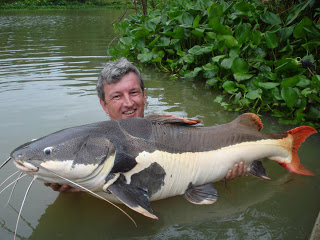 My 80lb Amazon Redtail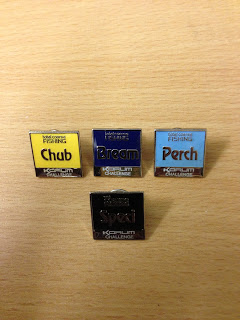 The badge count hits four!
Well tomorrow I'm back on the Isle for round two of the V.E.S. Precision league and it'll interesting to see how this colder weather affects sport, I just hope Rob puts some swims in that will afford a bit of cover to the anglers if it's as windy as today. Come back tomorrow night to see how I got on.
Update – Russell went for a wander along the Taunton and Bridgy canal after I left and managed to catch a pike nudging 2lb! So at least one of us caught!