For this year's league, Les had brought in a new payout system where the top four carp weights and the top four silvers weights are paid out each match and there would be two leagues, one for silvers and one for carp and these would be decided on weight. I had thought I would try and fish for silvers but after only catching one skimmer on Good Friday, I had no idea how I was going to approach this first match. We all had to meet early so Les could explain the rules etc and after paying my pools and buying a new club licence and collecting my bait I was £73 worse off! The draw system was also different this year with an open draw on the first match and then if you draw an odd number you would be on odd numbers for the rest of the series and the same with even numbers.
The near end of the pond had fished poorly in the last match so when Picky drew peg 2, how we all laughed (well me and Brendon did), then I opened my peg and had poxy peg 3 where I was last time! Picky and Brendon were killing themselves and then the Torquay Tart opened his and he was on 20 which isn't much better and we all had a good laugh at him as well. Still the weather was a lot milder than last time and the pond had received an injection of small carp so it had to be better than last time, didn't it?
I got to my peg and there was some good news in that peg 4 wasn't drawn today as Mike Collins was on holiday and surely the extra space had to be a good thing. With skimmers in mind I set up a 0.75 gram Drennan G-tip with 0.08mm bottom and size 18 808 and plumbed up three lines, two at 11.5 metres and one at 10 metres. I also set up a dibber rig to fish the inside towards the empty peg on my left with 0.10 mm bottom and the same hook size and pattern. I mixed up some Bag 'Em goundbait and chopped up some worms and casters and was just about ready in time. Les blew for the start and I cupped in two balls containing dead maggots and casters at 11.5 metres, straight out in front and then a single ball at 10 metres to my right before putting some choppie in at 11.5 metres towards the left. Finally I cupped in some dead reds and casters on the inside at about 5 metres.
I started straight out with double dead red maggot on the hook and toss potted a few dead maggots in, I had a bite quite quickly and was soon playing one of the new carp around the pound mark, the blue hydro did it's job and I was off the mark. All around people seemed to playing small carp and it looked like we could be in for a good match. Second chuck I had another small carp and Blaker on peg 5 was already on three or four! I've shipped out for the third time but the float just sat there and the action was short lived. Again it looked like our end would be hard with everybody on a couple of fish but Blaker was still catching and Chilly and Bish on the far bank were netting fish regularly as well.
I was soon trying my other open water lines but never had another touch, Blaker was catching close in so I fed my longer lines before having a look on the inside a lot sooner than I wanted to. Bushy and Dunner opposite me were getting odd fish as was Picky on my right and even Brendon had caught a couple. After five minutes my float went and I landed carp number three and this was shortly followed by number four and they were the newly stocked fish. I've then had two bigger fish to put me on six after two hours and although I was doing okay at our end, with Blaker, Bish, Chilly, Exeter Mike all catching and Mark Mockridge and the Hoff in the top two corner pegs, it seemed like we were well off the pace.
My inside line then dried up so I had a quick look on my three other lines again but there was no sign of life. Brendon hooked a nice tench which came off at the net which cheered me up a bit and Bushy, Dunner and Kev Baker were still getting odd carp and silvers but I couldn't buy a bite off any of my lines. Brendon was sat on his posh new Preston box and although he wasn't catching much, he certainly looked the part. Chilly on peg 15 was still catching carp like a man possessed and already had his third keepnet in! Les asked how many carp he had and he replied that he had five in each net with some silvers in his third net.
I was by now back on the inside and it was looking like there would be no brown envelope coming my way today. Then I've had a decent carp which was foulhooked in the tail and if nothing else I was still keeping ahead of Picky and Brendon so my sidebets were safe for the time being. I added another decent carp before catching a 6oz perch and was going back to the car to get my third net when Picky said I could borrow his as he didn't need it (cheers Picky). I was getting a few indications on the inside so decided to feed another line a section further towards the empty peg. Chilly now had four nets in and they were all different colours with some square and some round and he started to get some stick, especially when Les told him it wasn't only five carp per net.
I added a couple more carp including a good one foulhooked in the fin and then hooked a nice tench from this new line which I was about to net and the hook pulled out, I scooped at it and was relieved to see it in the net, was luck on my side today? At our end it was just odd fish being caught now and although Blaker and Chilly were still catching it looked like most people had slowed up. If anything my peg was getting stronger and I started to think I might be able to sneak into the lower frame places. Most of my fish were around the 4-5lb mark and not the new stockies. I landed my 13th carp with five minutes to go and had time to ship back out and I did have one more knock before the all out was called.
I finished with 13 carp plus that tench and perch and had no clue what weight I had because the carp ranged from 1-6lb. I packed up and took my holdall back to the car before checking on how Chelsea were doing against Man City, it wasn't good news and we were 2-0 down. While waiting for the scales at peg 1, Picky and Brendon conceded defeat and paid their pounds (so it's 1-1 with both of them after two matches), Janders had 12 carp and several skimmers so that side bet could be a lot closer and we'd have to wait for the tale of the scales. The weigh in started and Rocking Roy had 9lb of carp and a few silvers before Picky had 10lb 12oz of carp. My silvers weighed 2lb 6oz before my carp weighed 41lb 9oz which was more than I thought but I still didn't think it would enough for a top four placing, especially when Blaker had 52lb 10oz of carp to go into the lead.
Exeter Mike had just over 20lb of carp but his 6lb 10oz of skimmers saw him take the lead on that front, Les had struggled before it was Janders turn, his silvers went 3lb 4oz before his carp weighed a level 30lb and I was another pound better off. Dino had a bad day in peg 9 and must have had neck ache watching Mark M in peg 10 who weighed 76lb 14oz of carp. The Hoff had over 26lb of carp opposite Mark and when Butch had a similar net of carp I was still hanging on to third place. Dave M had over 27lb of carp and his 5lb 14oz of skimmers put him second in the silvers. We got to Chilly and as he had 18 carp I was sure he'd knock me down to fourth but they were the new smaller fish and weighed a level 40lb. Bish had a few carp but again had done well with skimmers and was the new leader with 9lb 6oz. Pup had struggled in peg 17 before Bushy had 15lb of carp and 9lb 10oz of skimmers to just pip Bish.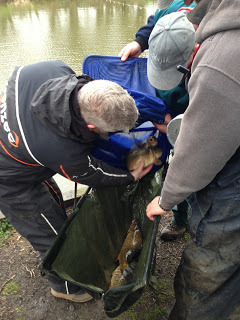 Brendon (aka The Torquay Tart) and Butch weighing Chilly in
Kev Baker had 13lb of carp and Brendon 12lb something so I'd ended up third in the carp which was much better than I thought I'd do although my plan of going for the silvers isn't going too well! I checked on the footy and Chelsea lost 2-1 to City and another chance of a trophy bites the dust. Les did the results and I was called out in third place and picked up £40 which along with the side bets helped after a rather expensive day.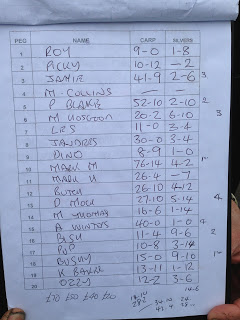 Today's board, it fished well and should only get better as it warms up
Carp
1 – Mark Mockridge (Chard) – 76lb 14oz
2 – Paul Blake (Chard) – 52lb 10oz
3 – Jamie Rich (Against Men and Fish) – 41lb 9oz
4 – Andy 'Chilly' Winters (Chard) – 40lb
Silvers
1 – Steve Bush (Chard) – 9lb 10oz
2 – Steve Bishop (Chard) – 9lb 6oz
3 – Mike Hosgood (Near Exeter) – 6lb 10oz
4 – Dave Mockridge (Chard) – 5lb 14oz
So not too bad a day, I got the league off to a good start from a peg I didn't fancy (although the empty peg next door definitely helped) and never lost a fish all day. With the leagues being decided on weight it only takes a couple of good weights and things can change very quickly, after one match I'm already 35lb behind the leader! Round two is next week so come back then to see how the side bets go and if I finally manage to catch a skimmer!