Spring looks finally to have arrived and the sun was shining as I loaded the car before making my way out the pond. I collected my bait from Les before he announced the draw for the start of the pairs knockout, I managed to get a bye so for me the knockout will start next match. He then opened an envelope for the draw sequence and I ended up on peg 5 just up from where I was last match. The Torquay Tart was fishing for Mike Thomas today and opposite me on peg 16 so with Picky on my right I would be able to keep an eye on two of my sidebets. Janders had pulled out peg 10 and there was a good chance I would be saying goodbye to one squid today.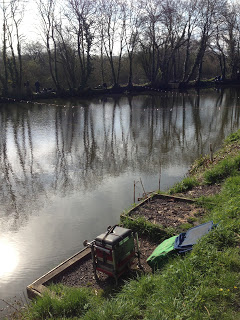 Peg 5

I mixed up some Bag 'Em red groundbait and was setting up my rigs when Picky hooked a fish on a bare hook! He landed it before putting it back and there were obviously some fish about. I set up a 0.75 gram Drennan G-Tip for my skimmer line before setting up a Trabucco dibber for the inside and also a Drennan Carp for fishing at three sections out. Today's bait was just dead red maggots to which I had added some Marukyu Krill powder and a pint of casters. Les blew for the start and everybody started feeding their lines, I put in two balls at 11.5 metres and both floated briefly before sinking! I then cupped in a single ball at 3 metres before potting in some loose groundbait on the inside to my left and dead reds and casters on the right hand margin.
Mike Collins on my left was into carp on the feeder straight away and Dave M next to Brendon also caught first chuck, I was shipping out to my long line and as I was adding the 11.5 metre section I noticed my blue hydro being pulled out of the pole! I safely netted a small carp and got called a few names by Picky and the Torquay Tart. Next chuck I bumped off a small fish and with carp being caught all round the pond, decided to have a look on the inside lines. Rocking Roy was flying and had two carp in as many chucks from peg 3 before my float shot under and I was playing carp number two. After 15 mins the Torquay Tart was still feeding his many lines and I was confused watching him, so God knows how the fish felt! But he did look good on his new shiny box!
Mike Collins was into fish straight away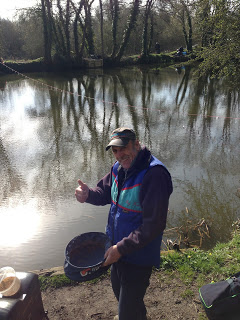 Rocking Roy was catching too
I was catching quite well and had four carp after the first hour and was ahead of Picky who'd only had the one. Brendon was struggling but most people I could see were catching. I had a couple more in the second hour and was swapping between my inside lines. Dave M was catching silvers and carp and Chilly on the other side of Brendon was catching carp really well too, the Torquay Tart was getting battered like a chip shop sausage! Still there was a long way to go yet. Picky started to pull a few fish back although they looked to be on the small-ish side (probably the newly stocked fish). I replied with a 6oz perch and a couple of smaller ones.
After the early action Mike C slowed up a bit and my inside line died as well. Blaker in peg 7 and Exeter Mike in 8 looked to be netting fish regularly and approaching the half way mark in the match it looked to be close between loads of anglers. I added a couple more carp and my left hand inside line was definitely the better of the two. Picky had now gone ahead of me by a couple of fish but there wasn't much in it as my fish looked to be the resident bigger fish and not the new stockies. Bish next to Chilly was getting a few but Chilly was really motoring even though he was only admitting to a few fish. It was a job to tell how he was doing as he only had three nets in this week, by this stage in the last match he already had six nets in!
I fed some more groundbait on both my insides and had a look on the three metre line but never had a bite there. It was still nip and tuck between me and Picky although he was now on about 14 fish to my 10 and he was starting to pull away. Brendon was having a torrid time and this wasn't helped by regular comments from me and Picky! Bushy in peg 20 and Dunner in 19 seemed to be struggling although Alan was starting to put a few silvers together. Picky's inside line had dried up and he was fishing a line further out but hadn't had a bite there and I managed to pull a couple of fish back on him. I also lost a couple which I think were probably foulhooked.
Our fish seemed to do a disappearing act, while Chilly continued to bag up like a man possessed and I could see the Hoff up on peg 13 catching regularly too, Butch Baker was putting together a decent net of skimmers and also getting interrupted by the odd carp as well. Bushy was now starting to catch well in peg 20 and I felt my match was slipping away. From the banter around the pond it seemed like Janders had caught well to start with but slowed up in the latter part of the match and Dino had struggled in peg 11. With about half an hour to go the scores on the doors between Picky and me were 14-12 in his favour but he enjoyed a real purple patch and added three more fish and it ended up 17-13 to him and I was pretty sure he'd done me.
I packed up and on my way to the car, asked how the other anglers had done, Rocking had slowed up after his frenetic start but still had six or seven carp, Oz in peg 2 had 15 carp and when he said Kev Baker had more than him I thought I wouldn't be picking up today. As we waited for the scales in peg 1, Janders said he'd had 10 carp plus a couple of tench and with the pound decided on overall weight it could be a close call. Kev had a couple of tench for 4lb 11oz before his carp weighed 40lb 12oz and then Oz had 5lb 1oz of silvers (which included a cracking perch) and his carp weighed 35lb 4oz and it was looking like there could be several close carp weights.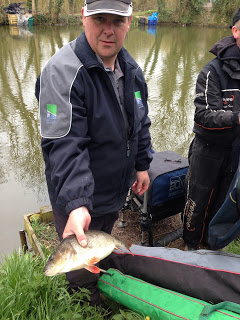 Oz had this cracking perch
Picky had one skimmer of 14oz (which was foulhooked!) before his carp went 42lb 9oz, my few perch and a rudd weighed a fantastic 10oz (and my silvers campaign still hadn't got off the ground!), my first carp net weighed 21lb 8oz and when my second net went 20lb 8oz I was 9oz short of Picky's weight and he made it 2-1 to him on the sidebets front. Mike Collins had some right lumps for 28lb 2oz before Blaker had 21lb 6oz and Exeter Mike had 27lb 7oz although he did have 6lb 14oz of skimmers to go into the silvers lead. Les then had 29lb 8oz of carp but his silvers went 7lb to pip Mike. Janders had 27lb 12oz of carp and 6lb 4oz of silvers so I was back on an even keel with today's sidebets. Dino and Mark M had struggled in 11 and 12 and I managed to make a dent in his big lead from last week.
The Hoff had 35lb odd of carp so I was still hanging onto second place but I knew it would only last until we got to Chilly and Bushy might also beat me as he had 12 carp. Butch had put together a nice net of skimmers weighing 9lb 4oz and went into the silvers lead with six pegs to weigh. Dave M had 28lb of carp and 6lb of silvers and then Brendon had 14lb of carp and 3lb of silvers (I hope he bucks his ideas up when he fishes for me in a few weeks!) and then Chilly had 55lb 6oz of carp on the other side of Brendon to complete the battering and push me down into third place. It wasn't all bad news though as Chilly had bet me a £1 he wouldn't win today and he was looking good with two pegs to go.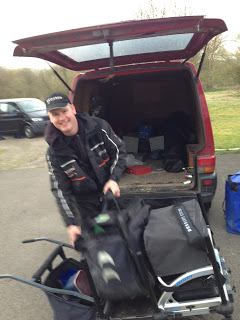 He might not catch much but he certainly looks the part on his sexy box!
Bish had 25lb of carp and 3lb 5oz of skimbobs before Dunner went into second place in the silvers with 8lb 5oz which just left Bushy, his silvers net went 3lb 8oz and his carp 32lb so I managed to hang onto third place (for carp) for the second week running. The pond had fished really well and I'm sure the weights will just get higher as the weather warms up. I picked up £40 for third place and £3 in sidebets although I had to give one of those to Picky.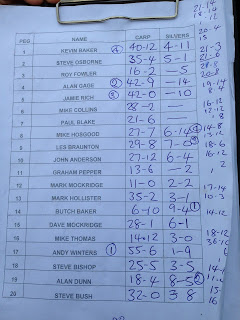 Good weights all round
Carp
1 – Andy Winters (Chard) – 55lb 6oz
2 – Alan Gage (Chard) – 42lb 9oz
3 – Jamie Rich (Against Men and Fish) – 42lb
4 – Kev Baker (Tatworth Tigers) – 40lb 12oz
Silvers
1 – Butch Baker (Tatworth Tigers) – 9lb 4oz
2 – Alan Dunn (Chard) – 8lb 5oz
3 – Les Braunton (Cotley Baggers) – 7lb
4 – Mike Hosgood (Near Exeter) – 6lb 14oz
As both leagues are to be decided on weight this year, here's how they look after two matches,
Carp League
1 – Andy Winters – 95lb 6oz
2 – Mark Mockridge – 87lb 14oz
3 – Jamie Rich – 83lb 9oz
4 – Paul Blake – 74lb
Silvers League
1 – Butch Baker – 14lb
2 – Mike Hosgood – 13lb 8oz
3 – Steve Bush – 13lb 2oz
4 – Steve Bishop – 12lb 11oz
I can see the silvers league being a really tight affair but the carp league will be much more open and one good week and it'll be all change. As soon as Les works out the pairs knockout results, I'll put them on here.
Next week me and Janders are hopefully off to Summerhayes so tune in and see how we get on.
Coming soon – review of the new Ringers Pellet Pump
New! – Check out the new Rogues Gallery page