Now a pellet pump isn't the most exciting thing to review but I have to admit I was quite looking forward to receiving one of the new Ringers Pellet Pumps. As soon as I saw Tackleuk had some in stock I put my order in and it arrived a couple of days later (top service as ever from Tackleuk). I've previously used pumps from Mosella and Browning and they've been okay apart from mice wrecked the Mosella one and I had to pump the pellets loads of times to get them to sink with the Browning one and even then I would have loads of floaters by the Sunday.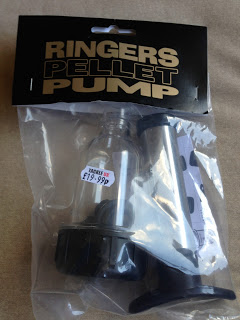 Woo-hoo – new pellet pump
After receiving my new pump, first impressions were that it was very well made and I've seen internet clips of the components being driven over with no damage whatsoever so hopefully it should be mice proof! The pump piece is stainless steel and looks like it should last a good few years, the bottom section that holds the pellets is made of a very sturdy plastic and again would take some breaking. My only slight worry are the rubber nipples (oo-er) that fit in the top of the pellet container and are used to release the air after pumping. I can see these perishing after a while but I suppose only time will tell and you might well be able to get replacements from Ringers.
My first two trips after the pump arrived were to a venue where pellets are banned so I've only just got around to using the pump for the first time, ready for Summerhayes tomorrow. The pump is simplicity itself to use although there are instructions included (not that us blokes ever read the manual anyway!). The first mistake I made was overfilling it with expanders so you couldn't really tell if the pellets had sunk after pumping – doh! So I tipped them out and started again with half the amount and after two or three pumps the majority of the Bait Tech 4mm expanders had sunk – job done.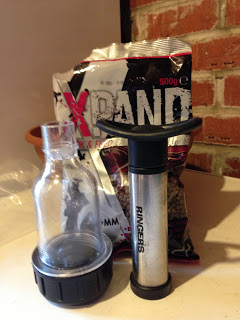 Ringers Pellet Pump and Bait Tech expanders (the best around in my opinion)
Well that's about it really, there's not a lot else I can say, it seems very well made and sturdy and it does what it says on the tin. It may be a bit a pricy at £19.99 but then again if it lasts me several seasons then it's money well spent and cheaper than buying lots of cheaper ones at a tenner a pop. All that remains is for me to use the pellets tomorrow and see if any float.
Good job Ringers