I was looking forward to getting back to Summerhayes today although both Sellicks and Lily lakes were in and I was hoping I didn't draw Lily. I picked Janders up and on arriving the car park was rather full with a match on Longs as well. All the usual faces were there plus Somerset Angling's Steve Kedge. With 21 anglers fishing today there were six pegs on Lily and when Pete announced the draw I hung back, Janders delved in and pulled out Sellicks 12 and should get a few fish today. With only a few balls left in the bucket I went in and grabbed a ball, I opened my fingers and could only see the number four and thought I was alright but as I turned the ball I could see the dreaded Lily also written on it and knew I wouldn't be fishing for silvers today.
Me and Janders had decided that if we were on different lakes the side bet would have to be on overall weight. I took my kit to the peg and surveyed the scene, I had Jess Jordan on my right but had two spare pegs on my left with Alvin Jones on peg 7. There was a nice bay on the inside towards Jess so I decided my inside lines would be there and also just this side of the empty pallet on my left. I would also fish an open water line at 11.5 metres but there was a wicked wind blowing straight in my in my chops and I would be in for a chilly day.
I set up a Malman Pencil 0.6 gram rig for open water and a Trabucco dibber for the insides with 0.08mm and 0.10mm bottoms respectively. Both rigs had size 18 Tubertini 808's and white hydro through the top two's. Bait was just some micros I had soaked the day before plus some corn and the old faithful Bait Tech 4mm expander's. Pete shouted the all in and I cupped in half a pot of micros at 11.5 metres before cupping in micros and corn on the insides. I slipped on an expander and put a pinch of micros in the toss pot before shipping out to 11.5 metres. The wind was already being troublesome (I thought I'd get my excuses in early!) but I had a bite quite quickly and was soon swinging in a 3oz skimmer.
Nigel Wickham on peg 9 started like a steam train and had two or three small carp in as many chucks, Alvin, Jess and Dave T on peg 1 were all into carp quickly as well. I had a couple of small rudd before catching my first small carp and it was already looking like it was going to fish well. Martin Addicot opposite me on peg 11 was struggling but caught a couple of early skimmers. I was getting knocks on the long line but it was from small fish so I tried corn but the rig just sat there. I had intended to leave the insides as long as I could but with a fair few carp being caught I was having my first look to the left after only half an hour.
I started getting bites and added a couple more rudd on corn before catching carp number two, number three followed just before the first hour was up. I was a couple of fish behind Nigel, Jess and Alvin but at least I was getting regular indications. I had three more fish in the second hour but I wasn't catching fast enough although my carp seemed to be a better stamp than Jess's. Nigel had slowed up but Alvin, Dave and Jess were catching pretty well and Martin was getting a few now as well. I had my seventh carp just into hour three before it all went a bit pear shaped, I lost one that snapped me around a reed before losing a fouler at the net and things went a bit quiet on that line.
I cupped some more feed in before trying the other side but I never had a bite there and the wind really wasn't helping. Back out long with corn on the hook saw one missed bite and I was soon back on the inside. Jess was catching really well now with nearly all his fish coming from his open water line. Things didn't really improve for me when I had two more carp come off and I think they were both foulhooked as well. This line had really slowed up and I was going nowhere fast, I had some reeds on the inside at about three metres which were knocking every now and again so plumbed up there before toss potting in some micros and corn.
I had a bite quite quickly and the fish tore through the reeds and snagged me, I was by now on 0.12mm bottom and a 16 hook and had to pull for a break. The hooklength snapped and the rig hit me straight in the face (no laughing please Brendon!), with blood running down my cheek I tied on another hooklength and went back into the reeds of doom. I really wasn't enjoying myself much and all hope of a brown envelope had long gone. I then enjoyed a relative purple patch and landed four or five carp on the trot and started to think I might be in for a grandstand finish.
Jess was still catching really well and would be top on our pond and I reckoned he had a chance of winning the match, Dave was getting a few as well but apart from those two I couldn't see a lot happening, Alvin was getting odd fish but Martin was struggling and Nigel had dried right up and was enjoying it about as much as me! I flirted briefly with the bay but never hooked another fish in there so I spent the remainder of the match just fishing a top three by the reeds. I was still getting odd fish and lost a couple more as well but was hoping the last hour the carp might get their heads down for a munch.
Martin was now catching really well down the edge and with an hour to go, he was motoring, my golden last hour didn't materialise and I ended with 16 carp and a few bits and thought I might have 20lb which would put me nowhere, I was only going to weigh in for the side bet with Janders. I asked Jess how many he had and he replied 40! which I thought must give him 60lb+, he said he'd phoned a few people on Sellicks and it had fished it's head off with Adam Palmer having bagged right up. As I was packing up, Alvin walked by and he'd actually caught a lot more than I thought he had and the phrase 'chip shop sausage' started to sound in my ears!
As I was taking my kit back, the weigh in had started on Sellicks, so I dropped my kit off before catching up with the scales. Steve Kedge had 58lb 10oz from peg 2 and Heardy had 12lb 15oz of silvers next door (from another crap peg!) and the bar was already set pretty high. Mark Leahy had 42lb 15oz from peg 5 before Adie Bishop had 52lb from peg 7. Janders said he had around 20lb so the pound could be a close run thing today. Paul Homewood had 45lb 9oz from peg 9 and it was already looking like 40lb+ wouldn't be enough to frame.
The scales then did a left turn onto Lily and Jess weighed a brilliant 56lb 1oz to go into second place, then we reached my peg and my silvers weighed 9oz before my carp went a bit more than I thought to give me a 25lb 4oz total. Alvin had 52lb 10oz and I really didn't think he had anywhere near that and I'd been well and truly 'sausaged'. Nigel didn't trouble the scales before Martin Addicot had 42lb 9oz with the majority coming in the last two hours, Dave T had 29lb 2oz and the scales headed back to Sellicks with Janders next to weigh.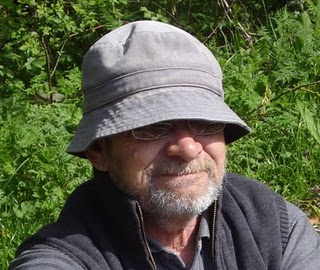 Janders was overjoyed at having to pay me a pound!
He had a lovely crucian in his 5lb 14oz silvers net and when he pulled his carp net it was going to be close, Pete called out 18lb 8oz and his 24lb 6oz was just 14oz shy of my weight so at least I'd won the side bet. The scales arrived at Adam P's peg and after three weighs his total was called out at 76lb 8oz and he went into the lead. John Dursley had 51lb 13oz and was just short of the main frame, Glyn Wickham had 10lb 9oz of silvers to go into second place behind Martin and with no more big weights Adam was confirmed as today's winner.
Adam Palmer with part of his winning 76lb 8oz bag
So it had fished really well today with 52lb needed for fifth place, I think I was beaten when I drew Lily and should have done a lot better really. If I'd have fished soft pellet long I think I'd have caught more and I've been dying to try fishing shallow with pellet on this lake and will definitely try it if I draw it again.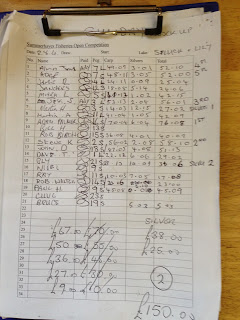 Great weights again
1 – Adam Palmer (Royal Marines) – 76lb 8oz
2 – Steve Kedge (Somerset Angling) – 58lb 10oz
3 – Jess Jordan (Summerhayes) – 56lb 1oz
4 – Alvin Jones (Summerhayes) – 52lb 10oz
5 – Adie Bishop (Summerhayes) – 52lb
Silvers
1 – Martin Heard (Summerhayes) – 12lb 15oz
2 – Glynn Wickham (Summerhayes) – 10lb 9oz
So my good run has come to an end, the best news of the day was that Chelsea beat Swansea 2-0 to go back into third place. Next week I have a double header with Perry St on the Sunday and Chris Haines's pond on the Monday so come back then to see if I can get back on track.
Next up – Perry St Pond – Spring League – Sunday 5th May
Blog updates – Rogues Gallery, Where to fish
New! – Ringers Pellet Pump Review (below)
New! – Link to Mike Ward's Thai Angling website Mike J Ward Thai Angling