I've done a few reviews on my blog but I'm venturing into new territory with this one, my first review of a fishing app. I'm not a technophobe but I've never really played around with apps much on my phone with Facebook, Twitter, E-bay and BBC Sport about as adventurous as it got. Well with fishing apps becoming ever more popular I thought I'd have a look at one. I chose the FishingUk app because I'm already registered on their website and I follow them on Twitter etc. I downloaded it (for a very reasonable £1.99) and I was in business.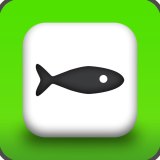 The FishingUk App
Basically the app is a directory of places to go fishing, I say basically because there's so much more to it than that (but more of that later). Currently there are over 2800 fisheries listed and these are broken down into 966 fisheries (commercials), 903 lakes, 291 ponds and 708 river stretches and more are being added on a daily basis. In addition there are 949 tackle shops listed as well. Once you've registered, you can tap the nearest button and it will bring up all the fisheries close to you, there is also a search facility so you can find venues or tackle shops.
When you tap on a venue you are interested in, it comes up with a brief description and location of the venue and then there is loads of really useful info like facilities available (on site shop, toilets etc), user submitted pics and videos along with tips. You can also view the location on a map and I particularly liked the satellite imagery where you can zoom right in on where the venue is situated. Furthermore you can e-mail or phone the venue (as long as the details have been submitted) from the app and then get directions there from your current location and it will even list the nearest tackle shop so you can get day tickets and bait en route. There is also a review section as well so all the hard work has been done for you, all you need to do is load up your gear and go and enjoy your days fishing (as long as the fish play ball that is!).
As I said earlier, there's so much more to this app than just being a fishery directory, there are members deals on bait, tackle, venues and much more. There is also a forum with hints and tips and also sections on carp, predator, coarse and fly fishing along with tackle reviews and even a marketplace where you can buy and sell tackle. If that wasn't enough there is also a 'Tackle Box' feature with loads and loads of info on everything from angling etiquette to feeder fishing to fish care and everything in between.
There is so much going on with this app that I'm still finding my around it really, I did find the 'Latest' section very useful where at the tap of a button you can see all the most recently updated venues, photos, tips, reviews etc. Also when you've visited a venue where you've had a red letter day you can add it to your 'My Venue' list and build up your own little directory of venues so you'll never be stuck for somewhere to fish again.
It's obvious a tremendous amount of thought and hard work has gone into this app and I can see it just getting better and better as more people use it and add venues, reviews and photos etc. I did notice however a few minor errors when I was looking at venues I know but they were very few and far between. One example was the River Isle listing which said grayling were plentiful and after fishing the river for nearly 34 years I can assure you they're not! To be fair though, this is minor nit picking and odd errors are to be expected when you consider the sheer volume of info held and the fact some of it may have been gleaned from club websites etc.
Personally I was a little sceptical at first but after playing around with it for a few days I can see it being a very useful little app and the next time I go pleasure fishing (which isn't very often) and fancy trying somewhere new, I will be reaching for my phone and opening FishingUk.
The website is also well worth checking out and becoming a member of (it's free to register), here's a link to the site FishingUk