The bad weather looks to be behind us and I was looking forward to the long weekend and fishing a couple of matches but on arriving out the pond, someone said we weren't going to Chris's on the Monday which I was really disappointed about. After paying for my pools and bait it was soon time for Les to draw for the first proper round of the pairs knockout I got paired with Janders against Chilly and Blaker. I thought they'd be tough to beat but when Les opened the envelope for this weeks rotation of pegs, it put me on 17 (which is a decent peg), Janders on 2 (not so good) with Chilly on 9 and Blaker on 19 (both not great pegs) so it could be tight.
On getting to my peg, there were quite a few carp mooching about up in the water so I set up a rig to fish shallow along with a skimmer rig and a dibber for fishing down the edge to my right. I mixed up some Bag 'Em groundbait and had corn, casters and krilled dead red maggots for bait. No Brendon today so only the two side bets with Janders and Picky who was on 16. Les blew for the start and everyone started cupping in feed on their chosen lines, I put two balls in at 8.5 metres straight out and then some casters, corn and dead maggots on the inside line, followed by a cup of loose groundbait.
I started out with double caster on my shallow rig and kept firing out casters over the top, hoping I might get a few a the new carp but after half an hour, all I had to show for my efforts was a small roach. There wasn't a lot happening at our end, Mike 'The Feeder' Collins had lost an early carp and Janders had bumped off a few small fish and that was about it. My next stop was over my skimmer line with double dead maggot, I had a little lift bite and struck into carp number one which I safely landed but this proved to be a false dawn and I had no more bites from this line.
From what I could see there was quite a bit of elastic coming out from the pegs at the other end and it looked like the fish had followed the wind which was blowing down there. I came in on my inside line and started to get a few indications before losing a carp that I think was foul hooked. I did land a couple more carp to put me on three after two hours and this was pretty good for our half of the pond. Picky had only had a couple of skimmers and Mark M opposite me hadn't had a carp yet and Dino and the Hoff either side of him were struggling as well. Janders finally landed a couple of carp and Les was catching some eels in peg one but it was a real struggle for the anglers at our end.
My inside line dried up so I cupped in some more feed before trying the skimmer line again but this was as dead as a dodo. Back on the inside and I landed another carp but lost another fouler too and I'm sure they were swimming about up in the water. Picky had a carp but I was still ahead of him and looking good to make it 2-2 on the side bet front although Janders was catching a few now by the cormorant roost (fish refuge) and was well ahead of me so I'd be saying goodbye to that squid. On the plus side we could still do okay in the pairs because although Chilly was catching in peg 9, from what I could hear Blaker was struggling in peg 19.
Time was now starting to run out, Dino and Mark M had a couple of small carp and Picky had another to pull closer to me as his were bigger fish. Butch was catching the odd skimmer and looking good to consolidate his silvers league position. I got to five carp and Janders was on nine with Picky on three, Les finally started to catch odd carp as well but nobody from our end was going to compete with the anglers on the pegs at the opposite end. I was still losing the odd carp and had now lost five of six with only one snapping me, the hook just pulled out of the others and I'm sure they were foulhooked. I did catch a couple of small rudd and jokingly said I was going to win the silvers today to which Les replied 'You're just not taking this seriously are you?', which made me chuckle.
I landed my sixth carp with 15 mins to go and hoped I might get another but it wasn't to be. A really disappointing day but that's fishing I suppose and today we were just in the wrong area. I packed up and Picky asked what I had and I said about 12lb and he reckoned it might be tight between us as he'd had three lumps. We were soon at peg one awaiting the weigh in and Les entrusted me to do the weigh in for the silvers (which wouldn't take long at our end!). Les had 2lb 2oz of mainly eels and 16lb 4oz of carp before Janders had 24lb 12oz of carp and 10oz of silvers and I paid him my pound to make the side bet score 3-1 in my favour. He'd done really well today and I felt if we got knocked out that I'd let him down somewhat (sorry mate).
To show how it tough it had been, Dino had just over 10lb, Mark M had 11lb 6oz and the Hoff had 10lb 12oz of carp and 3lb 11oz of skimmers and he went into the silvers lead at this early stage. This only lasted until we got to Butch who had 5lb 14oz of silvers and really seems to have them sorted. Then we reached the start of the pegs at the other end and Dave M had 24lb of carp and 3lb 5oz of skimmers from peg 7, Mike T had 28lb 14oz of carp from peg 8, Chilly had 30lb 12oz from peg 9 before Bish put 69lb of carp on the scales from peg 10 and would be the clear winner with that. He was just drying himself off after having to go in the pond after his top five was pulled in by a skimmer! I was gutted I didn't get a photo of a half naked Bish as I reckon it would have attracted a fair few female readers!
Stop Press – I may not have got a picture but Mike T did!, so for any women out there, here's the hunky Bish, nearly naked.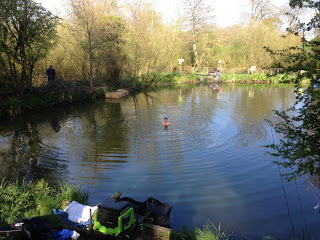 May's Perry St pin up!
The scales reached peg 11 and Dunner had 28lb 6oz and so far I hadn't had a lot to do as official silvers weigh man but then Bushy had over 41lb of carp and 8lb 14oz of skimmers to push Butch into silvers second and go into second place for the carp. Kev 'Dangerous' Baker had 19lb of carp and 4lb 1oz of silvers before Oz had 32lb 8oz of carp from peg 14 and then we started heading to the our end of the pond and the weights started dropping again. Rocking had 16lb 8oz of carp and 2lb of silvers and then Picky had the same weight of silvers and 15lb 10oz of carp. My silvers went a stunning 4oz and so far I've managed one skimmer in four matches! My carp went 19lb 6oz so at least I'd pulled level on the side bets with Picky (2-2 now).
Mike Collins had just over 7lb, Blaker had 16lb 12oz of carp but his 3lb 4oz of silvers meant he'd beaten me and as Chilly had beaten Janders we were out of the knockout. Last to weigh was Exeter Mike who had 7lb of carp but his 5lb 2oz of silvers should see him get in the frame.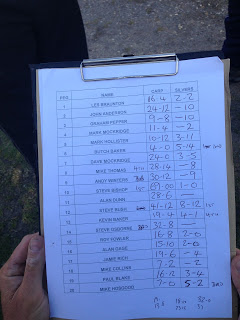 Today's board, you can see the difference between the two ends
Carp
1 – Steve Bishop (Reader's Wives) – 69lb
2 – Steve Osborne (Chard) – 32lb 8oz
3 – Andy Winters (Chard) – 30lb 12oz
4 – Mike Thomas (Chard) – 28lb 14oz
Silvers
1 – Steve Bush (Chard) – 8lb 14oz
2 – Butch Baker (Chard Minnows) – 5lb 14oz
3 – Mike Hosgood (Near Exeter) – 5lb 2oz
4 – Kev Baker (Tatworth Tigers) – 4lb 1oz
Still early days in the two leagues but here's how they stand after three matches
Carp League
1 – Andy Winters – 126lb 2oz
2 – Steve Bishop – 105lb 9oz
3 – Jamie Rich – 102lb 15oz
4 – Mark Mockridge – 99lb 2oz
Silvers League
1 – Steve Bush – 21lb 14oz
2 – Butch Baker – 19lb 14oz
3 – Mike Hosgood – 18lb 10oz
4 – Dave Mockridge – 15lb 4oz
Pairs knockout results (points scores in brackets)
Mark Mockridge (4) and Steve Osborne (18) beat Les Braunton (8) and Mike Hosgood (5)
Steve Bishop (20) and Mark Hollister (6) beat Alan Dunn (15) and Alan Gage (7)
Mike Thomas (16) and Steve Bush (19) beat Dave Mockridge (14) and Kev Baker (12)
Paul Blake (11) and Andy Winters (17) beat John Anderson (13) and Jamie Rich (10)
Well that's me all blogged out for today, a disappointing day and no match tomorrow now either, the only good news was that Chelsea beat Man U 1-0 to keep their hopes of a European place alive.
Come back next week to see if I can draw the right end!
Next up – Perry St – Spring League – Sunday 12th May
What's new – Rogues Gallery and Where To Fish updates
Check out – FishingUk App review below