Well that was a weekend to forget, I popped over to Tackleuk yesterday and bought some new elastic and a couple more Drennan Roach floats for today and was quite looking forward to it after the last match. I changed my elastic and made some rigs up and thought I'd check the footy to see how Chelsea were getting on and we were losing 1-0 to Everton and that was how it finished up. Also it was Picky's 50th birthday party last night and I had every intention of going until I fell asleep and woke up at 9:30! So a belated Happy Birthday mate and I hope you had a great night.
Back to today and I got to the draw and it was the usual faces plus young Dave Gudgeon was fishing today and it's great to see some new people turning up and I hope he sticks at it as he's a promising young angler. The usual side bets were agreed with Moses and Rob and today would be my last chance to get one off Moses as he won't fish the river and give me a chance to win my money back. I pulled out peg 20 again and was well happy with that and I hoped those skimmers would put in an appearance again.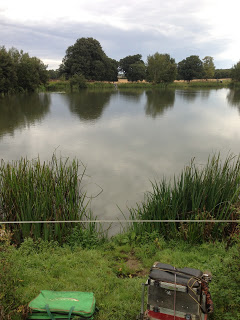 Peg 20 at Dillington
The forecast was horrible today and it would be a case of battening down the hatches. I mixed up some Bait Tech Mantra before getting my two brand new rigs out and plumbed up at 10 metres which was a section further out than last time. Moses was on peg 23 so at least I'd have an idea of how one side bet was looking. I wasn't quite ready when Steve blew for the all in and eventually started five minutes late. I cupped in two balls of groundbait at 10 metres before starting with caster on the hook.
It took a while to get a bite and then I started catching small roach on caster and maggot and after an hour I had 22 fish for a pound or so. After about an hour and a quarter Moses shouted up to ask how many I had, I said I was on 35 and he shouted back that he'd only had 19, would today be the day I got one of my pounds back? By the end of the second hour I had added another 23 fish although I did have a couple of quality roach on caster, one must have been pushing a pound.
I could see Bruce and Fieldy catching bits on the whip but still felt I was doing okay, the trouble was I'd only get a couple of decent fish on caster before having to switch to maggot to get bites. Among the small roach and rudd on maggot I'd get the odd better one but I just couldn't string them together. I even tried hemp and had a couple of roach but they were no bigger than the maggot fish. The wind wasn't too bad and we'd had hardly any rain so far and I was hoping it would hold off until later.
Around the four hour mark, my bites slowed right up and once again Moses shouted up for the latest scores on the doors, I replied saying I was now on 88 fish and he said he had 71 so I thought I was still ahead. I was still catching small roach and perch on maggot and trying caster every now and again and did have three nice roach on it in as many chucks. In hindsight I think I spent too long on the caster.
As the end of the match neared I was on 110 fish and was a little surprised I hadn't had any skimmers today. It had started raining and Steve blew for the all out and we packed up in the rain. Moses walked back and said he'd finished with 106 fish and had caught a couple of nice skimmers so it could be tight for the side bet. I felt sure I had more than the last match when I had 7lb 5oz but would it be enough for a pick up today?
I collected the scales from my car and went to weight Fieldy in, he said he'd had over 170 fish but they were tiny and he thought he had around 6lb or so. He weighed 10lb 5oz and is worse at estimating than me, I wasn't sure I had that. Dave Gudgeon on peg 17 had 5lb 5oz and included a lovely perch that must have been close to 2lb. Then it was me and I was pretty disappointed when I only weighed 8lb 5oz and needed to beat Moses to stand any chance of framing as I was sure Bruce would have double figures.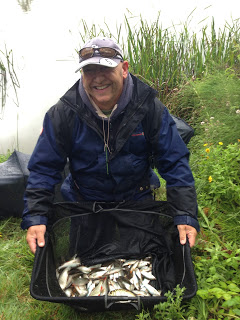 Graham's 6lb turned out to be over 10lb!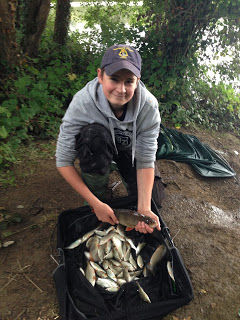 Dave Gudgeon had a cracking perch
When Moses pulled his net out it was going to be close and the digital read out settled on 9lb 6oz – bugger! So I lost another £1 to Moses and then we had to wait to see what the other side had done. They arrived back and Bruce 'The Speed Machine' Hunt had done it again with 293 fish for 14lb 9oz, the next best weight was Steve with 5lb 10oz and with Rob weighing 4lb 1oz I was, at least, evens on the side bets.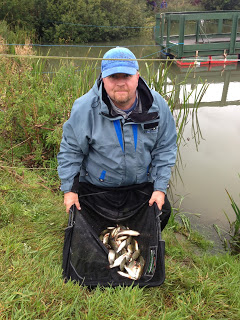 Moses had 9lb 6oz for third and another pound off me!
So a pretty poor day for me and I'm glad I haven't got to fish it again for a while, there's just too many small roach for my liking. I don't mind it too much when it gets colder as the winning weights tend to come on the pole rather than the whip and you see more quality and not so many bits.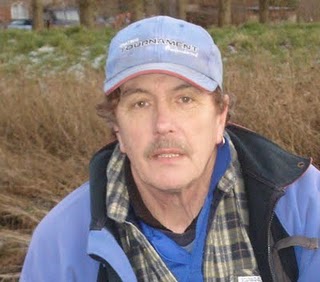 The 'Speed Machine' won again
1 – Bruce Hunt (Tiverton) – 14lb 9oz
2 – Graham Field (Taunton) – 10lb 5oz
3 – Moses Holbrook (Ilminster) – 9lb 6oz
The final league positions
1 – Graham Field – 840 points
2 – Moses Holbrook – 820 points
3 – Robin Cox – 725 points
Both Graham and Moses did really well, fishing nine matches out of the ten and each framing eight times and winning two of the matches apiece.
The club would like to say a huge thank you to Steve and Cindy at the Royal Oak for their continued support of the league and their fantastic hospitality in the mornings and also thanks to Steve Parker for organising a great little league – well done mate.
I'm at Summerhayes next week so tune in next Sunday to see how I get on.
Next up – Summerhayes
What's new – Lots of page updates
Check Out – My favourite blogs (below)