Pete had put the draw time back to 9:00 now the nights are drawing in, so the good news is that my blog shouldn't be too late from now on. Also the forecast was looking good for this match so all I needed to do was catch a few fish! I picked Janders up and on arriving at the fishery, it was obvious there was another good turn out. After paying my pools we awaited the draw and Pete said there were 23 fishing today. As well as the regulars, Alex Murray and Scotty had also turned up to mug us all again.
I really fancied drawing peg 12 or 13 or near where I was last time but I pulled out peg 20 on the bottom bank and I've struggled down that end that last few times I've drawn it and was hoping today would be different. Glynn and Mike Hosgood (from somewhere around Exeter) wanted side bets on silvers and Janders wanted to have the pound on overall weight so it could be an expensive day! Glynn had drawn peg 36 by the aerator and I thought he'd do well, Mike was along from me on peg 17 with Nigel Wickham on 18 and Ray was on peg 22 on my left.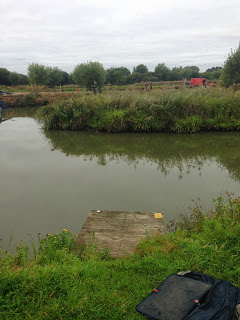 Peg 20 on Longs (not a peg I want to see again in a hurry!)
I set up two 10 x 11 MW F1 Slim floats and plumbed up three swims at 10 metres which put me just past the middle. 8-10lb of silvers is normally enough to frame and I set my sights on catching two decent skimmers an hour which would hopefully give me around that weight. For bait I had the usual micros and Bait Tech 4mm expanders. The whistle was blown to signal the start and I fed half a pot of micros on all three lines before starting on the right hand swim. The float settled before sliding away and I lost a small roach on the way in, next chuck I missed a bite and hoped I wasn't going to get plagued by small fish all day.
I switched to the line in front of me and had a small skimmer before catching a decent one and was relieved that there were some decent skimmers about. Ray lost a couple of fish before catching a small tench. After an hour I had that decent skimmer, a couple of blades plus a few small roach and had lost a carp and was hoping things would improve in the second hour. There wasn't much between me and Ray at this early stage. Early in the second hour I've had a carp and added a few more small fish before catching a nice crucian, my first one for ages and although I was a little behind my target I was still feeling quite positive.
Then in the third hour my swim just died and it seemed to be the same for Ray, Nigel and Jim Jenner in peg 24. I was just getting very occasional blades and small roach and I wasn't even hooking many carp. I was getting lots of 'dinks' from small fish and tried upping the feed but this didn't seem to work and was only sticking at it because from what I could see everybody was struggling. There were already a couple of bank walkers and I thought it might be a low weight affair today.
I added a couple of carp and a few more blades but just couldn't catch any more decent skimmers and I wasn't sorry when the all out was called. I ended up with 3 carp and 25 silvers which I thought might go 2lb – not good. Mike Hosgood walked past and said he'd had three good skimmers in the first three put ins so I knew I'd be one pound worse off straight away. I loaded up my car and drove up to Janders peg to collect his gear and he said he had ten carp so I was 2-0 down on the side bets. Things got slightly better when Glynn said he'd really struggled and wasn't going to bother weighing in, he paid up and I'd at least pulled it back to 2-1.
We walked round and caught up with the scales after the first few pegs had weighed, and Bruce Hunt and Charlie Barnes were the early silvers leaders with 5lb 14oz apiece and Scotty was top weight so far with 47lb 9oz from peg 6 (and he'd included 6lb of silvers in that!). Heardy then went into second place overall with 44lb 13oz and also went into first place in the silvers with 6lb 13oz from peg 12 which is the peg to draw at the moment. Clive C on 13 then had 8lb 2oz of silvers to go into the lead before Alex Murray showed his class when he plonked 50lb 14oz on the scales from peg 14
Mike H had 7lb 7oz of skimmers to go into second place on peg 16 before weights started going downhill rapidly as they reached my peg, Colin W had 14lb of carp in peg 17 and then Nigel didn't bother weighing. My three carp went a level 7lb and my silvers 3lb 1oz which was a bit more than I thought, Ray had 2lb 13oz of silvers and 10lb 7oz of carp and then Jim didn't weigh and I genuinely think we were in a poor area today.
Steve Kedge in peg 26 went into second place with 48lb 13oz and there wasn't much separating the overall weights. The next few pegs didn't trouble the overall weights and then we got to Janders and he had 17lb 2oz of carp but didn't weigh his two small skimmers so although he took my pound, I claimed a moral victory on the silvers! There had been quite a few people not weighing today and it was probably my worst day here yet, the sooner Pete gets Perch Pit netted, the better I reckon.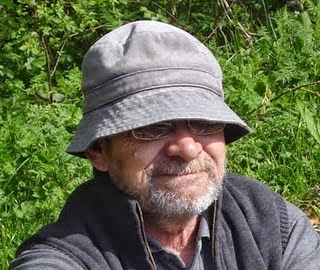 Janders very nearly smiled when I gave him my pound!
Next week it's on Sellicks and the way things are going I'm bound to draw one of the carp pegs so come back next week to see how I get on. The only highlight of the weekend was Chelsea winning yesterday and Man U losing today – tee hee!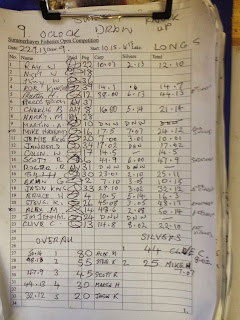 Today's weigh board
1 – Alex Murray (Mosella) – 50lb 14oz
2 – Steve Kedge (Somerset Angling) – 48lb 13oz
3 – Scott Russell (Tackleuk) – 47lb 9oz
4 – Martin Heard (Tiverton) – 44lb 13oz
5 – Jason King (Summerhayes) – 32lb 12oz
Silvers
1 – Clive Cunningham (Summerhayes) – 8lb 2oz
2 – Mike Hosgood (Near Exeter) – 7lb 7oz
Next up – Summerhayes (Sellicks)
What's new – Lots of page updates
Check Out – My last match (below)