With load of rain in the week and more on Saturday night, it was always going to be touch and go whether this match would be on the river, I got to the pub and Rob said we were down the canal today which was fine by be as it's one of my favourite venues. Fieldy was back from his holidays although Heardy had to work and Bruce was having an operation so we were a few down on last week. I drew out peg 5 which put me just past half way up the canal and it's an area I seem to draw a lot. On arriving at the canal, there was loads of weed but most of the pegs had a channel in them, although any big fish hooked could cause problems.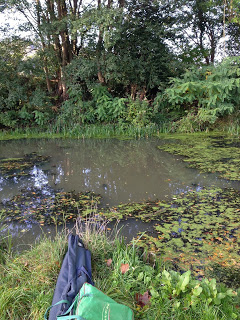 Peg 5 on the canal, all the weed on the right got blown into the middle of the peg!
I had Justin on my left and Rob on my right and both accepted my offer of a £1 side bet. I set up two rigs, a 0.5 gram Drennan Squatt for fishing down the middle at about five metres and a 0.4 gram Drennan Carp for fishing across, both rigs had 0.08mm bottoms and size 20 B511's. I finely chopped some lobbies and casters and on the whistle put in a dollop on the far side at 11 metres before starting down the middle with a single red maggot on the hook. I had to wait quite a while for my first bite which was a 3oz roach, I then bumped one before catching another and then lost three shipping back – doh!
I had a couple more small roach and then a tiny perch so tried caster but only had one slight knock on it. Justin had caught a couple of fish across and as I'd been feeding casters over, I couldn't wait to go across to the far side. I had intended to wait at least an hour but couldn't wait and went over 15 minutes early. I had three roach in three chucks and really thought I was going to bag up, I'd said to Justin before the start I fancied 8-10lb would be needed to win. Normally down here you catch quality roach with odd decent perch and skimmers thrown in so I thought it would only be a matter of time before they put in an appearance.
After an hour I had 11 fish for about 1.5lb and was doing okay but bites across were already becoming less frequent and I was already having to chase them about along the far bank. I wasn't to worried though as nobody seemed to be running away with it. It was pretty tight between me and Justin and a better fish could swing it either way. We were catching mainly roach around 3-4oz apiece and not the usual stamp. After a couple of hours Pete came for a wander and said it was a bit of a struggle down their end and after popping up to see Rob and Fieldy on the end peg, he said it was the same for them.
I was still getting odd roach but would only get one or two before having to try another spot along the far bank at 11 and 13 metres. Most of the bites were coming on the drop with caster on the hook, I tried maggot a couple of times but this just resulted in tiny perch. The wind kept blowing the weed right into the middle of my peg and each fish I hooked I had to navigate around the clumps of weed which was a bit of a pain. It was still really close between me and Justin although it looked to me like he was catching a better stamp of roach.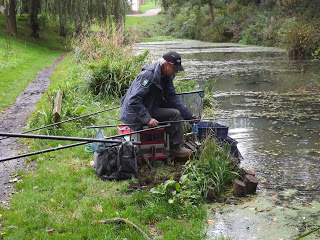 Me netting a roach (thanks to Scott Jackson for the photo)
With a couple of hours to go I had a bite and struck into something a bit more lumpy, I was hoping it was a better perch but it soon became obvious it was an eel of around 6oz, after some fun and games with the weed and my light hooklength, I finally netted it and it was coughing up casters. Bites were now very few and far between but I stuck at it as everyone seemed to be in the same boat. I got to 36 fish with about ten minutes to go and then missed two bites before Rob called the all out. I thought I had between 3-4lb but wasn't sure it would be enough today and I was pretty sure it would be really close between me and Justin.
Fieldy said he'd struggled and had only caught 9 or 10 fish but when he pulled his net out, he'd caught a nice little tench and some decent skimmers, fishing half a lobworm and weighed 4lb 9oz and I said he'd win it with that. Rob had struggled for 1lb 12oz and his net included loads of small perch, I pulled my net out and it was tight, Justin called out 4lb 6oz and those three fish I'd lost early on could prove to be costly. The it was Justin's turn and again, it looked to be really close, his weight was called out at 4lb 3oz and he was cursing my eel as he paid me a £1 to go with the one I had off Rob.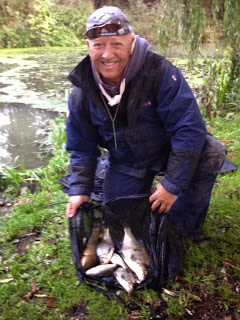 Fieldy had some quality fish in his winning 4lb 9oz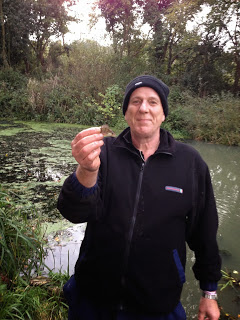 Rob had some slightly smaller fish in his 1lb 12oz!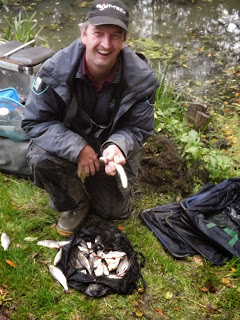 Me trying (unsuccessfully) to hold my eel!
Pete had lots of small fish and weighed 2lb 14oz and then Neil had 2lb 2oz and I was still in second place with just Steve on the other end peg left to weigh. The grapevine had suggested he'd caught some decent skimmers so I was relieved when his weight was called out at 2lb 6oz. His cause wasn't helped by a dog jumping in on the far side. So I finished up in second place and picked up £25 (plus £2 in side bets) to finish off a successful October.
1 – Graham Field (Taunton) – 4lb 9oz
2 – Jamie Rich (Against Men and Fish/ Burt Baits) – 4lb 6oz
3 – Justin Charles (Ilminster) – 4lb 3oz
So a tight frame and I do love the canal as it's a very fair venue and there's always bites to be had and with Chelsea beating Man City 2-1, another pretty good weekend. Next week I'm hopefully going to Summerhayes and apparently the silvers weights are getting better so come back next Sunday to see if I can get amongst them. Also next Saturday hopefully me and fellow blogger, Russell Hilton are going piking on the Taunton canal so see if I can catch a new pb, mind you, if our last two trips are anything to go by, it could be a disaster!
Whilst at Whiteacres last week, Tony Wynnick let Jamie Parkhouse have my Burt Baits hoodie and t-shirt and he let Scotty have them today and he very kindly popped down the canal to let me have them and they do look great, cheers Burt! He has a new bait range out and Jamie P bagged up yesterday using it and I'm hearing lots of good reports so I will try and get hold of some soon to review.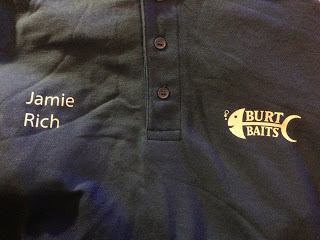 I can't go without mentioning Tackleuk's Scott Russell who is a man on fire at the moment, after doing well at Whiteacres, he won yesterday at Todber Manor with 201lb and followed it up today with another win, this time down the resi with 43lb of skimmers. He won the first resi league and with only one match to go, I think he has this one sewn up as well.
I regularly give the Torquay Tart some stick on here but I will have to give a him a shout out as he won the open on Tamar lake today with an excellent 29lb 8oz on the feeder so credit where credit's due, well done Brendon. Although he did text me to say he's currently rolling around naked in bed with his winnings! – strange lad!
Next up – Summerhayes
What's new – Lots of page updates
Check Out – My last match (below)