Before I come onto this weeks match I must just say a massive congratulations to Scott Russell who has just fished two festivals at Whiteacres, he finished 17th in the first one and 11th in the second one with a section win and four seconds which earned him a place in the prestigious Parkdean Masters final. He finished up a credible fourth with 62lb beating some top names like Steve Ringer, Des Shipp, Andy Power and James Dent to name but a few. Well done mate, a great performance and I'm sure it's only a matter of time before you win one.
Right onto this weeks match and after loads of rain yesterday and through the night I was sure we would be on the pond today. I got to the pub and Rob confirmed we'd be on the river and he had pegged the top end. There was a better turnout than last week as Heardy and Justin were fishing today for the first time in this league although Neil and Moses were absent so at least I wouldn't have to pay him another pound! Steve Parker came in for a fair bit of stick after falling in last week and we all reckoned he should wear a rubber ring today, just in case.
Rob had put in all the usual good pegs plus 22 and 29 and it would be interesting to see how they fished today, I really fancied 14, 15 or 27. Justin drew first and pulled out 27 so nothing changes there then! I stuck my hand in the bucket and pulled out peg 14 which I was really chuffed with as it's one of my favourite pegs. Heardy had 15 and even had the cheek to moan at how well I draw!
On getting to the river I was amazed at how clear it was and as I took my box to the peg I managed to slip down a slope on my arse which wasn't a great start to the day! I set up a 0.75 Drennan Carbo and a 1 gram bodied float and plumbed up, it was quite shallow out in front before shelving off by the tank traps so the lighter rig would be for the shallower water and the heavier rig for by the traps and also by the little cutback in the far bank towards the tail of the swim. I also plumbed up towards the weir just off the main flow as quite often you can catch trout up there.
Peg 14, you can see the tank traps on the far side of the swim, where my box is was underwater by the end of the match!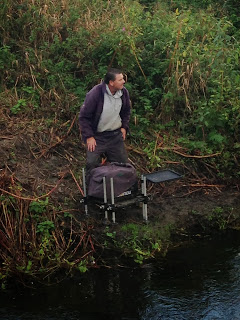 Heardy deciding where to fish in peg 15
I had a sandwich and a coffee and it was time to start, I baited up with caster and shipped out the lighter rig and inched it down in the flow and first chuck I had a small roach and then another and then a trout of 6oz and it was all going to plan. I was having to search around for them a bit and was getting quite a few minnows as well so decided to try the heavier rig by the traps. The rig sat nicely in the flow before sliding away and I had three fish in as many chucks before it slowed again and the fish just wouldn't settle. I had 14 fish after an hour for 2lb or so and was fairly happy with my catch rate.
I tried towards the tail and had a nice dace but it was a one off, I then went to 11.5 metres just off the cutback and had a chublet but again it appeared to be a loner. I quick try up towards the weir resulted in a rattle on the pole tip but nothing more. There was a submerged branch halfway down the peg and holding back just in front of it saw me catch a chublet which I somehow managed to miss the net with! Next put in I had a 12oz trout and made sure it went into the net and I was now up to about 3lb but bites were becoming less frequent (apart from minnows!).
After three hours it started to rain heavily and the river began to rise and colour up at an alarming rate, I kept my eye on the level by using a rock as a marker and it was soon underwater and I had to move my box back. I was still getting odd fish and had a few on double red maggot but I would only get one before the minnows moved in. I stuck at it as it was the same for every one and a walker confirmed the people he had spoken to were struggling.
I had a couple more roach and bumped what felt like a better fish and with about half an hour to go I was on 28 fish for about 4lb or so which I was sure would be no good today. The heavier rig was just about holding in the flow although the swim was getting worse by the minute, with five minutes to go the float slid away and something a bit more substantial had taken the double red maggot hookbait and I gratefully netted a trout that had to be a pound and a quarter. I had time to ship back out but that was it and I ended with 29 fish (five trout, roach, dace and chublets) plus quite a few minnows for about 5lb.
I packed up and as I passed Martin he said he'd caught quite well until the river had come up and he had over 30 fish so this could be tight, Bruce on 17 told a similar story, he'd been catching well until the extra water came through. We walked up to weigh Heardy in and he had 5lb 8oz and when Bruce weighed 5lb 11oz I hoped that chublet I missed the net with wasn't going to prove costly. Even when I pulled my net out I still didn't think it would be enough but Martin called out 6lb – phew!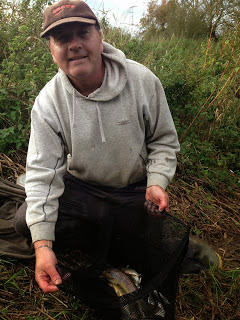 Martin had 5lb 8oz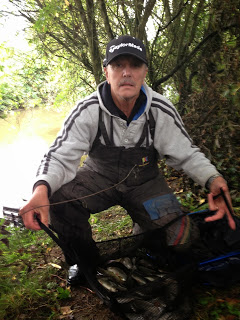 Bruce had 5lb 11oz from peg 17
Rob, Leighton and Steve arrived back from the lower pegs and Rob had caught a lovely net of chublets, dace and roach weighing 7lb 11oz to push me down into second and there were still three more anglers to come back from the copse. They got back and I was relieved when Tony Newman was the top down there with 2lb 7oz from peg 29. I felt a bit sorry for Justin as his peg had been fished the day before and the angler even turned up and showed him a picture of his 8lb net from the previous day!
So Rob had won and I was second and picked up £37 to keep this good little run going and Bruce was third. So once again a tight frame and if it hadn't been for the rain I think weights would have been a lot better. It's great to see so many small fish showing and it was nice to see one of the new pegs producing and I reckon there are a couple more that are worth putting in as well.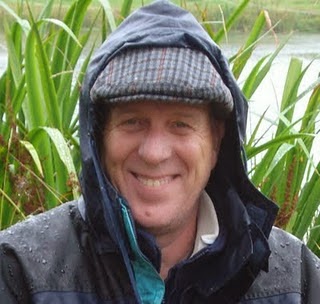 Match winner Robin Cox
1 – Robin Cox (Ilminster) – 7lb 11oz
2 – Jamie Rich (Against Men and Fish) – 6lb
3 – Bruce Hunt (Tiverton) – 5lb 11oz
Well so far that's three river matches and three pick ups and I've averaged over 6lb a match, be sure to come back next week to see it all go pear shaped! So with Chelsea winning as well, a pretty good weekend.
Next up – River Isle
What's new – Lots of page updates
Check Out – My last match (below)