We'd had quite a bit of rain yesterday and with the weather still pretty mild I thought we could be in for a good match today. On arriving at the pub I was surprised to see only a few of us fishing today, although to be fair several people were on holiday and several who fished last week said they'd only fish one of the leagues so would only be here every other week. I was hoping Rob was going to peg the top end but he said we would be down Isle Brewers today. I really fancied last weeks winner, peg 126a but pulled out 124 which Rob had done 6lb odd off last week and lost a couple of chub so I should get a few bites at least. Steve Parker drew the one I wanted and it was also a golden peg today. Rob had 128 which was second last match and Pete Lonton had 125a which is the first time it's been in for a while.
On getting to my peg I must admit it looked pretty fishy with a couple of clumps of reeds just past the middle which was where Rob said he'd hooked the chub. I was surprised to see the river was gin clear again with very little flow but still fancied it for a few. I set up a 1.5 gram Drennan Carbo but won't mention it again as I never picked it up all day, I also set up a 1 gram bodied float with 0.12mm bottom and size 18 B611 and this rig picked up what flow there was and I could hold back nicely with it as well.
I just had time for a coffee and a quick walk down to see Pete before it was time to start. I kicked off fishing in the flow at about 10 metres and had a small roach first chuck on caster, then I had a gudgeon and another small roach and was getting a few bites. I added a section to run down just this side of the reeds and was getting a small roach or gudgeon most put ins and after an hour I had around twenty fish but probably only had about a pound in weight and I didn't think 6lb (we were fishing six hours today) would be enough to frame.
The second hour was pretty similar and it didn't matter where I went in the swim I would get bites from small roach, gudgeon and the odd dace along with the inevitable minnows. Double caster didn't help improve the size of the fish and half a lobbie just saw the float dance about as it was attacked by small fish. Bites started to slow in the third hour and with only about 2lb in the net I was going nowhere fast. I heard some splashing and looked down to see Pete's elastic all across his swim and he shouted up he had a big pike on (which don't count) but he lost it.
I really felt I needed chub to compete today and I have caught them in this peg towards the tail of the swim at about 13 metres so shipped down with caster on and had a couple of slightly better roach of 3-4oz, as I unshipped to swing one in, a jack pike leapt out of the water at it but thankfully missed. I then hooked another roach and as I shipped back there was a big swirl out in the middle as a bigger snapper had a go at it but again I safely got the roach in. Bites slowed right up then and it started to rain quite heavily. I tried hemp and had a few knocks on it and then tried another lobbie to see if I could snare a chub but all I managed on it was a gobie.
Pete wandered up to stretch his legs and also to calm down a bit as he'd just lost three big chub in quick succession. All I could manage while he was there was a gudgeon so he went back to get another top kit out with heavier elastic in to see if he could land one of those chub. Thinking some chub were having a go I stuck with lobbie a while longer and poked the rig in all the likely looking spots but just couldn't get one. It was now chucking it down and all my maggots had done a runner although I'd only used two all day!
Time was running out so I concentrated on the tail of the swim where I'd had a few slightly better roach and managed another three or four fish including my first chublet of about 3oz. I ended with 63 fish plus a few minnows and thought I must have between 3-4lb which I was sure wouldn't be any good today as Pete was only paying the top two due to the depleted turnout. I packed up and as I walked past Pete he said he'd lost another two big chub with most of them taking sweetcorn! I stuck my stuff in the car before walking down to see how the others had got on. Steve and Rob were just walking back from peg 128 where Rob had weighed 3lb 14oz but had suffered some pike trouble.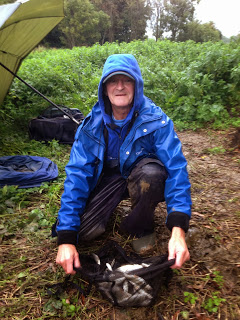 Steve weighed 3lb 2oz and was pretty wet!
Steve didn't look too happy as his reel had seized up and the bank had also given way during the match and he'd slipped into the river, mind you we were all soaked anyway. Steve weighed 3lb 2oz and I hoped I'd beaten that but I wasn't sure I had Rob's weight. Pete had 3lb 2oz as well and just needed one of those chub. Then it was my turn and even when I pulled my net out I wasn't sure I'd done enough, Rob called out 4lb 12oz and I'd done it! I picked up £30 for winning which was better than a kick up the bum and I've got off to a great start in this league too.
1 – Jamie Rich (Against Men and Fish) – 4lb 12oz
2 – Robin Cox (Ilminster) – 3lb 14oz
So lots of small fish still showing, including gudgeon which is a great sign and I've won my first match for a while (albeit rather a small one!). More importantly I've got off to a great start in both leagues so be sure to come back next Sunday to see if I can keep it going.
Next up – River Isle
What's new – Lots of page updates
Check Out – My last match (below)