After a bad run of results I was really looking forward to getting back on the river especially as Fieldy has been catching some nice bags of small fish from all over the river while pleasure fishing. I was up bright and early and on arriving at the Royal Oak it was nice to see a decent turnout of 11 anglers including the regulars and a few new faces like Bruce Hunt, Moses and young Dave Gudgeon. Rob had pegged upper and lower Coxes plus Isle Brewers and I really fancied pegs 14, 15, 27 or 28. I stuck my hand in and pulled out 23 which I had mixed feelings about, it did a decent weight last year but I struggled off it as did a few others.
Leighton drew 14 with Tony Newman on 15 and Bob Hammond was on 17, Steve Parker had 27 and Bruce had the big bend (28), Moses managed to find himself on 126a and another one of my pounds was in danger. It took me two trips to get my gear to my peg but it did look nice although the river was painfully low and clear, despite a fair bit of rain in the week. I set up a 0.75 gram Drennan Carbo and also a 1 gram bodied float, both had size 18 B611's and 0.12mm hooklengths. Expecting small fish, my elastics were blue and pink Daiwa hydro's. Bait was the usual maggots, casters and hemp.
I had a deeper hole on the far side just past some weed (see photo) and intended to use the heavier rig there with the lighter float for running down in the flow. 10:30 arrived and I baited up with a single caster and started inching the float down the swim using just four sections of pole, just as the float passed some underwater reeds on my left, the float shot away but I missed it! Next put in I had a small 4oz chublet and then next chuck another. I was feeding in the flow and also across in the hole for later. On the fourth run through I've hooked what felt like a better chublet and as I was shipping back it got under some weed half way across and I had to pull for a break which wasn't ideal.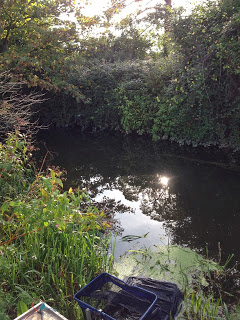 Peg 23
I had a few more chublets and a 4oz roach and was really enjoying myself but then I had another chublet that as I went to net it, dived into some weed and transferred the hook! I thought my pink hydro wasn't man enough so got another top two out with white hydro in but after the commotion and the sun now fully out, bites started to tail off. I was still getting odd chublets and dace and had 11 fish after an hour for 2lb or so.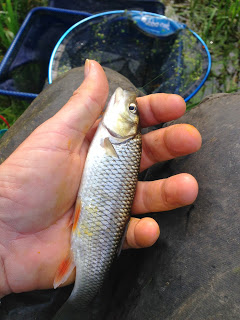 I was catching quite a few chublets
I was getting the odd minnow but they weren't proving to be too much of a pain but with bites now nearly non-existent, it was time to try in the hole with my heavier rig. I had a few bites but had to wait ages for them and they were mainly from smaller roach and dace although I did lose a better dace shipping back. I went back to fishing in the flow and had a couple more before they shut up shop again. Thinking the fish might have backed off down the swim, I added another couple of sections to run the float down to just above peg 24. I didn't have any indications and was just about to give that up as a bad job when the float shot away and an alarming amount of elastic headed downstream, I got the fish under control using the pulla bung and eventually netted a trout around the pound mark, which was most welcome as they count in our matches.
No more bites and I was back swapping between the flow and the hole and getting odd fish but it was now very slow. It was pretty warm and I had to take my jacket off and couldn't believe I was sat in a t-shirt in October! Justin Charles turned up behind me and said Bob and Tony were struggling but Leighton had been catching well but it had died off when the sun came out. I had another dace while he was there but he kept on saying I should fish in the hole, so to shut him up, I swapped rigs and went across, a roach and a dace in as many chucks earned me a 'Told you so' before he left me to it.
I carried on getting odd fish but bites were now very few and far between and with an hour to go I thought I might have 5lb or so which I didn't think would be any good today. I added a section and went tight to the far bank brambles and had a couple of chublets but it was slow going. Then in the last half an hour, the sun wasn't so bright and I started getting bites again and added another half a dozen fish to finish with 39 (1 trout, around 10 roach, 5 or 6 dace and the rest chublets) and I thought I might have about 6lb or so.
I took half my kit back to the car and met Bob who had the scales, he said he'd struggled for a few ounces although he did lose a good chub first chuck I asked how the rest had got on and he said Leighton had 5lb 6oz and Tony had 2lb 1oz and I hoped I had enough to beat them. I pulled the net out and plonked them on the scales and Bob called out 7lb 13oz which was fairly pleasing but I didn't think it would be enough to frame today.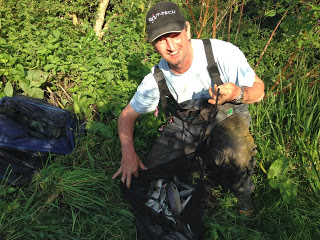 An enjoyable day with plenty of bites
We loaded the cars and waited by the bridge for the others to come back, Steve Parker and Bruce were the first back and Steve had done well with 6lb 11oz from peg 27 but I was surprised when Bruce only weighed 4lb 12oz from 28. So with six pegs accounted for, I had won my section at least. The others started filtering back and Isle Brewers had fished pretty well with Moses top down there with 10lb 10oz and I said goodbye to another pound! Neil came close with 10lb 8oz and might well have won it but for a pike that attacked his keepnet and ripped a hole in it! I must say Neil did well off peg 128, a peg that I really didn't fancy. Young Dave Gudgeon was third in that section and pipped me for a frame place with 8lb so those two early chublets I lost cost me.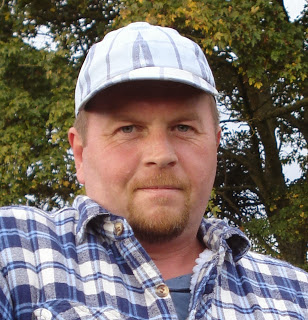 Moses won again (and took another nugget off me)
Rob Cox did 6lb 6oz from peg 124 and lost a couple of munters that could have seen him win it, so it fished pretty well considering how low and clear it was. I picked up £15 for the section so I at least stopped the rot for now and got off to a great start in this league and with Chelsea beating Norwich 3-1, all in all it's been a pretty good weekend.
1 – Moses Holbrook (Ilminster) – 10lb 10oz
2 – Neil Dring (Ilminster) – 10lb 8oz
3 – Dave Gudgeon (Ilminster) – 8lb
Sections
A – Jamie Rich (Against Men and Fish) – 7lb 13oz
B – Robin Cox (Ilminster) – 6lb 6oz
Next up – River Isle
What's new – Lots of page updates
Check Out – My latest Hit Parade below
Next Sunday is the start of the V.E.S. Precision league and as I've said many times before, it's a league I'd love to win so come back to see if I can get off to a good start.
I can't go without sharing this fantastic feedback that Scott Jackson just left on my Facebook page (and no, I didn't pay him to say it!)
"I would just like to say I haven't known Jamie Rich in person, very long but have always known of Jamie and the reputation that Jamie maintains. Jamie continues to write a fantastic blog and I for one as I'm sure many others find themselves regularly reading the latest match results. I asked Jamie to cover the Ilminster junior canal match and what a fantastic read it was. Jamie also organised the Bait- tech sponsor for the Ilminster Juniors. All of the juniors were over the moon with their goods. So just to sum up, what a nice guy Jamie is and what a great job he does of writing a first class blog. Thanks for all your help and keep up the good work mate. Cheers Jacko"
All joking aside, it's great to get some positive feedback and I really appreciate it when somebody takes the time to message me as I spend a lot of time and effort doing the blog, sending the results off to the local papers, Angling Times etc but I do enjoy doing it and it's nice to know other people enjoy reading it too!