I was hoping to get 2014 off to a good start and we were out the pond today as the Isle has been flooded for ages. It's been fishing well and I was quite looking forward to it (I should have known better!), Tackleuk muggers Scott and Ashley were fishing today and with a depleted turnout due to the weather, Rob was only paying the top two and suggested paying them at the draw so the rest of us could go home! Rob wisely decided to wait until we got out the pond to peg it so we could avoid the worst of the wind.
On reaching the pond it was decided to use pegs 16, 17 and 18 (which I really fancied) and pegs 2, 4 and 5. Of course I drew peg 4, so my drawing hand still hasn't improved but at this early stage the weather wasn't too bad. Steve Parker was on peg 5 and keen to have a side bet and Ashley was on peg 2. I mixed up some Bait Tech Mantra groundbait and set up two 0.5 gram Drennan Roach floats with 0.10mm bottoms and size 18 B611's. I had time for a quick coffee before Rob blew his whistle, I cupped in two balls of groundbait at 10 metres and started with a single red maggot on the hook. I was loose feeding maggots, casters and hemp and after a couple of minutes the float slid away and I was swinging in a small roach.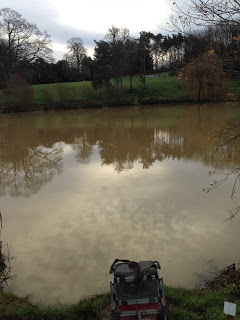 Peg 4 (the lull before the storm!)
Next chuck I had another and Steve was catching as well, Ash shouted up that he hadn't had a bite yet so we were doing okay at this early stage. I tried a caster to see if I could catch some quality but never had a bite so it was back to single maggot and catching small roach. The weather was getting steadily worse with poor Steve getting it head on, I was struggling to control the pole at 10 metres and to make matters worse, looking across at the other pegs, it was like a mill pool with no wind at all! I was still catching small roach and just ahead of Steve but Ash had already overtaken me.
I tried caster again and bumped a fish before catching a decent rudd but then couldn't get a bite so it was back to maggot, double maggot proved to be a waste of time as well. I was now struggling to hold the pole and I had to keep stopping to wipe the rain off my glasses and I wasn't enjoying myself much. Around the half way point I've struck at a bite and it was solid, the fish slowly moved off and I was hoping this could be the bonus I needed to get closer to Ash and then the poxy hook pulled out!
Steve was now really struggling and from what I could see the pegs on the other side weren't really bagging so I stuck at it. Ash walked up and said he had 69 fish, I was only on 30 so a long way behind. Then all of a sudden I started catching some quality rudd and roach and had three or four on the trot. I was bracing the pole against my knee to try and stop it getting blown all over the place when there was a sickening crunch and the 10 metre section snapped in half, I telescoped it through but my heart wasn't really in it after that.
I could see Rob netting odd fish in peg 18, Scott catching on the long pole and Bruce was getting bits on the whip, I started to catch quite well near the end and ended with 54 fish (all roach and rudd). I had the scales yet again so went to weigh Ash in and he had 90 something fish for 9lb 7oz and had caught some quality roach on caster. My fish went 4lb 12oz which was better than I thought and I hoped it might be enough to sneak into second and help pay for a new section. Steve had really struggled with the wind right in his face and only weighed 15oz and paid me a pound.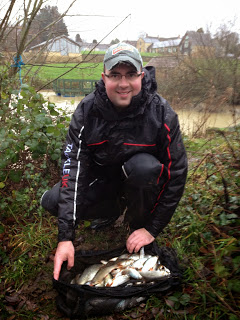 Ashley with his winning 9lb 7oz
We got round the other side and Scott, Rob and Bruce had all caught quite well in their armchair pegs, Bruce had 5lb 2oz, Scott weighed 5lb 15oz and Rob took second place with 6lb 8oz. Quite a few lumps had been lost with some quality roach and rudd featuring in nets so a good match really, it was just a shame the weather was so bad (for some of us!).
1 – Ashley Tomkins (Tackleuk) – 9lb 7oz
2 – Robin Cox (Ilminster) – 6lb 8oz
The league is still really tight and after six matches (and dropping the worst result), it looks like this,
1 – Jamie Rich – 7 pts
2 – Robin Cox – 8 pts
3 – Bruce Hunt – 10 pts
So the new year started really badly for me but I suppose it can only get better! The only good news was that Chelsea beat Derby 2-0 in the FA Cup.
Steve very kindly said he'd take my ruined section in to get repaired but I won't have it back for several weeks and Ash is going to order me another section but last time it took Garbolino 18 months to get me a new section! So I'll have to dig my old pole out for the next few matches, in the meantime I've decided to run an appeal to buy a decent pole.
Poleaid (please give generously) – any donations gratefully received!
Next up – River Isle (hopefully)
What's new – Lots of page updates
Check Out – My yearly review (below)