Here's my review of 2013

January 2013

My first match of the year was at Summerhayes and I fished bread for carp for most of the day, I did okay and weighed 27lb odd but no coin and I was left wishing I'd fished for silvers. Scotty won the match with a fantastic 101lb 8oz. My next match was on the Isle and I lost a chub first chuck and blanked. This year wasn't going to plan so far!
Then the bad weather arrived and if it wasn't snow, it was rain and the river was flooded out most weeks, so we were on the pond or canal for the next few matches. We were on the canal the following week and I thought it might be a bit early for it but Heardy won with a nice net of skimmers plus a small carp for 9lb 2oz, Bish was second with 3lb 11oz and I sneaked third place with 2lb 4oz to get the year off and running.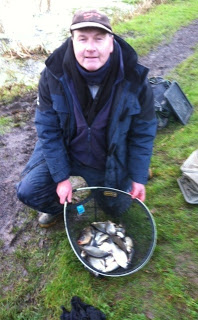 Martin had a nice net of skimmers plus a little carp on the canal
After a fair bit of the white stuff we were on the pond for the next match and I managed a win with 5lb 14oz of roach despite a few problems with a new hook pattern and the elastic freezing inside the pole! With the river still a no go area we were back on the pond for the next match and despite it looking good, it fished poorly but I did manage second place with 2lb 12oz just two ounces behind Justin and I lost a half decent roach at the net – doh!
Highlights – winning my first match of the year
Lowlights – the awful weather!
February 2013
Amazingly we actually managed to get back on the river as February arrived and a draw at Redbridge had me hoping for a nice days roach sport. The roach had other ideas though and my first fish was a chub, I had five more in just over an hour and that was that. They weighed 9lb 12oz and it was enough for my second win of the year.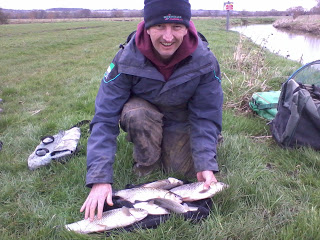 My six chub for 9lb 12oz
The rain returned and we were back down the canal for the annual open match, Matt Pang from work turned up to fish this one and it was nice to see a new face. I drew a peg in the middle and was feeling confident as I'd framed in my last eight matches down here, it turned out to be a struggle and I finished well down with 2lb 6oz and even Matt spanked me off the next peg (by 5oz) on his first visit! Martin won again with another nice net of skimmers weighing 7lb 12oz.
We were back on the river for the next match and with the weather a few degrees warmer I really thought we'd be in for a good match, I blanked and never had a bite and the match was won with a lowly 1lb 2oz with only 2oz needed for third! Luckily my bad result didn't cost me and I won the league.
The weather was bitter for the final V.E.S. Precision match and a very low and clear river didn't bode well, I managed to pull out the most consistent peg on the river, peg 126, and it was a golden peg too! It was a struggle to get bites but two quality roach and a decent chublet got my hopes up of a bumper payday. They proved to be a false dawn though and I only managed a few more small roach towards the end of the match to weigh 2lb 3oz which was good enough for second behind Steve Parker who had two chub for 4lb 4oz. Steve went home with a full wallet as his was also a golden peg. Still, I finished second in the league and had a nice pick up, maybe next year will be my year!
Highlights – winning my second match of the year and the Royal Oak winter league
Lowlights – not winning the golden peg
March 2013

The first match of the month was Barney's Pairs Open and there was a decent turn out as always, the plan was to have a section on the canal and one at Dillington, a wicked frost over night put paid to that as the canal was frozen over so we all ended up out the pond. I drew peg 4 which I was pleased with and my partner had peg 1 which can be chub or bust. I had a steady match catching 80 fish for 5lb 4oz and finished second in my section behind Ashley Tomkins who had 8lb 8oz. Justin blew out though and lost a chub which would have seen us in the money, oh well there's always next year! Ashley and Scotty mugged us all again as they won with a total of 3 points, Martin and Malcolm were second with 6 points.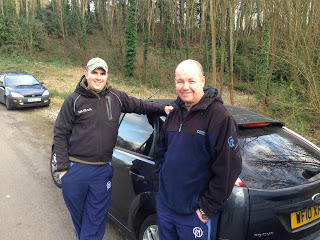 Pairs Champions Ashley Tomkins and Scott Russell

Next up was a trip to Summerhayes on Longs pond, it was still very cold for March but I had an enjoyable match catching skimmers, crucians and a little tench for 11lb 4oz and a silvers win. I was back again the following week but on Sellicks this time and managed a second in the silvers with 11lb 8oz of skimmers and had a bonus crucian carp.
My next two matches were also at Summerhayes, the first one saw us fish in bitterly cold conditions on Sellicks and it was rock hard, I only caught 2 carp and a single skimmer for 7lb 15oz which was good enough for second place and a nice little pick up of £50. My second match was the first of four matches in six days, it was on Longs and the weather was slightly milder and it fished quite well, I had a good first half of the match but struggled in the second period but my 13lb 7oz was enough to win the silvers pool.
The Good Friday match at Perry St was a tale of two ends and I drew the wrong end and had just two bites and weighed one skimmer for 1lb 2oz. Then it was time for the two day festival at Summerhayes and I really wanted to do well and nearly did! On day 1 I drew peg 17 on Sellicks and it's a good silvers peg, it was quite hard going but I managed eleven decent skimmers and a few blades for 8lb 15oz but ended third on the lake behind Adam Palmer with 9lb 15oz and Scotty with 9lb 11oz.
Highlights – a good run of results at Summerhayes
Lowlights – drawing the wrong end at Perry St!
April 2013

Day two saw me draw a really good silvers peg on Longs (peg 12) and me and Scotty on peg 11 had a right old peg to peg battle catching skimmers and I even had a couple of lovely tench. I just took the verdict weighing 23lb 9oz to his 20lb 6oz and we finished first and second in the silvers. With 10lb 7oz of carp, I was also the top weight on the day. My 20 point total saw me finish second in the silvers festival behind Martin Heard and I picked up £70 plus £20 from the superpool, a lovely day.
A double header the following weekend saw me on the silvers lake at Goodiford Mill and the big bags of silvers never really happened and I finished with 8 roach and a skimmer for 5lb 12oz and a section win by default. Bruce Hunt won with a nice net of quality skimmers and roach for over 27lb. The following day me and Janders were back on Longs at Summerhayes, I had a cracking day catching 27lb of carp and 19lb 13oz of silvers for my first win, Janders had 11lb 8oz and won the silvers so it was a happy car driving home!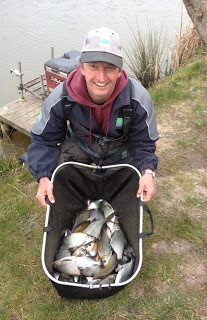 My 19lb 13oz of silvers
The first match of the Spring League at Perry St saw me draw peg 3 again and I thought my good run would be over but an empty peg to my left gave me some hope, I had two early carp from my long line before catching steadily on the inside (towards the vacant swim) and ended with 13 carp, 1 tench and a perch for 43lb 15oz, third place and £40.
Match two of the Spring League saw me just up from where I was last match, on peg 5, and I had a right peg to peg battle with Picky on the next peg which saw him take the verdict by 9oz and he ended up second in the carp with me third with 42lb. After two decent results I was lying in third place in the carp league.
For my last match of the month I was back at Summerhayes and drew the dreaded Lily lake, I caught a few fish but should have done better, think I was beaten before I started.
Highlights – my first match win at Summerhayes
Lowlights – drawing Lily again!
May 2013

Round three at Perry St saw me draw a good peg but it turned out to be at the wrong end on the day, I struggled for six carp for 19lb odd and me and Janders also got knocked out in the pairs. Round four also saw me struggle and six carp again saw me dropping down the rankings.
Then me and Scotty were off to the lovely Gillhams Resort in Thailand, we did find the fishing a little tougher than previous trips but we still managed seven fish over 100lb between us, topped by arapaima of 360lb for Scotty and 240lb for me. We lost quite a few big fish as well but with the stunning scenery and great company it was still a great holiday.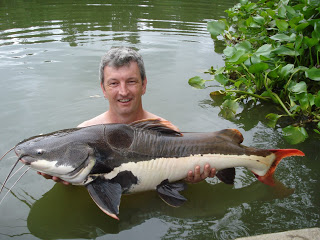 45lb Amazon Redtail Catfish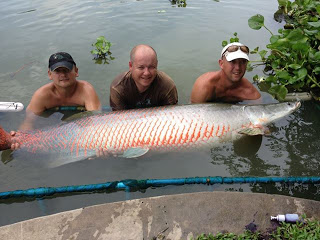 Scotty with his massive 360lb Arapaima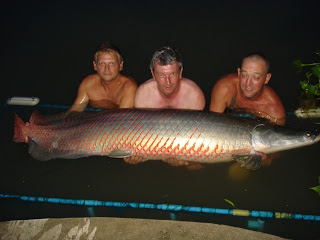 My biggest fish of the trip at 240lb
Highlights – Thailand of course!
Lowlights – a bad run of results at Perry St
June 2013

My first match back was at Perry St and I struggled for 23lb 12oz and got eliminated from the knockout by Chilly. The following week I was at Summerhayes and really looking forward to it, I should have known better as I drew Lily again, I ended up with 33lb 11oz for nowhere but I lost enough fish to frame. The only good point was beating Brendon for yet another pound.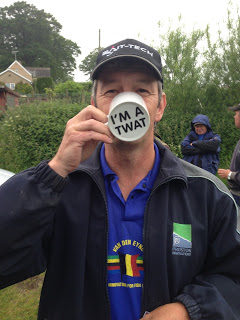 Round seven of the Spring League at Perry St saw me sneak a fourth place with 28lb 2oz and I picked up £30 to end my barren run and Janders brought me a nice mug back from Cornwall! Match eight saw my first silvers pick up with 5lb 9oz for fourth and another £30.
For the last match of the month I was at Summerhayes on Sellicks, I fished for silvers and struggled with my 8lb 9oz just missing out with 9lb 6oz taking second place.
Highlights – Janders buying me a nice mug!
Lowlights – the bad run continues
July 2013
I drew peg 11 in round nine of the Spring League and had 11 carp for 40lb 10oz and finished third with only 41lb 12oz winning and I lost a 2lb carp at the net – doh!
For the final match of the league I was on peg 19 and decided to fish for silvers as it had done well the previous week, I fished worm over chopped worm and managed two good skimmers, three eels and a few small blades plus a lovely 2.5lb tench for 6lb 8oz and second in the silvers. I picked up £50 which was my best pick up of the series so a nice way to finish. Kev Baker had a lovely net of skimmers to win with 15lb 8oz. Steve Bush won the carp league (plus the pairs and individual knockouts) and Mike Hosgood over hauled Les to win the silvers league.
I was then at Summerhayes for my first match on Longs in ages, I tried fishing paste and it didn't really pay off, I had 13lb odd of silvers and 14lb of carp for nowhere.
My next trip was with Andy down to Seaton after those elusive mullet but despite seeing dozens, we blanked! The following day I was back at Summerhayes and caught skimmers well for three hours but struggled for the second half of the match and had to settle for second in the silvers with 11lb 7oz behind Adie Bishop with 14lb.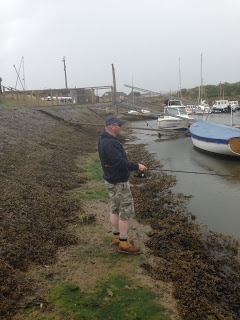 Andy trying (unsuccessfully) to catch a mullet
Highlights – Picking up in three matches out of four
Lowlights – Not catching any mullet again!
August 2013

Andy and me headed back to Seaton for another crack at those mullet, they were still everywhere and still proving very elusive, we both missed a few bites before I finally connected with one and at 3lb 4oz I was over the moon with a new personal best.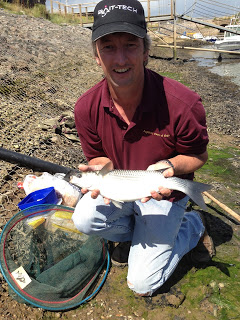 My new pb mullet of 3lb 4oz
My first match of the month was at Summerhayes on Longs and the first time I'd been back since Pete lost a lot of skimmers due to oxygen problems, it fished okay for carp but the silvers weights were very low and my 1lb 15oz was third although he only paid the top two in silvers.
I was back on Sellicks for my next match and struggled again, I had 2lb 15oz of silvers and 19lb 10oz of carp for nowhere. I lost pounds to Glynn and Janders but did have one off Brendon which cheered me up no end!
Next up was a match at Dillington and it fished really well but I spent too long trying to catch on corn and ended up with 10lb 1oz for nowhere and finished up 2-1 down in side bets. Bruce Hunt won with 20lb 1oz which consisted of 435 fish! My bad run continues and I haven't picked up a bean yet during August.
Then it was time for another two-dayer at Summerhayes, I drew peg 2 on Sellicks on the first day and had a fantastic days fishing, catching 42 skimmers for 25lb 7oz and my best silvers weight at Summerhayes yet. Pete said he thinks it's the best silvers weight off Sellicks and it put me in pole position for the second day.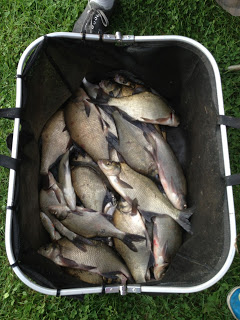 25lb 7oz of skimmers (my best silvers weight at Summerhayes so far)
I drew peg 17 on Longs for day two and I was pleased with my draw as peg 19 had won the silvers the day before, I had a good start catching some blades and a decent skimmer in the first hour but then struggled apart from poxy carp. Out of desperation I fished a top two for bits and had around 120 in less than two hours and my 7lb 2oz put me fourth on the lake and I thought I was out of it. With 9lb 13oz winning the lake I was left wishing I'd fished for bits for longer.
I ended up with 5 points along with several others but nicked third place with a superior weight and picked up £49 which was better than I thought. Ray Wickham won the silvers with a perfect score and Bill 'The Paste King' Hopping did the same on the carp front.
I fished the Tackleuk open at the Viaduct and although the big silverfish weights didn't materialise, I sneaked into second place with 21lb 4oz of skimmers and tench and with 80lb of carp I had only my second ton plus match weight.
Highlights – A great days silvers fishing on Sellicks
Lowlights – Not fishing for bits for longer!
September 2013

I was back at Dillington for the first match of the month and the pond fished hard but my 7lb 5oz was good enough for second place behind Moses who had a lovely 6lb bream that he caught on the whip! I included five nice skimmers and it's great to see them featuring in catches.
My next trip was down to the River Exe with Russell Hilton after my nemesis, the mullet, yet again, we saw loads of mullet but only managed a few dace, chublets and a roach between us. Russ lost two mullet but once again they got the better of me.
The following day I was back at Summerhayes and drew peg 33 on Longs, I had an enjoyable day catching 18 carp for 27lb 11oz and 7lb 4oz of skimmers, I actually finished fourth overall but picked up the silvers by default as it was worth £2 more. To put the icing on the cake I took another pound off Brendon to make it 5-1 this year.
My next match was at Dillington and I've struggled for 8lb 5oz, I had some lovely roach but just not enough of them and I lost yet another £1 to Moses. Back at Summerhayes on Longs the following week and another disaster, only 3lb 1oz of silvers and a few carp.
My final match of the month was at Summerhayes and Lily was in and of course I drew it and finished nowhere with 28lb 2oz and my bad run continues.
Highlights – A good start to the month
Lowlights – A bad end to the month and drawing Lily yet again!
October 2013

The first match of the Royal Oak league saw me have a nice days fishing in peg 23, I ended with 39 fish (roach, dace, chublets and one trout) for 7lb 13oz and a section win. I did lose a couple of chublets which would have got me third place. I also lost yet another £1 to Moses.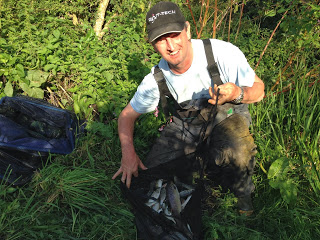 My 7lb 13oz was enough for a section win
The following week it was the start of the V.E.S. Precision league and I had 63 fish (mainly roach and gudgeon) for 4lb 12oz from peg 124 at Isle Brewers and a section and match win. I only picked up £30 due to a depleted turnout but still a decent day (apart from the rain).
The second match in the Royal Oak league saw me draw another flier, peg 14, and I caught quite well until heavy rain started and the river rose and coloured up at an alarming rate, I finished with 29 fish for 6lb and second place behind Rob who won with 7lb 11oz.
Awful weather and a flooded river meant we were on the canal for the final match of the month, I really thought it would fish well but it was actually a bit of a struggle, I finished with 4lb 6oz of mainly roach for second behind Graham Field who had a tench and some nice skimmers for 4lb 9oz and I lost three roach in the first hour which would have won it. Saying that, I had a bonus 6oz eel which just pipped Justin who had 4lb 3oz, so a very tight match.
Highlights – Picking up a brown envelope every week and my first win for a while
Lowlights – Missing out on my second win by 3oz!
November 2013
The first match of the month saw me back at Summerhayes on Sellicks, drawing peg 5 was a good start and I had a nice day catching 17lb 5oz of carp and 11lb 9oz of skimmers which was enough to take the silvers pool and get November off to a good start.
The river looked perfect for the next match with plenty of colour and pace, I drew one of my favourite pegs and it looked a dream and I was sure I would bag up. The fish had other ideas though and I only had two dace and three trout plus a few minnows for a lowly 1lb 10oz and last in my section. Pete Lonton won on the day with 6lb 6oz and with me missing the next match, my league could be over.
We were at Isle Brewers for round three of the Royal Oak league and I was well chuffed when I drew peg 124a, I had a nice day catching 6lb 8oz which included a chub of 2lb 14oz but suffered pike trouble all day. I finished third behind Steve Parker who had 8lb 9oz and Bruce Hunt who had a brilliant 19lb 4oz of mainly roach from peg 128.
Highlights – A silvers win at Summerhayes and a third on the river
Lowlights – Finishing last in my section
December 2013

Steve Mayo and myself flew out to the wonderful Gillhams resort in Thailand on 21st Nov, we had an amazing trip catching some amazing fish and enjoying some fantastic nights out. Steve had seven arapaima to 280lb and I had two of 110lb and 140lb. We also caught Siamese carp to 50lb, pacu, alligator gar to 25lb, Mekong catfish to 120lb, Asian redtail catfish and Amazon redtail catfish. The highlight of my trip was a stunning redtail of 80lb.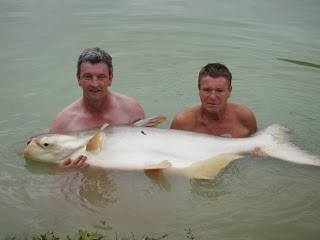 120lb Mekong catfish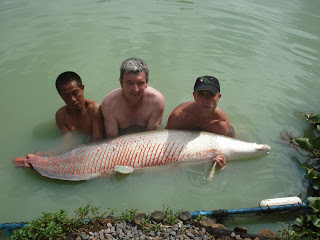 140lb arapaima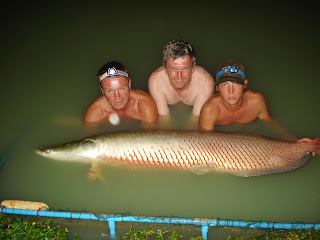 110lb arapaima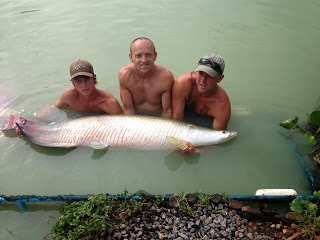 Steve with one of his seven arapaima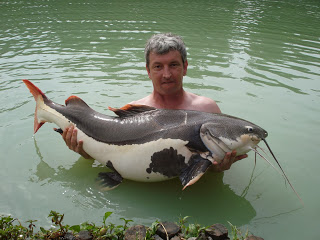 80lb Amazon redtail
My first match back was Ilminster's Xmas Fayre, I drew 109 at Redbridge and hooked and landed three good chub for 8lb 10oz and third place. Graham Field won with a cracking net of roach weighing 15lb 3oz from peg 128.
The next match saw me draw the best peg on the river at the moment, 128, and I had a bite every chuck to finish with 177 fish (roach, dace and gudgeon) for 19lb 14oz and my first win for a while. I picked up £40 plus a £1 off Steve Parker and after five matches I still lead the league with five points.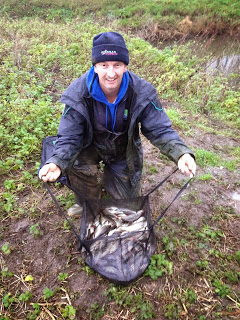 19lb 14oz my best weight on the river this year
I was at Summerhayes for my next match and things didn't go to plan, I drew peg 7 on Longs which hasn't got much form for silvers and had the cold wind blowing straight into it. I struggled for a few bits and one small carp, snapped my number four section and packed up with 20 mins to go, oh and I lost a £1 to Glynn as well, not a good day!
After two days in the house over Xmas, stuffing myself with turkey and chocolates, I booked into the match at Summerhayes on the Friday. The weather was horrendous again and Pete decided on a 'rover' so people could get out of the wind. I choose peg 17 on Sellicks and had a foulhooked carp first chuck and after an hour started catching skimmers quite well but then two hours before the end we had hail stones and I just couldn't buy a bite. I ended up with 20 skimmers for 7lb 4oz behind Glynn who won the silvers by default with 8lb 9oz. I'd bumped three fish and missed a few bites so should have had that really. Bruce won with a brilliant 39lb 6oz of which nearly 20lb was silvers on the waggler from Lily lake.
My final match of the year was on Longs and I had an enjoyable day catching nine carp, a few bits and a 2lb perch for 20lb 14oz but no envelope for me as I finished fifth overall (Pete paid four) and third in the silvers (he paid two!). On the plus side I had my first pound off Glynn for ages.
Highlights – Gillhams was amazing again and a win on the river with a cracking days fishing
Lowlights – A bad run of results at Summerhayes and snapping my number four (again)
Summary
Last year was always going to be a tough one to beat but I still did okay, I won six matches which was down on nine last year although I had six silvers wins which was one more. My match winnings were well down on the previous year but I still topped the grand. I went to Thailand twice in a year for the first time and I'm planning to go in May next year so that's something to look forward to. Hopefully early in the year I'm going to have another crack at the pike with Russell Hilton and I will be trying my hardest to catch mullet again when the weather warms up.
Matches won – 6
Silvers wins – 6
Winnings – £1100
New venue pb match weights
Viaduct – 101lb 4oz
Summerhayes – 25lb 7oz (silvers)
New species
Pacu
New pb's
Mullet – 3lb 4oz – River Axe
Roho – 12lb – Gillhams
Pacu – 4lb – Gillhams