Well this was my final match of the year and after my last two visits I wasn't feeling very confident, especially as we'd had a frost overnight, there were twenty booked in for this match on Longs including Mark 'The Hoff' Hollister who was fishing the venue for the first time. Scotty and Ash were also fishing and so was Roger and Adam Palmer who kindly brought me on some maggots – cheers mate. Glynn was keen for another side bet (I thought his money box would be full by now!) and Reece also took me up on my offer.
I pulled out peg 10 which used to be a good silvers peg and that's what I'd be fishing for today and I thought 8-10lb would be enough to win. Ash drew well with peg 30 on the road side although Scotty wasn't so impressed with his draw, peg 5. I had Hoff on my right on peg 9 and Daniel Baldwin on peg 11. I set up the usual two silvers rigs, a 14 x 11 and a 10 x 11 MW F1 Slims with 0.10 and 0.08mm bottoms to size 18 Tubertini 808's. I plumbed up two lines at 10 metres, one to the right where I would feed micros and one to the left where I would just feed a few maggots. Scotty was going all out for silvers so I would be able to gauge how well I was doing.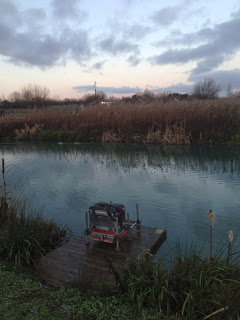 Peg 10 on Longs
After a quick coffee, Pete shouted the all in and we were off, I fed both of my lines before starting over the micros with a 4mm expander on the hook, after a couple of minutes the float sailed away and I hooked and landed carp number one, a decent fish around 2.5lb. Daniel also had an early carp, next chuck I missed a bite before landing carp number two ten minutes later. Then it went quiet for me although Daniel had another carp, Hoff had a decent skimmer on maggot which raised my hopes slightly. Scotty looked to be struggling and had only netted a couple of blades.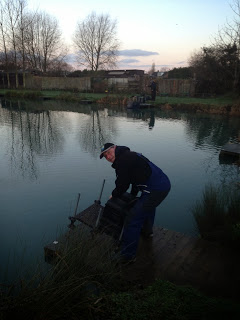 Hoff was on the next peg
I tried the lighter rig with single maggot over the left hand line and had two tiny roach but it was hard going, I tried maggot over the pellet line and had my third carp but then couldn't buy a bite. By now two hours had passed and Daniel was catching well and already had half a dozen carp. Another half an hour passed and with no more bites and Dan still catching carp and the odd skimmer tight across, I got off my box and set up a little Trabucco dibber with a 0.10mm bottom and size 18 hook.
I shipped across to the far bank at 13 metres and toss potted in a few maggots, I had a couple of small rudd before catching a better one of 5-6oz and when I had my fourth carp I thought I might do a decent weight. But then I got plagued my small rudd with most dropping off so I upped the feed a bit which seemed to help a bit and then out of the blue I had three carp in three chucks to put me on seven. I was a long way behind Dan but ahead of the other anglers I could see, Hoff was really struggling and Scotty was only getting the odd small blade.
It wasn't fast and furious but I was getting the odd carp and I got to nine with an hour and a half to go and thought if I could add three more I might sneak into the frame. My bites slowed right up and it looked like the grandstand finish wasn't going to happen. I then hooked a fish which I thought was a small carp and was very surprised when a 2lb perch popped up! There was still half an hour to go but I never hooked another fish. My final tally was nine carp plus a dozen bits and that perch.
Glynn had packed up early and came down to pay me his pound, woo-hoo, I think that's 6-4 to him now, he also said Reece hadn't weighed so another shiny nugget was coming my way. When the scales reached our side Ash was leading with 40lb 3oz and Roger was the top silvers weight with a brilliant 10lb 11oz of skimmers, there were also a couple of 30lb weights and Adam Palmer was one of those and as he had 3lb 4oz of silvers I was hoping he'd frame. Daniel then went into the lead with an excellent 50lb 11oz and then it was my turn, my silvers went 2lb 9oz and my carp 18lb 5oz to give me a 20lb 14oz total. I was lying in fourth place overall but I knew Mark Leader had done well in peg 1.
Scotty had 2lb 3oz of silvers so there was still an outside chance of a silvers pick up if Adam framed. It wasn't to be though as Mark Leader had 37lb 10oz to go into third place pushing Adam into fifth place meaning he would get second in silvers.
1 – Daniel Baldwin (Summerhayes) – 50lb 11oz
2 – Ashley Tomkins (Tackleuk) – 40lb 3oz
3 – Mark Leader (Summerhayes) – 37lb 10oz
4 – Dan Pither (Summerhayes) – 34lb 10oz
Silvers
1 – Roger Russell (Tackleuk) – 10lb 11oz
2 – Adam Palmer (Daiwa Gordon League) – 3lb 4oz
I ended up fifth overall (he paid four) and third in silvers (he paid two!) which about sums up my fishing at the moment. On the plus side Chelsea beat Liverpool 2-1 to stay in contention in the league – yes!
Well that's it for me and fishing in 2013, the year ended with a bit of a damp squib so lets hope I can get off to a good start on the river in 2014.
I'd like to take this opportunity to wish you all a Happy New Year and please stay safe.
Look out for my yearly review coming soon.
Next up – River Isle
What's new – Lots of page updates
Check Out – My last match at Summerhayes (below) and my yearly review coming soon