I was back at Summerhayes for another bash but with awful weather forecast there were only seven anglers brave or stupid enough to fish today! Pete decided on a rover so people could get out of the wind and I pulled out fifth choice so my drawing hand hadn't improved since last week! I decided on peg 17 on Sellicks which was just on the edge of the wind but it's a decent silvers peg and I had nobody on my left so loads of room. Adie Bishop and Bill 'Redfin' Hopping were on my right with Heardy on the opposite bank. Glynn Wickham was all on his own on peg 13 on Longs with Ray Wickham and Bruce on Lily.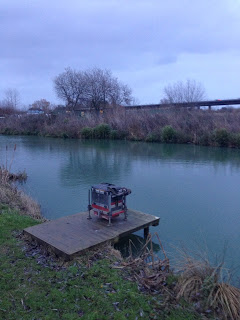 Peg 17 on Sellicks
Due to lots of faffing I only had time to set one rig up, a 0.6 gram Malman Pencil with 0.10mm bottom and size 18 Tubertini 808. On the whistle I fed a small amount of micros straight out at 10 metres and then the same plus a few dead reds at the same distance but angled to my left. My final line was at 5 metres in case the wind got too bad and I just fed a few micros here as well. I baited up with a 4mm expander and went out to 10 metres and toss potted in a pinch of micros, the float settled and then slid away and a fair amount of blue hydro came out of the pole tip. I was hoping for a decent skimmer but it turned out to be a foulhooked carp around 1.5lb.
I missed a bite on the same line ten minutes later and that was it, I tried the other lines but had no indications and it was looking like it was going to be hard. After an hour I just had the one carp and I hadn't seen Bill or Adie have much either. The wind was being a pain but I could just about fish 10 metres comfortably so I went back out and had a bite straight away and was soon netting a 3-4oz skimmer. Next chuck I had another and then had a decent one and all of a sudden they had arrived! I didn't want to hammer that swim so switched to the other 10 metre line and hooked a carp first chuck which shot off before the hook pulled!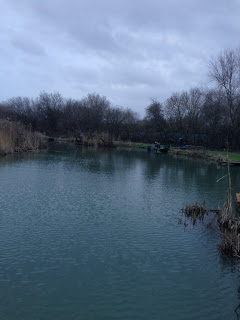 Adie and Bill were on my right
Next up was the 5 metre line and I had another couple of small skimmers and missed a couple of bites before going back to the longer line. I was getting quite a few bites and actually enjoying myself, I was getting mainly small skimmers but every now and again I would get a better one. I kept trying the left hand long line but never had another bite off it. I had a decent hybrid off the 5 metre line and I was starting to build a decent weight. Along with the wind we were getting the odd shower but it wasn't too bad. We reached the halfway point and I'd just netted another small skimmer when Glynn wandered up, he said he had about 5lb and I thought I wasn't far off that myself. He helped himself to my coffee before wandering back just as we started to get some hail stones – lovely!
I then had my sixth decent skimmer followed by another smaller one and I really thought double figures was a possibility. The hail stopped and so did my bites! I missed two bites on the 10 metre line before catching another small skimmer to take my tally to 20 and that was it. I couldn't believe I'd gone from getting regular indications to nothing. I tried double dead maggot, going over depth, starting a new line and even put some Almond Goo on an expander but I never had another indication up to the end of the match. I thought my 20 skimmers might go 5-6lb but I was sure that wouldn't be enough today.
I packed up and caught up with Pete and the scales as they went to weigh Lily lake, Glynn had weighed 8lb 9oz of silvers and I knew I didn't have that. On Lily Bruce had 22lb of carp and a stunning 19lb odd of silvers, all on the waggler, to give him a total of 39lb 6oz. Ray Wickham came close with nearly 29lb of carp and 9lb something of silvers to give him a level 38lb and he'd lost four carp as well. Heardy had 17 carp but fell short with 31lb, Bill didn't weigh and Adie had 6lb something. My single carp weighed 1lb 10oz and when I pulled out my silvers it looked more than I thought but the needle stopped at 7lb 4oz and I was left cussing three fish I'd bumped off and several missed bites. Those last two hours had cost me although Glynn said he stopped catching after the hail as well.
1 – Bruce Hunt (Tiverton) – 39lb 6oz
2 – Ray Wickham (Summerhayes) – 38lb
Silvers
1 – Glynn Wickham (Summerhayes) – 8lb 9oz
Next up – Summerhayes
What's new – Lots of page updates
Check Out – My last disaster at Summerhayes (below)
So that's two bad matches now, come back on Sunday to see if I can make it a hat trick! That will be last match of 2013 and I'd love to finish on a flourish but I seem to struggle at Summerhayes lately.