I was still feeling pretty rough and the alarm going off at 6:30 didn't help much, on the plus side, the weather wasn't going to be as bad as it has been the last few days. At the draw it was nice to catch up with some of the regulars who I hadn't seen for a while and Bill 'Redfin' Hopping even had a very festive hat on for the occasion! Adam Palmer was fishing today and the Wickhams were also in attendance and Glynn was keen to have a side bet per usual.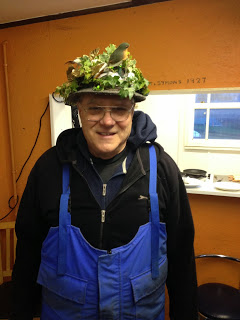 Bill was looking very festive!
Pete had spread the pegs around to give people plenty of space and everyone wanted peg 11 or 13 as they have been consistent but of course Nigel and Glynn drew them (goodbye pound!), I pulled out peg 7 which isn't a great silvers peg and when I got there the wind was blowing straight in my kisser! I still hoped I'd get a few but was up against it already.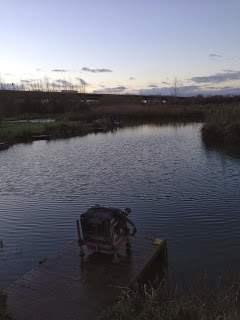 Peg 7 with the cold wind blowing straight into it!
I intended to fish light and fine as 7-10lb has been winning the silvers, so I set up a 14 x 11 MW F1 Slim with 0.10mm bottom and size 18 Tubertini 808 and a lighter 10 x 11 version of the same float but with 0.08mm bottom. For bait I had micros, 4mm expanders and some dead reds. On the whistle I cupped in tiny amounts of micros to my right at 10 metres and straight out in front of me, my third line was to the left at the same distance and I cupped in some micros along with a few dead maggots.
I hadn't fished here for a while but was hoping to nick a couple of fish off each line before swapping, I started on the right hand line with a 4mm expander on the hook and fed a pinch of micros through the toss pot. No bites saw me switch to the middle line and I had a couple of knocks before hooking a 2oz skimmer but then couldn't buy a bite. Ray Wickham on peg 4 was getting odd small fish but it was quite hard going at this early stage. I added a small roach on pellet and one on single dead maggot but that was it for the first hour. I could see Glynn and Nigel getting odd fish and I was fearing the worst already.
I then had a small perch on double maggot before dropping one off and then the rain started! It was freezing cold rain and my hands were numb in seconds, the wind was hitting me head on but it was also coming at me from the right as well which was making presentation a nightmare (excuses, excuses!). I switched to the lighter rig and had another small skimmer but I was going nowhere fast. I kept switching lines but the only place I caught was from the one straight out in front of me.
I got to about a dozen fish by the halfway mark for about a 1lb (not good!), I even got off my box and set up a dibber rig to fish by the reeds to my left but never had a bite on it. The wind was being quite gusty and all of a sudden it blew the pole off the roller and I grabbed it, only for the number four section to snap in half! Luckily it was the section I'd snapped before and not my new section so I telescoped it through before winding some gaffer tape around it and I was back in action (although I use the term 'action' loosely!). I really wasn't enjoying myself and at this rate I couldn't see me being there at the end.
Finally I hooked something that pulled the elastic out but it turned out to be an 8oz carp. Ray was having as much fun as me and went for a wander a couple of times. The lad on peg 1 was getting a few carp and his peg was relatively sheltered, the grapevine was also saying that Steve Kedge had caught quite a few carp. I stuck at it a bit longer but didn't add to my meagre tally before packing up with 20 mins to go. I walked down to pay Glynn my pound and didn't hang around for the weigh in which is very unusual for me.
I got the results off of Glynn (cheers mate) and the leading weights were respectable although the silvers weights were lower than I expected.
1 – Steve Kedge (Somerset Angling) – 38lb
2 – Adam Palmer (Royal Marines) – 27lb 13oz
3 – Andy (sorry didn't get his last name) – 26lb 13oz
Silvers
1 – Nigel Wickham (Summerhayes) – 6lb 13oz
2 – Glynn Wickham (Summerhayes) – 6lb 3oz
Well a rather short blog today (hurray I hear you shout) but I have two more matches at Summerhayes before the end of the year so make sure you come back to see if I can improve on todays result!
Finally I'd like to wish you all a very Merry Xmas and say a big thanks for following me on my angling adventures and I hope you stick around for more of the same next year!
Next up – Summerhayes
What's new – Lots of page updates
Check Out – My last match (below) when I actually caught some fish!