I came down with a cold on Saturday and wasn't really looking forward to this match with rain forecast but as I'd missed a match due to being on holiday, I couldn't afford to miss another. I got to the pub and there was a depleted turnout but on the plus side it meant Rob could use all the better pegs at Isle Brewers. Everybody wanted 128 or 129 which have been the hot pegs and Bruce kept up his good run of drawing fliers by pulling out 129, I waited until there were two pegs left and pulled out 128 (yes!) leaving 126 for Rob. Steve pulled out 125 and was keen to have a side bet (did he know something I didn't?).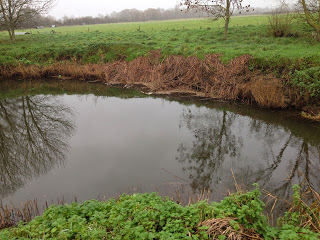 Peg 128, full of fish
I got to the river and my peg looked lovely with loads of fish topping, I was a bit pushed for time and couldn't find any rigs that were deep enough, I finally settled on a 1 gram Drennan Tipo set up to fish four metres to hand with a size 20 B611 at the business end. I poured a coffee and walked up to see Rob to check on the start time as I'd forgotten already (must be my age!) and he said it was 10:15 to 15:15. I walked back and it was time to start.
First chuck I've had a minnow and then had a small roach on caster and I was up and running, I was feeding hemp, casters and maggots to my left and getting a bite every put in although quite a few were minnows. After the first hour I had 23 fish (plus minnows), mainly roach from 1-3oz with a few small dace. Just after the first hour ended, Steve turned up and he'd admitted defeat, paid me a pound before heading off for an early bath.
The second hour was better and I wasn't getting as many minnows, I added another 31 fish including a couple of clonking roach and was looking at doing a decent weight. I was getting the odd gudgeon as well which made trying to estimate my weight difficult but I guessed the fish were averaging 2oz apiece which meant I probably had getting on for 6-7lb already. I kept expecting the swim to slow but if anything it was getting stronger and I had 40 fish in the third hour including quite a few gudgeon plus some quality dace.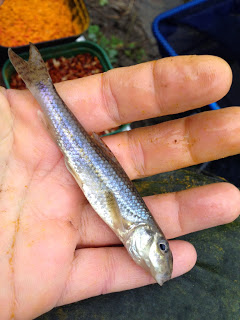 I was catching quite a few gudgeon
The fourth hour was similar and I added another 39 fish although I bumped a couple of better fish and had a couple drop off as well. I'd seen a pike have a go at some small fish further down the swim but it had left me alone so far. The final hour was the best of all and I added another 44 fish including some netter roach to finish with 177 fish plus a fair few minnows. I had no clue what weight I had but thought I must have around 16lb.
I had the scales again so packed up and walked down to weigh Bruce in, he said he'd struggled but still put 14lb 4oz of quality roach, dace and chublets in the weigh sling, I hoped I had a little more but would have to wait and see. I gave Bruce a hand with his gear back to my peg and pulled my net out and was pleased when the needle settled on 19lb 14oz, my best river weight of the year so far. As we walked back to the cars we met Rob who'd also had a cracking day putting 12lb 10oz on the scales. Bob Hammond had caught 3lb 6oz in 124 but had lost a few as well and with Steve probably in the bath by now, I'd won and picked up £40.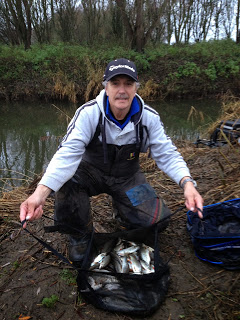 Bruce had a lovely net of fish weighing 14lb 4oz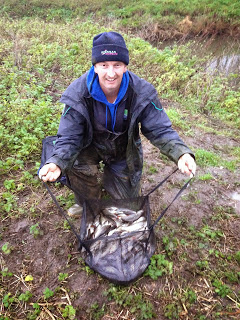 19lb 14oz, my best catch on the river this year
Another section win also meant I'd extended my lead over Bruce to two points but as I said earlier I can't afford a bad result after missing a match.
1 – Jamie Rich (Against Men and Fish/Burt Baits) – 19lb 14oz
2 – Bruce Hunt (Tiverton) – 14lb 4oz
3 – Robin Cox (Ilminster) – 12lb 10oz
After five matches and dropping the worst result, the league looks like this,
Jamie Rich – 5 pts
Bruce Hunt – 7 pts
Robin Cox – 7 pts
I thought we had a river match next week but that's it until next year so my next few matches will hopefully be at Summerhayes.
Next up – Summerhayes
What's new – Interview with Dave Harrell (below)
Check Out – Don't forget to check out my trip to Thailand with some great video clips