The weather looked like it was going to be a bit better for this one so hopefully I wouldn't breaking any more pole sections! The Yeovil muggers were back again this week and there was also another new face at the draw in the shape of Scott Jackson and it was lovely to see him. Mind you, I think he'd turned up just to stop me keeping on at him! Once again Rob decided to wait until we got out the pond before deciding which pegs to use and it was a good job he did as there was a pleasure angler in peg 18. We did the draw and Ash pulled out peg 17 and Scotty Russell was on last weeks winning peg and those two draw better than Picasso!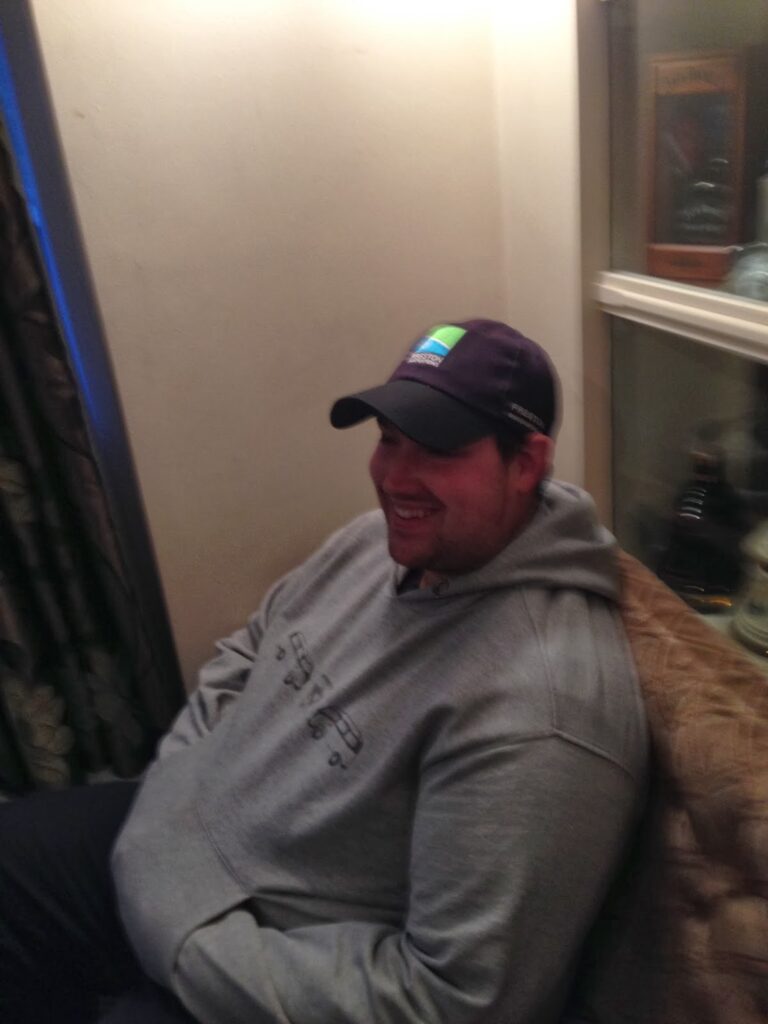 It was lovely to see Scott Jackson today
I pulled out peg 24 which I hate and my drawing hand still hadn't improved! It's by the pumphouse and there's a big floating platform which houses the pump and although it's tethered by a couple of ropes it still tends to sway about in the wind, It's also very deep and never seems to produce that many roach, on the plus side you can fish by the bush and if the chub show you're a hero and if not a tough day is on the cards. I really wasn't looking forward to this at all, I took my kit to the peg and my day got worse, there was another rope going from the platform right across the peg and it was basically unfishable! I spoke to Rob and he said I could fish peg 21 which cheered me up no end.
I got myself settled and then discovered the rigs I used last week were nowhere deep enough so I set up a 0.75 gram bodied float with 0.08mm bottom and size 20 B611 hook which was spot on at 10 metres. I mixed up some Bait Tech Mantra groundbait and was ready for the off. Rob tooted on his whistle and we were away, I cupped in two balls of groundbait and started with a single red maggot on the hook. I missed a couple of bites before catching a small roach and had another three quite quickly, Rob on peg 19 and Scotty R across on peg 2 were also catching small roach so I slipped on a caster to see if I could catch some quality. I had to wait a while for a bite but then had a cracking rudd and shortly after a slightly smaller one.
Scott was now well ahead on numbers of fish but they looked on the small side and I figured my best chance of beating him was by catching caster fish. The trouble was I was now missing bites and had bumped a couple of fish and the fish I was catching were the same size as the maggot fish. After an hour I was up to 17 fish but a long way behind Scott and Rob who'd already had 32 fish. I stayed on the caster too long really and went back to single maggot and catching small roach. I tried double maggot and started catching some good roach and rudd and slowly started to pull away from Rob but Scotty was still catching well.
I could see Bruce across on peg 6 catching small fish on the whip and Scott had spoken to Ash on the phone and said he was behind him on numbers of fish. I was still getting small roach and the odd better roach or rudd and even added a couple of perch. Going into the last half an hour my bites slowed right up and when I saw Fieldy in peg 16 net a chub I thought any chance of an envelope had gone today. I ended up with 92 fish and was way behind Scott who had 140 fish and Ash who had 130 but when Ash walked up with the scales and said he'd didn't have any quality, I thought it might be close. My fish went 8lb 14oz which was more than I thought, Rob had 4lb 8oz and had faded away after a blinding start, Fieldy was admitting to 5lb as he said he didn't have a lot to go with that chub, he actually weighed 7lb 2oz and had lost a chub which could prove to be costly.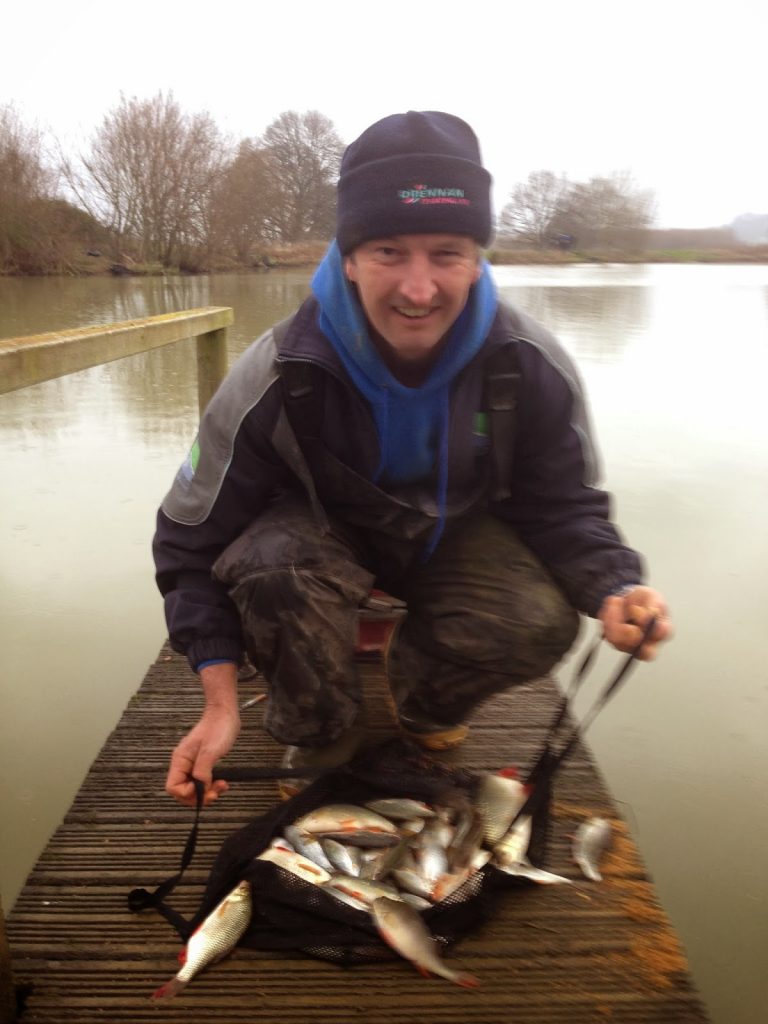 I weighed 8lb 14oz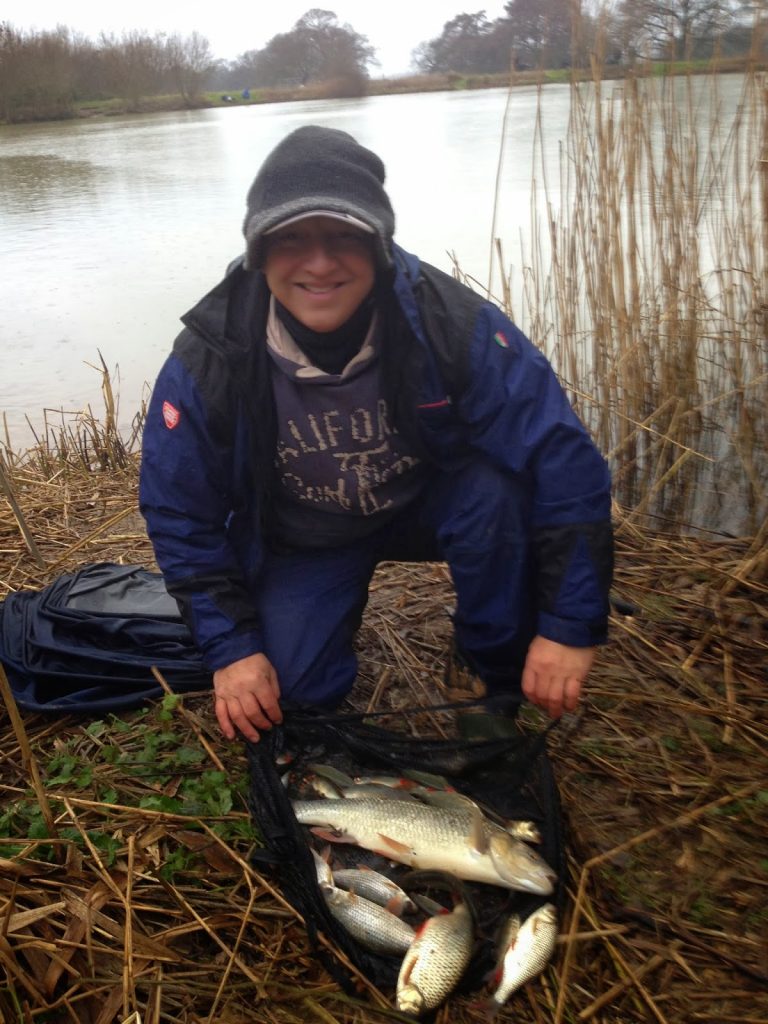 Graham Field had a lovely chub but lost one that could have won it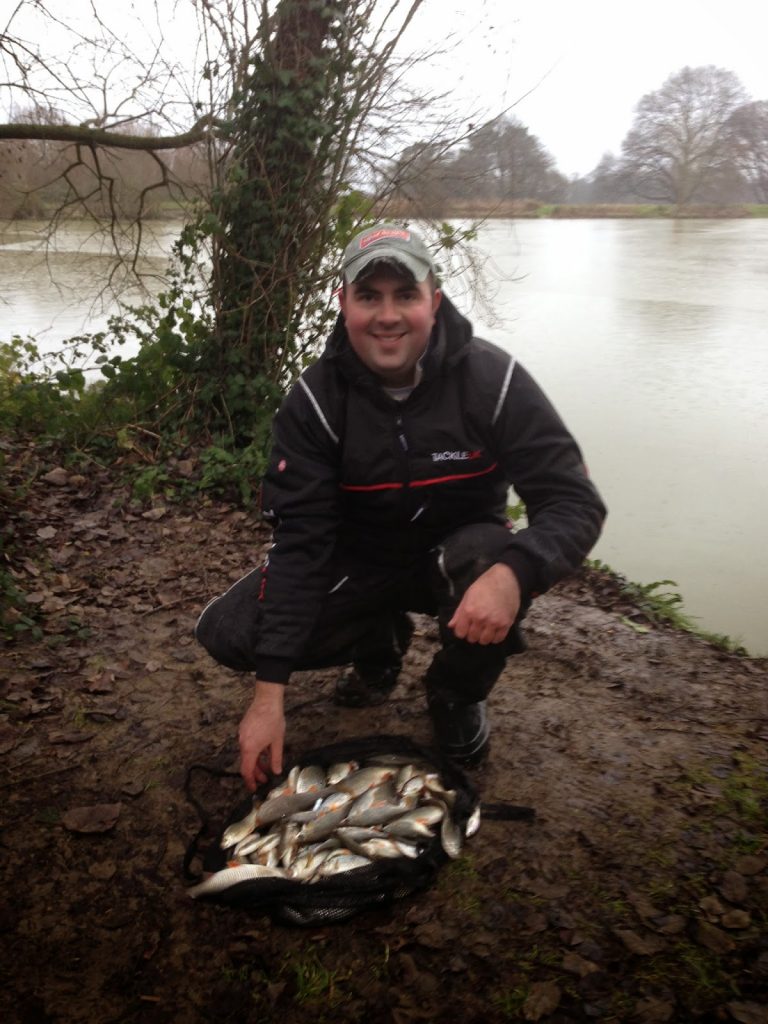 Ash was second with 10lb 2oz
We got to Ash and he was admitting to 7lb but the scales read 10lb 2oz and he'd gone into the lead and proved himself to worse at estimating than me! I was lying in second place but we still had the other section to come back and Scotty's fish had weighed 10lb 9oz to push me into third. Bruce had over 150 fish on the whip but he only weighed 6lb 12oz and I was still hanging on in there. Steve had struggled for 2lb and Scott Jackson had done well in his first match with us and weighed 4lb 13oz.
So I'd actually sneaked into third place and picked up £20 (plus £1's off Steve and Rob) to get this year up and running. The Tackleuk muggers proved how good they are by filling the first two places although if I hadn't spent so long on the caster I reckon I'd have been a lot closer. Still a pretty good match with lots of bites for most people.
1 – Scott Russell (Tackleuk) – 10lb 9oz
2 – Ashley Tomkins (Tackleuk) – 10lb 2oz
3 – Jamie Rich (Against Men and Fish/Burt Baits) – 8lb 14oz
With Pete not fishing today the league has tightened up and now looks like this
1 – Pete Lonton – 6 pts
2 – Graham Field – 8 pts
3 – Jamie Rich – 9 pts
It's a big ask to pull three points back on Pete in two matches and I really need two section wins to stand a chance of finishing in the top three. Weather permitting, hopefully we'll be back on the river next week.
Next up – River Isle (hopefully)
What's new – Lots of page updates
Check Out – Poleaid update (below)