Russell Hilton and I had been trying to arrange another meet up for a while and we eventually decided on today although I must admit I lay in bed last night listening to the rain pelting down and was sure he'd text to rearrange! I woke up this morning and the weather was still awful so I text him to ask if we were still going, he replied he was happy to sit in the rain so I had to get out of bed. Our previous two trips hadn't been too successful, we blanked on the Tone whilst after pike and only managed a few small dace and chublets on the Exe when mullet were our target. Maybe today would be third time lucky with our target of pike and perch.
I picked Russell up slightly late and we headed for the Bridgwater end of the canal, as we unloaded the kit it started to rain, we both had full waterproofs although I had my wellies but decided not to wear them and Russ was just in trainers! I had brought a waggler rod along and Russ supplied the pike rods. We both started on light floats with a pinch of bread flake on the hook while feeding liquidised bread and bites were fairly instant although I missed the first few before catching a nice rudd of 4-5oz. Russell was catching small roach and silver bream and it soon became obvious that some pike were on the prowl.
I put a small deadbait on one of the pike rods and swung it out, literally two minutes after casting out, the orange tip disappeared and the strike resulted in a fish on, it wasn't huge but around 2lb it would have probably been a new personal best which is a little embarrassing! The other rod had a single hook on and we put a smaller deadbait on with some of the venues bigger perch the quarry. The rain was now quite fierce and even turned to hail at times and we were both cold and our feet were soaked. I had now given up on the small fish and was sticking to the predator rods although Russ was still catching roach, rudd, silver bream and hybrids.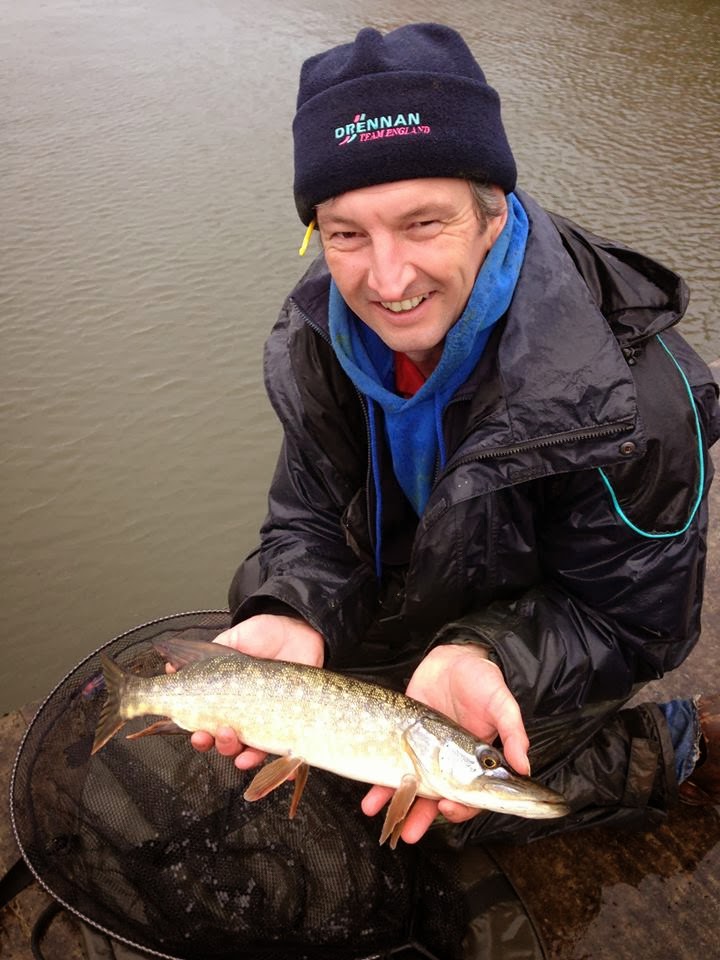 First pike of the day!
I missed a good bite on the smaller bait and on casting out again, the float went nearly straight away, as soon as I struck I could see it was a good perch and Russ performed the netting duties with ease. We weighed it and Russ called out 2lb 6oz which is a new pb for me (by 1oz!), I had the next one as well which was a perch of around a 1lb and the Padawan was showing up the Jedi Predator Master by 3-0! Yoda soon showed his class though and pulled it back to 3-3 with three perch between 12oz and 1lb 4oz. I then had the chance to go ahead when I hooked a pike and had it pretty much beat when the treble pulled out at the net. It looked to be around 5-6lb and I would have been a happy man if I could have landed a second pb of the day.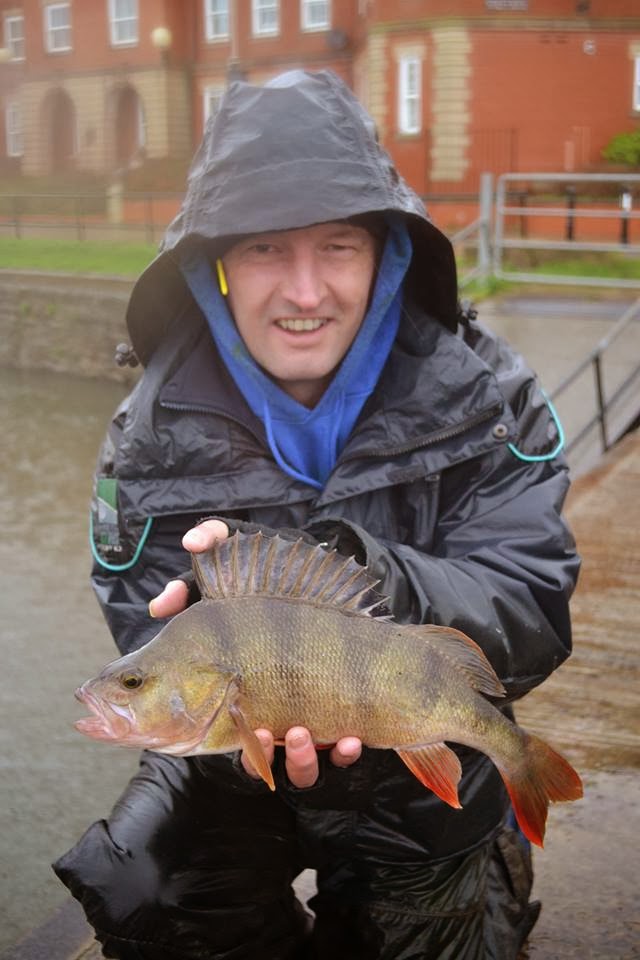 My new personal best perch of 2lb 6oz
To make matters worse Russell then went 4-3 up when he landed another perch although I still had the biggest fish of the day so far. There was a slight break in the weather so we decided to move to another spot where Russell has enjoyed some success on previous visits. He started on the bread again as the small fish activity undoubtedly brings in the predators. He was soon catching small fish and had a couple of cracking rudd up to 12oz, I had the pike rod out and small fish could be seen scattering and there was the odd swirl as pike attacked. All of a sudden my float went and the strike saw a good fish on, after a really good scrap, Russ netted a lovely pike and I knew it was going to be a new pb and the scales read 8lb 5oz and I was over the moon.
My second pb of the day, a pike of 8lb 5oz
The light was starting to fade and I was almost ready to call it a day when Russ hooked into a good fish, judging by the bend in his rod it was bigger than mine, after a few minutes we hadn't seen the fish but Russ was winning the battle when the hook pulled out and he was gutted. While he was sorting the rig out, pike were still moving about so I flicked the other rod out and the float sailed away almost instantly and another pike was on, it was only a small one about 3.5lb but a nice end to the day. We packed up and headed back to the car with very cold feet but it had been a cracking, if very wet day. I had two new pb's and did I mention the final score was 5-4 to the apprentice!
Seriously though I would like to say a massive thanks to Russell for the loan of the kit and showing me what to do because I wouldn't have had a clue. It was most certainly third time lucky and I can't wait to go again because there are bigger pike in there and a 3lb perch is a real possibility.
Next up – Dillington tomorrow
What's new – Lots of page updates
Check Out – Russell's blog at http://canalangler.blogspot.co.uk/