After all the rain yesterday I was resigned to being on the pond again but with the Tackleuk muggers not in attendance, at least the rest of us had a chance. We'd also had a wicked frost overnight and I wasn't sure that would help the fishing much. Rob decided to sort out the pegs at the pond and there were no pleasure anglers this week so we could use all the pegs we wanted. As always I fancied 17 or 18 but Bruce and Rob drew these, Fieldy pulled out peg 2 which has won the last two matches and I had peg 6 with Justin on peg 4. Steve was keen to try and win his pound back and I also had a side bet with Rob.
The pond was a horrible chocolate colour and after the frost and all the cold water that had gone in, I thought it might be hard. The level was also around 6 inches up although for a change it wasn't windy and there was an orange thing in the sky! As always it was a rush to set up and the first job was to mix some groundbait up, my groundbait mountain at home is starting to run low so today I had some Bait Tech Omen which isn't ideal for this kind of fishing as it's designed with bream and feeder fishing in mind! I might have to actually buy some groundbait soon!
I only had time to set the one rig up again, a 0.5 gram Drennan Roach with a spread bulk, two droppers and a 0.10mm hooklength to a size 20 B611. Rob blew for the start and I carefully cupped in two balls at 10 metres whereas Justin boshed in six Jaffa's on his pole line! I baited up with a single red maggot and shipped out, the float just sat there confirming my earlier suspicions that it was going to be hard. I had my first visitor in the shape of Mark England who used to be a great junior angler but like so many never made the transition to the seniors. We had a nice chat and he's into his wildlife photography now although he does a fair bit of pleasure fishing. I had a couple of tiny roach while he was there and with the lack of sport I don't think I'd tempted him to get back into match fishing!
I saw Justin catch a couple of shell shocked roach but it was a struggle and after an hour I only had seven small fish. To make matters worse the reflection of the sun was right in front of me making seeing the float a nightmare. Going into the second hour bites became a bit more frequent and then my mate Andy Langdon turned up, I was on about 15 fish when he arrived and I netted a decent rudd while he was there and I was doing okay as far as I could see. Then Steve Hurford also arrived and I hadn't seen him for years, he said the anglers on the other side were struggling and Fieldy on peg 2 had only caught one fish so far. It was great to have a chat with them both and it took my mind off struggling!
I tried caster but never had a bite so tried double maggot to see if I could increase the size of the fish and first put in the float buried and a fair bit of pink hydro came out of the pole tip, I played it with kid gloves and slid the net under a nice perch that had to be around the pound mark – bonus! I then lost a slightly better roach before catching a good net roach. They left me too it and I carried on catching odd small roach. Justin was still getting odd fish but I felt I was still ahead of him. I could hear odd comments from the pegs opposite and it sounded like they were really struggling.
I kept trying caster without much success but I kept feeding it along with maggots and hemp and going into the last hour I started to get odd bites on it although the roach weren't that much bigger than the maggot fish. I did manage a couple of better roach and ended with 63 fish and thought I might have 5lb or so. I packed up but didn't have time to get my camera from the car before Justin arrived with the scales (so apologies for the lack of photos today!). Fieldy had weighed 2lb 14oz from peg 2, I pulled my net out and I wasn't too far out for once as Justin called out 6lb 4oz, we walked up to weigh him in and he had 3lb 9oz so I had at least secured one section point for the league.
We loaded the cars and drove round to the other side and it had fished pretty hard with Bruce the top weight with 4lb 2oz which meant I'd won my first match of the year. Rob was second in that section so I had pulled a point on him as well and I picked up £40 for the win plus £2 in side bets. What a great weekend, two new pb's yesterday, my first win of the year today and to top things off Chelsea beat Man United 3-1 in the league.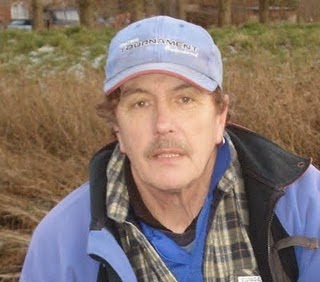 Bruce was second with 4lb 2oz
1 – Jamie Rich (Against Men and Fish/Burt Baits) – 6lb 4oz
2 – Bruce Hunt (Tiverton) – 4lb 2oz
3 – Justin Charles (Ilminster) – 3lb 9oz
The league is still pretty tight and after seven matches and dropping the worst result it looks like this,
1 – Jamie Rich – 8 pts
2 – Robin Cox – 10 pts
3 – Bruce Hunt – 11 pts
Next up – The River Isle (if we can ever get back on it again!)
What's new – Lots of page updates
Check Out – My day piking with Russ Hilton (below)