After no fishing for two weeks I was really looking forward to getting back on the river and I can't believe how mild it is considering it's October. I got to the Oak for the draw and there was a good turn out of eleven including Big Frank and Jake and it was really nice to see Steve Hurford there plus all the regulars. Rob had put in four pegs at Redbridge with the rest at Isle Brewers, to be honest I didn't really fancy Redbridge as I think it's too early for it and fancied 120, new peg 121 or 125 which had done well last week but of course ended up on peg 118 at Redbridge.
As a little bonus I also had the scales, when I got there the river looked nice although really low and clear. My peg was a fair old walk and after several trips I was knackered and only had five minutes before the start time. My peg was deep and I didn't have any suitable rigs so had to butcher a Dillington rig, needless to say I was late starting after all the faffing around. After running the float through a few times with single red maggot on the hook I had a minnow to avoid the blank but it was also a little concerning that I hadn't caught a roach yet. At both Redbridge and Isle Brewers if you are going to do well you normally catch small fish quite quickly and if you don't you're left hoping the chub put in an appearance and it was already looking like that today.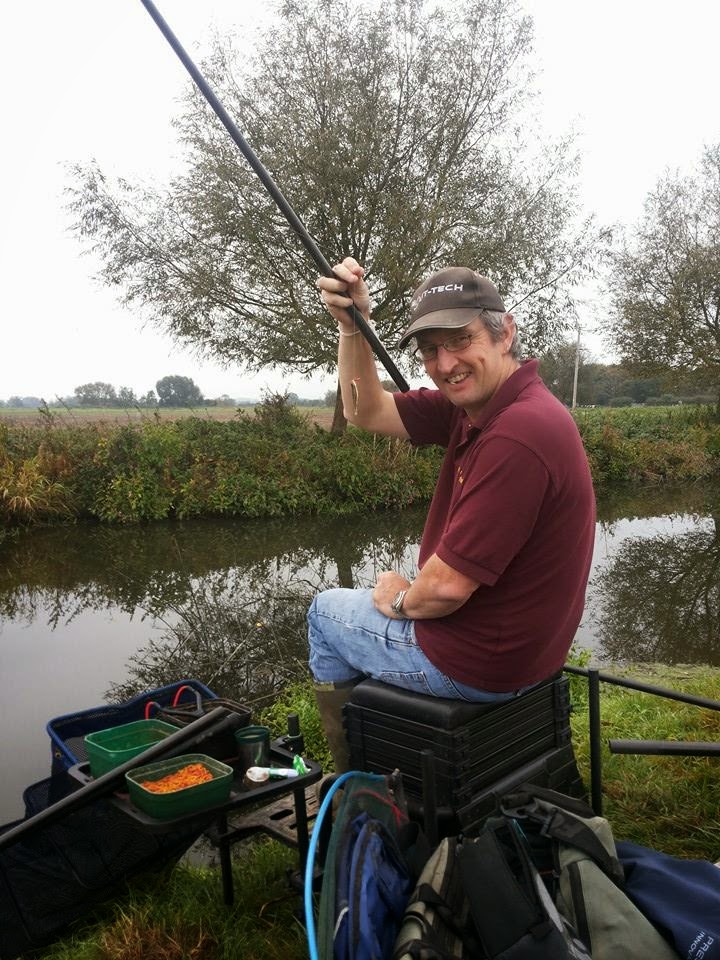 At least I'd avoided the blank!
Jake was above me and didn't seem to be doing much either and after an hour or so I only had three or four minnows and with the temperature starting to drop I felt it was time for a walk. Fieldy was in peg 120 (the weirpool) and was catching quite well and I need him to do my lottery numbers for next week! Big Frank was in new peg 121 and catching chublets although he did say he had one about a pound, further down was Stu Alford in peg 122 which is a peg I don't like but he was getting a few and swung in four small fish while I was watching and said he thought he had 4-5lb already, next stop was Heardy in 123 (another peg I don't like) and he said he had fourteen fish but it was hard going. Steve Hurford was in the kink (peg 124a) but only had minnows so that pound was safe for now, Neil Dring was in 125 but said he was getting lots of minnows but had lost a couple of better fish.
As I walked back and reached Stu's peg I could see he was into a big fish but as I watched he lost it and said it was a big chub. I trudged back to my peg not really knowing what to do next, with it looking like Fieldy and Frank might frame, it wouldn't take a lot to win our section. At the tail of my swim were a load of stick ups and with the river being so clear, I thought any roach might be in the safety of cover so started to flick a few casters down there and holding the rig back just off the stick ups. After about five minutes or so I was amazed when the float sailed away, I wasn't so amazed when I missed it though! Next chuck I was ready and when the float went again the strike resulted in some resistance, it wasn't a big fish but I slipped the net under the 3oz roach just to be sure.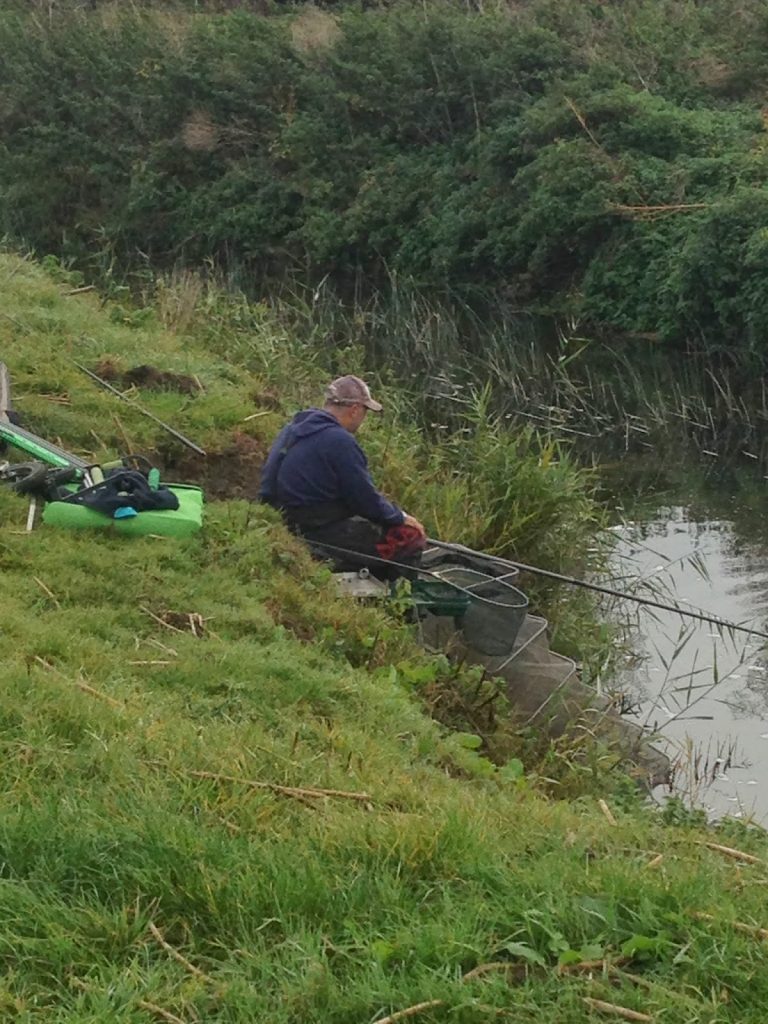 Stu Alford was catching well in peg 122
If I could catch them regularly for the remaining couple of hours I could still do a decent weight but it wasn't to be and I only had one more roach and a gudgeon and my first match on the river in 2014 had been a bit of a disaster. After packing up I took my kit back to the car before collecting the scales and walking back to weigh Frank in, he weighed 2lb 15oz and had slowed up after a great start. Fieldy was only admitting to 7lb and gave us his usual "I've only caught small fish and haven't used my landing net all day", needless to say he weighed 9lb 6oz and had plenty of quality chublets and dace. My two roach, one gudgeon and five minnows weighed a massive 7oz, Jake had done well in the end catching a couple of decent chublets for 2lb 2oz, he also lost one at the net and another that did him under the far bank cover and could prove costly.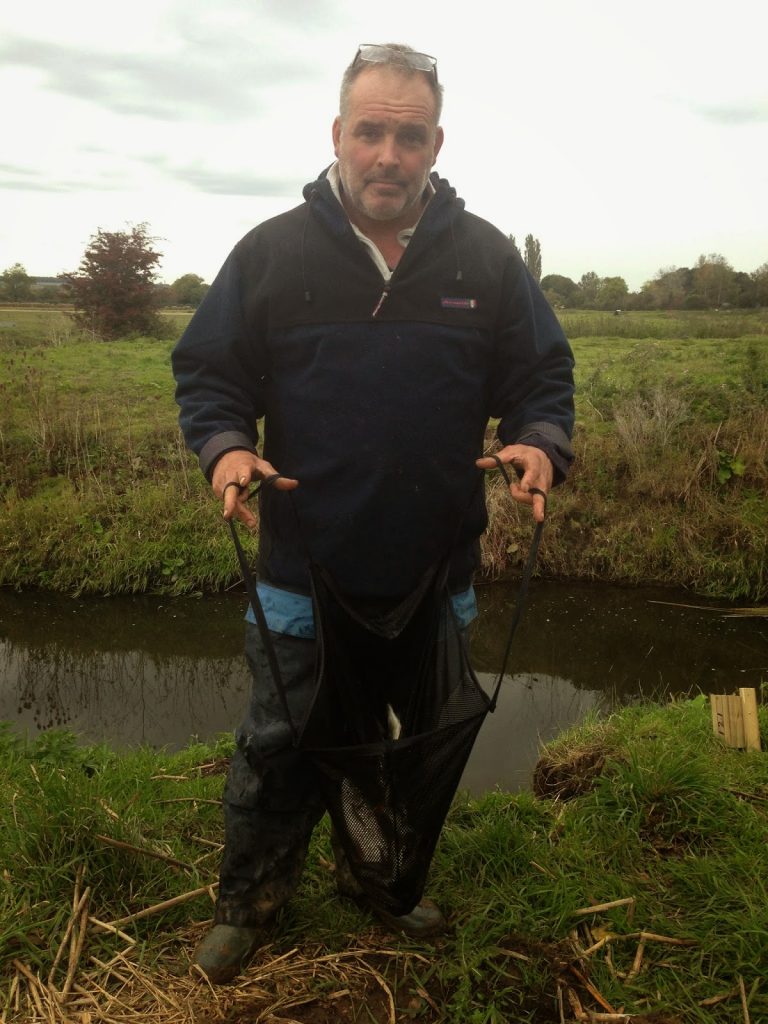 Big Frank had 2lb 15oz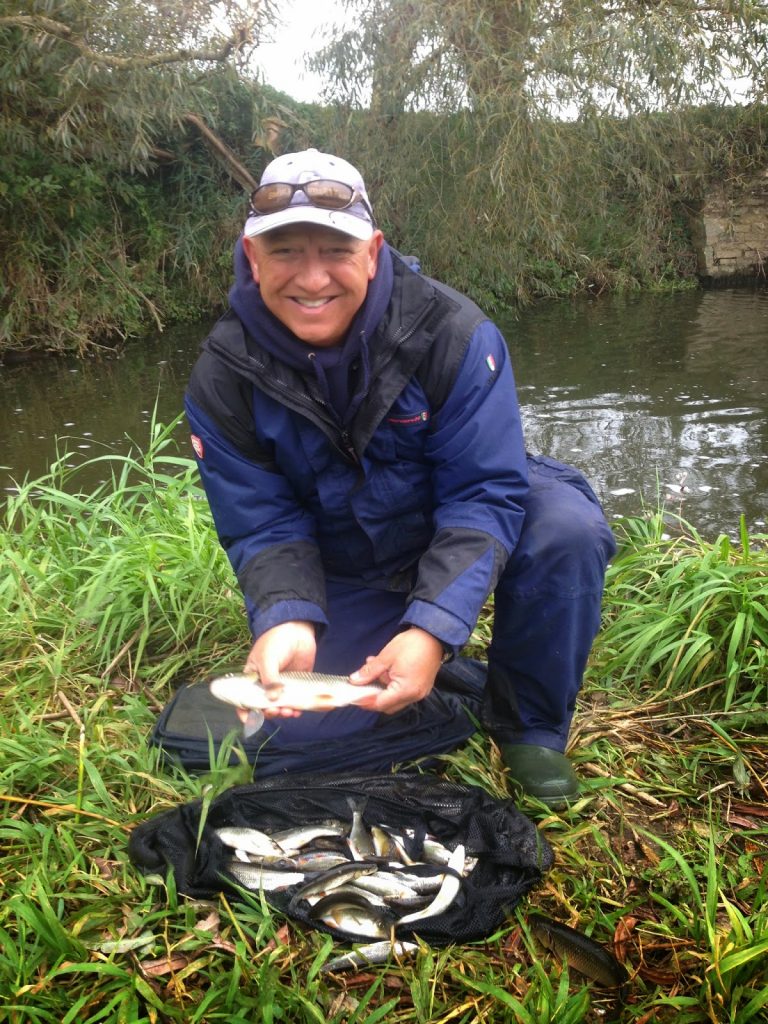 Fieldy had 9lb 6oz but only had 'small' fish!
Steve Parker only had a few minnows for an ounce so I was a pound to the good, Rob had suffered pike trouble in peg 109 and weighed 2oz so the pegs at Redbridge hadn't fished well. Steve Hurford phoned from the other section and he'd found a 2lb 13oz chub so I was back to evens on the sidebet front. He also reported that Heardy had 'struggled' his way to 8lb and second place, Stu Alford weighed 5lb 6oz and also must have slowed up after a good start. Bob Hammond weighed 15oz in peg 124 and is going off that peg rapidly as he drew it last week as well. Neil Dring had 4lb 7oz from peg 125 and it was enough to give him a section win.
A really disappointing day for me and so far my defence of the V.E.S. title hasn't gone well! I ended up with four section points and need a good result next match or my league is over.
1 – Graham Field (Taunton) – 9lb 6oz
2 – Martin Heard (Tiverton) – 8lb
3 – Stuart Alford (Langport) – 5lb 6oz
Sections
A – Frank Woodard (Ilminster) – 2lb 15oz
B – Neil Dring (Ilminster) – 4lb 7oz
Next up – River Isle
What's new – Lots of page updates
Check Out – My latest ramblings (below)