We had quite a bit of rain overnight but I was still hopeful we'd be on the river, I got to the Oak for the draw and was informed we'd be on the pond today. I wasn't too upset as it's been fishing well and we should get plenty of bites. Baz was fishing again today even though there wasn't much in the golden peg fund yet! Rob did the draw out the pond in case there were any pleasure anglers fishing. I really fancied drawing on the road side and got my wish when I pulled out peg 18, Baz was on 16 and Steve Parker was on peg 20 and as I had side bets with them both, I would be able to keep an eye on them. The other two pegs in my section were Fieldy on peg 23 and a still poorly Stu Alford on peg 14.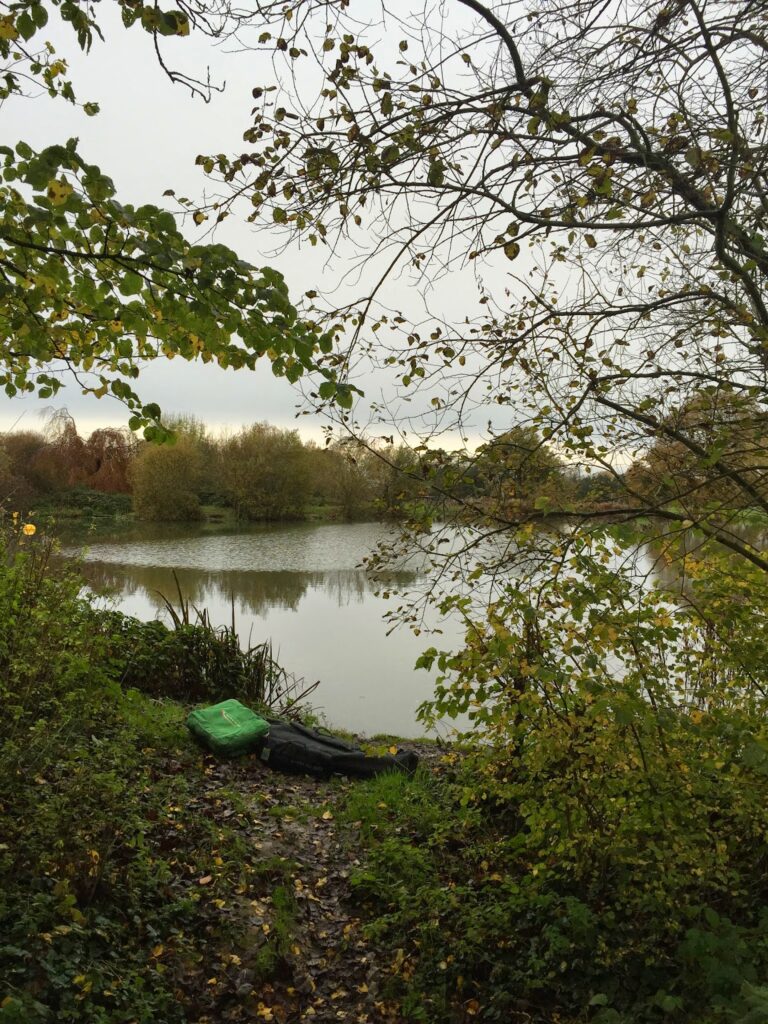 I was more than happy with peg 18
My other side bet was Hurf who was on peg 4 in the other section, Rob had drawn peg 2 which was the golden peg. The pond looked nice with lots of fish topping but I was really surprised how clear it was given the rain we'd had. A few people were saying it would fish hard but I still fancied you'd need double figures to frame. After getting my box level, the first job, as always, was to mix my groundbait which was some Bait Tech Pro Natural which is my number one choice for this kind of fishing. I set up a 0.5 gram Drennan Roach float with 0.10mm bottom and size 18 Kamasan B611 to fish on the deck at 10 metres also a Preston Chianti with the same hook and hooklength to fish shallow.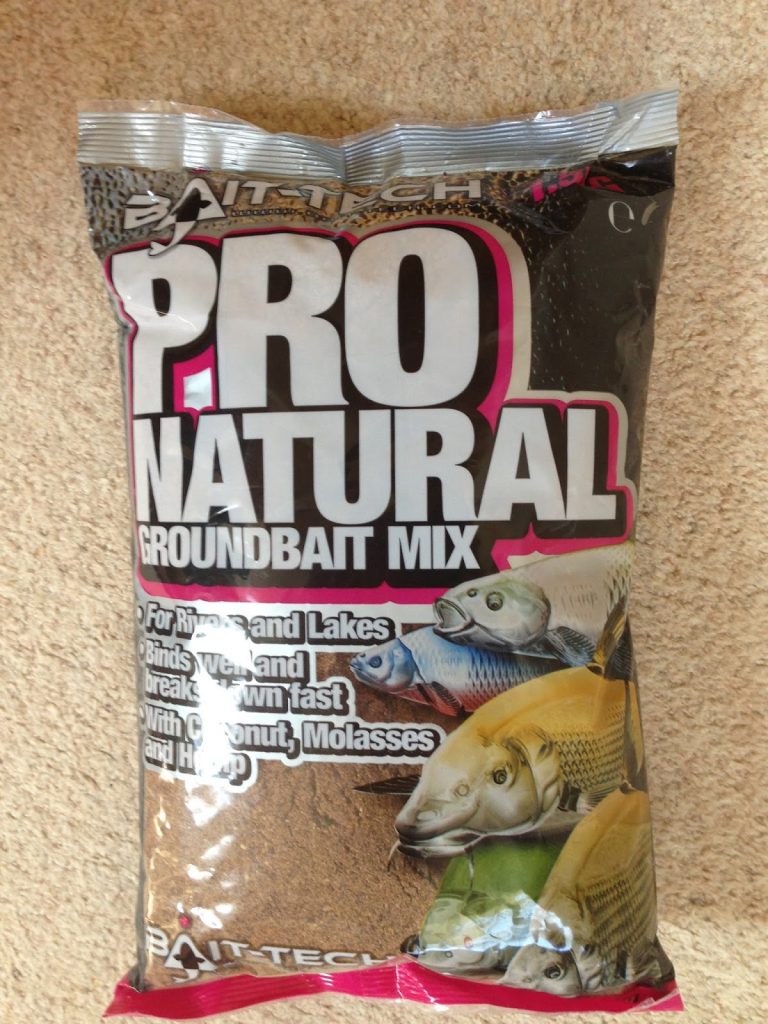 Rob blew for the all in at 10:15 and we were off, I cupped in two balls at 10 metres and started on the depth rig with a single red maggot on the hook. I fully expected to catch straight away but hadn't had a bite after ten minutes! In fact, looking around the pond everybody seemed to be in the same boat, just when I thought it might be a real struggle, the float slid away and my first roach was soon swung in. I slipped double red maggot on and had another roach about an ounce so in a bid to increase the stamp of fish I put a caster on. It was still fairly slow and although I had a couple of 4oz roach that I netted, most of them were about 1oz apiece.
I wasn't too worried at this early stage as nobody was bagging and even the whip boys (Fieldy, Justin, Martin and Bruce) only seemed to be catching small fish. After an hour I had 17 roach for probably a pound and I was hoping my swim would get stronger as the match progressed. Baz had shouted up that he just couldn't string any fish together but early in the second hour he netted a hybrid around the pound mark which was a nice bonus. I was still getting odd roach and also added a 3oz perch, I've then hooked what felt like a slightly better roach only to swing in a 2oz golden orfe which took me a little by surprise, as I didn't have a goldfish bowl I popped it in my keepnet.
After an hour and three quarters my bites slowed right up so I reached for the shallow rig, first put in the float buried and a decent amount of elastic streamed out before I netted a cracking 8oz roach, this was more like it. Next chuck I had one of 6oz and I thought I'd cracked it but then I suffered a run of missed bites. I did manage some smaller roach but it was obvious the roach were shying away from the pole in the clear water as quite often when I shipped out I'd get a bite straight away before the bites went 'iffy' again.
A switch back to the deeper rig saw a run of smaller roach, with quite a few coming on the drop and this pretty much set the scene for the rest of the match, with a couple of better fish shallow before getting some smaller ones on the deeper rig. I was hoping the better roach might show in numbers in the last hour or so but if anything my swim got worse and I ended with 76 fish which I hoped would give me between 7-8lb if they averaged 1.5oz apiece. Fieldy packed up in record time and after loading the car, asked how I'd got on, I said it had been a struggle and he said he reckoned he had 5lb if he was lucky. Now we all know he can't lie straight in bed so I asked how many fish he had and when he said 128, I said at an ounce each that gives you 8lb but he said he had a lot of tiny fish – yeah right!
We didn't have long to wait to find out and after I loaded my car I caught up with Rob and the scales at Steve P's peg, Fieldy had weighed 8lb 7oz which confirmed he's even worse at estimating than me, Steve had struggled for 2lb 13oz and then my fish went 6lb 13oz which I was a little disappointed with. Baz weighed 5lb 9oz and had suffered a bit of a nightmare on his first visit here which meant I got my pound back from the other week and when Stu had 1lb 6oz, I needed Fieldy to frame to win the section by default.
When the rest got back from the other side, Heardy had won with 11lb 10oz and as is often the way, I thought he'd struggled, Bruce was second with 9lb 9oz and Fieldy was third which meant I picked up a tenner for the section. Justin had the same weight as me to win the other section by double default. Hurf had 3lb 9oz so I got another pound back and levelled up our side bet score to 2-2 for the series so far. I'd actually quite enjoyed the day and worked hard for my fish but the pond needs some colour for those big roach to show in numbers.
So after four matches and dropping the worst result, Heardy has a perfect three point score and is in danger of running away with it yet again. Fieldy is second with five and despite not fishing today Big Frank is lying in third place with six points.
1 – Martin Heard (Tiverton) – 11lb 10oz
2 – Bruce Hunt (Tiverton) – 9lb 9oz
3 – Graham Field (Taunton) – 8lb 7oz
Sections
A – Justin Charles (Ilminster) – 6lb 13oz
B – Jamie Rich (Against Men and Fish/Burt Baits) – 6lb 13oz
Next up – The Xmas Fayre
What's new – Loads of page updates
Check Out – My FishBrain app review (below)