My day didn't get off to the best of starts when I overslept and then had to rush around and only just got to the draw in time. The usual suspects were at the draw minus a poorly Stu Alford (get well soon mate) and Baz who was waiting for the golden peg fund to build up before he paid us another visit! (only joking he's actually on holiday). After loads of rain yesterday I honestly thought we'd be on the pond but Rob had pegged us at Redbridge and Isle Brewers and said it was up and coloured and looking good. After a quick coffee it was time to draw and I went into the hat with only two pegs left, I was hoping to avoid Redbridge and when I opened my fingers I had only gone and drawn peg 128, the big bend at Isle Brewers and one of the best pegs on the river. The last two times it's been pegged, Bruce has won off it and the last time I drew it I had nearly 20lb of roach, hopefully I'd be in for a good day today.
I got to the river and parked up, Heardy had drawn peg 125 and was already moaning it was unfishable, Steve P was in peg 126 and Rob had drawn peg 129, both good pegs and they wanted a side bet with me. I walked down to have a look at my peg and it looked gorgeous, the river was up and pushing through but as my peg is on a bend I had a lovely big slack. I just had time to make myself comfy and set up a single rig, a one gram Drennan Trio with 0.10mm bottom and a Kamasan B511 size 20. The start time arrived and I shipped out to 6 metres with a single caster on the hook and held back, after a couple of minutes a positive bite saw me swing in a 3oz roach and when I had it's twin next chuck all the early signs were looking good.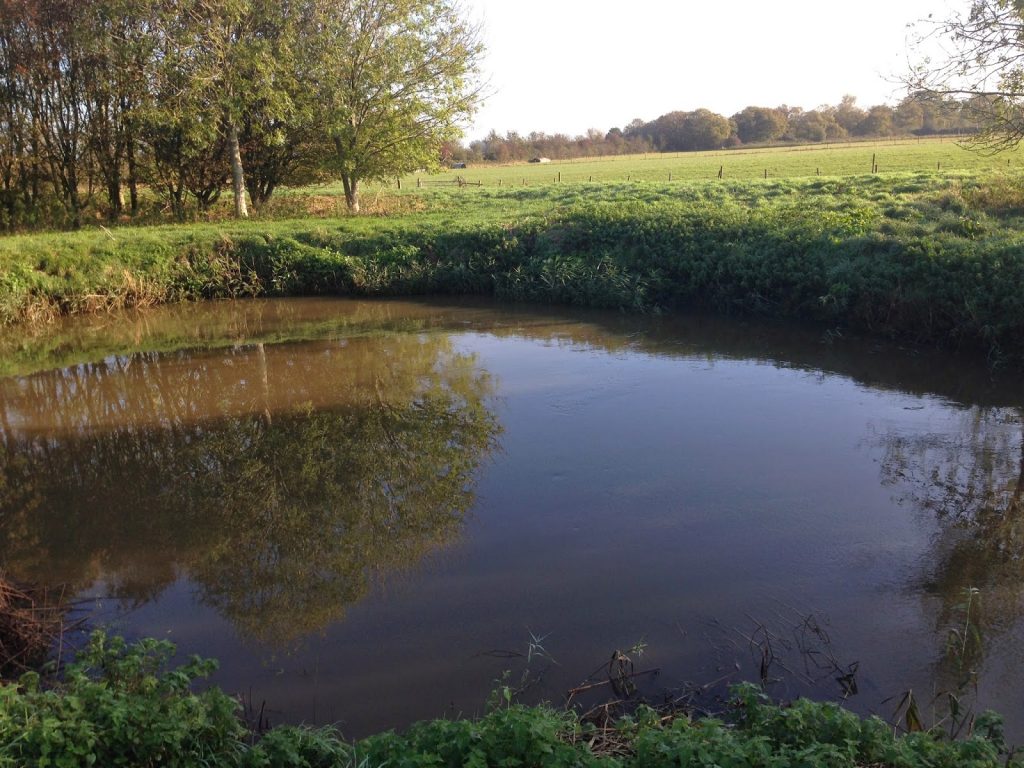 Peg 128 looked gorgeous
It's a big peg and with the extra water on the river, the flow in the slacker water was all over the place and if I'm honest I wasn't too sure how to best feed the peg. I was feeding to my left and also dripping some casters in on my right where the main flow comes into the bend. There were quite a few roach topping all over the peg and it certainly felt like there were a lot of fish in the swim. My next fish was a tiny gudgeon but then I couldn't get a bite at 6 metres, I tried double maggot but that just resulted in another little gobie. I added a couple of sections and went out to 11.5 metres and I had a couple of roach quite quickly before I was left scratching my head again. After an hour I only had about eight fish and some of them were tiny, this wasn't going to plan!
When I'd caught well last time I had nearly all my fish on three sections to hand, I kept trying this line but apart from the odd roach all I could catch was tiny gudgeon, there seem to be loads of them about which is a great sign for the future but it wasn't helping me much now! The second hour was slower than the first and I was going nowhere fast. I stuck at it hoping perhaps the river was fishing hard but nobody was walking which was a tad worrying. There were still quite a few roach topping so why wasn't I catching?
A couple of bank walkers turned up and while they were behind me I had a nice roach from the 6 metre line which I netted to be on the safe side and next chuck I had a smaller one and they said I was doing well and they'd only seen the odd gudgeon caught as they'd walked down from Redbridge. My purple patch didn't last long and after they left I went back to struggling. I found I could catch a couple of fish from one area before I had to try somewhere else but it was hard going. I tried 11.5 and 13 metres but only had odd fish with the most productive lines being 6 metres and three sections to hand.
Going into the last hour the river had fined down a bit and I had a run of fish on the short line including a decent dace before having a couple of better roach at 6 metres, with the light starting to fade I really thought the fish had arrived but in the next twenty minutes I never added another fish! Then with five minutes to go I had three roach and missed a bite, what a frustrating day! I finished up with 44 fish and hoped I had between 4-5lb although I did have quite a few tiny gudgeon.
I had the scales again so packed my kit up and walked back to the car to get them, Heardy said he'd really struggled and had 82 fish but they were all tiny, Rob turned up and said he'd only had 22 fish and Steve said he reckoned he'd had about 3.5lb. As we walked down to weigh Rob he admitted he'd caught a chub and lost one as well, the needle settled on 4lb 13oz and I thought I might be close to that. I was next to weigh and a bit disappointed when my weight was called at 3lb 12oz. They went to weigh Steve in while I took the rest of my kit to the car, he weighed 3lb 8oz which was bang on his estimate.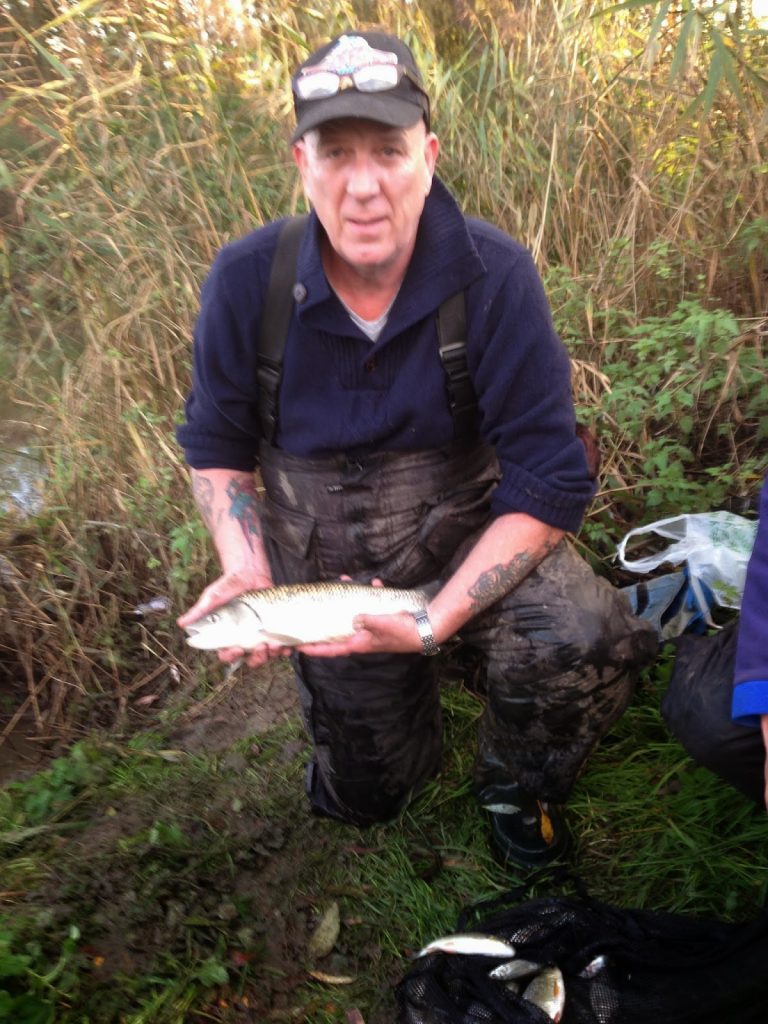 Rob's 4lb 13oz included a nice chub
Heardy had weighed 5lb 8oz and Bruce had 4lb 6oz from peg 124 which meant I had finished well down in my section which had been tight again today but I couldn't help but feel I'd wasted a great peg today. As Rob had beaten me and I'd beaten Steve P, it was 1-1 on the side bet front so I phoned Hurf to see how he'd done. He'd caught a good chub and along with some smaller fish, he'd weighed 7lb 4oz which was top weight in that section meaning he'd won the match and taken another pound off me. Neil Dring and Big Frank both weighed 4lb 7oz up there to jointly win the section and Neil lost a big chub which would have seen him push Hurf's weight.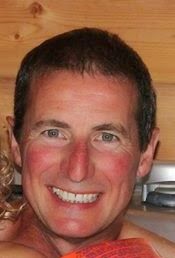 Hurf won his first match, well done mate
Back at the results and it was confirmed Hurf was top on the day and he said that's the first match he's ever won, so a massive well done mate and I'm sure it'll be the first of many. Heardy had 'struggled' his way to second and Rob was third. I'm really surprised the weights were so low today as the river looked really good but it's really fair fishing at the moment and the weights are really close.
1 – Steve Hurford (Ilminster) – 7lb 4oz
2 – Martin Heard (Tiverton) – 5lb 8oz
3 – Rob Cox (Ilminster) – 4lb 13oz
Sections
A – Neil Dring (Ilminster) and Frank Woodard (Ilminster) – 4lb 7oz
B – Bruce Hunt (Tiverton) – 4lb 6oz
It's early days in the league but after three matches and dropping the worst result, Heardy leads with two points followed by Big Frank, Fieldy and Rob all on four. I'm just behind on five but can't afford any more slip ups if I'm going to stand any chance in the league.
One last thing, Fieldy had a ruffe from peg 120 a couple of weeks ago and Hurf had one from the same peg today, in all my 35 years of fishing the Isle I've never seen or heard of one being caught before, where have they come from?
Next up – Round four of the V.E.S. league
What's new – New additions to the rogues gallery
Check Out – My latest review and the next fishery focus coming very soon