After a disaster in the first match I needed a good result in this one or my league was over already. I got to the draw in good time (yes I remembered to put my clocks back!) and there was another decent turnout and Langport invader Baz Morgan had turned up to mug us all again. I reckon he must have got his sums wrong this time as there was only £20 in the golden peg fund and he normally waits until it's built up nicely before he puts in an appearance. Steve P had also picked up my pole sections from Enterprise Angling and I'm so impressed with them. I think the guy that repairs the sections is called Jim Finch and I can't recommend him highly enough, I really thought both sections were knackered but not only did he manage to get them apart he did an amazing job on both ends of the section I'd butchered. If you break a pole section get in touch with John at Enterprise, it takes a couple of weeks but you won't be disappointed. So a massive thanks to Jim and John and also to Steve for picking the sections up and getting the bait, nice one mate.
Anyway back to today's match and with twelve of us fishing, Rob had put nine pegs at Upper and Lower Coxes and three above Isle Brewers bridge. The golden peg was drawn by landlord Steve Rutter and he pulled out peg 17. Rob announced the draw and asked if Baz wanted to go into the bucket first as he hadn't fished for ages and blow me if he didn't go and pull out 17! I definitely need him to do my lotto numbers for next week. I really fancied peg 14 or 15 at Coxes but of course pulled out peg 122 at Isle Brewers and couldn't have been further away! Stu Alford was third from it in the first match but I've never done any good off it.
I got to the river and parked up before having a quick chat with Big Frank who had drawn peg 124 and Neil Dring who was in 123. After several trips to get my kit to my peg, it was a bit of a rush to get ready and I only had time to set up a 1 gram bodied float with 0.12mm hooklength and size 18 B611. The peg is situated on a bend and upstream there is a discharge that comes in which means most of the flow comes into the bend under my feet. There were some stick ups to my right and also to my left down the peg. There was a good depth all across the swim and it only altered by a few inches when I plumbed up.
The start time of 10:15 arrived and I started at four sections just off the main flow under my feet and inched the caster hook bait through while feeding casters, hemp along with a few maggots. I was also feeding across at about 8.5 metres and the plan was to catch short for as long as possible before moving out. First chuck the float slid away and quite a bit of blue hydro slid out of the pole tip before I netted a nice 3oz roach and I was off an running. I was getting a bite every run through on caster although a lot of them were minnows, tiny chublets and dace that were no bigger than the minnows. I was getting odd slightly better dace and roach between 1-3oz but would only get a couple before it was back to minnows and I was having to chase the fish around a bit.
After an hour I had 17 fish on the clicker but hadn't been counting the minnows or tiny fish, the second hour was similar and I was now swapping between the two lines but those better fish just wouldn't settle. I have to say it's a great sign for the future with so many tiny chub and dace but it wasn't really helping me today as I was putting a lot of fish in the net but they weren't going to weigh bugger all! I was now catching a quite a few gudgeon as well but a lot of these were minnow sized too!
Things started to slow a little during hour three but I did lose a decent roach as I shipped back and then next chuck lost what felt like a good dace and just to make it third time unlucky I dropped off a small dace as well. Big Frank turned up and said both him and Neil were struggling and Steve Hurford had also phoned him to say nobody at Coxes was setting the world alight either. I was still getting a bite every chuck but most were tiny fish and I upped the feed to try and make something happen. It didn't really work and I just kept putting minnows, gudgeon and the odd dace in the net up until the end of the match.
My clicker read 54 but I'd probably had the same number of tiny fish as well and thought I must have 3-4lb which I was sure would be a long way off the pace today. I packed up and started taking my kit back to the car, I got to Neil's peg and he said he'd had a similar day to me. As he had the scales, I left my kit at his peg and we walked up to weigh me in, for once I wasn't too far off with my guess and Neil called my weight at 4lb 4oz. We walked back to his peg and when he pulled his net out he had a very similar catch to mine but the needle stopped short at 3lb 10oz. Frank was last to weigh and he said he had nowhere near mine or Neil's weights but when he pulled his net out he had some decent chublets and roach and I honestly thought he had 5-6lb and was amazed when the needle just crept over 4lb and Neil called it at 4lb 2oz.
As we headed back to the cars, Frank's boy, Jake, phoned to say he'd weighed 2lb 14oz in peg 28 and Heardy had only weighed 1lb 8oz in peg 27 and I just needed to beat Hurf in peg 24 to win the section (and my pound back!). I drove back to meet the others at Coxes and Baz had won the match (and golden peg yet again) with 11lb 10oz from peg 17, his bumper payday didn't end there as he also collected a pound off me! I was soon back to evens though as Steve P had struggled in peg 19 for 13oz and then went 2-1 up on the day as Hurf had 1lb 12oz from peg 24. Rob Cox was second with 7lb 9oz from peg 15 and both him and Baz had caught several trout which count in our matches. The next best weight at Coxes was Fieldy with 3lb 1oz which meant I was actually third on the day and picked up £20.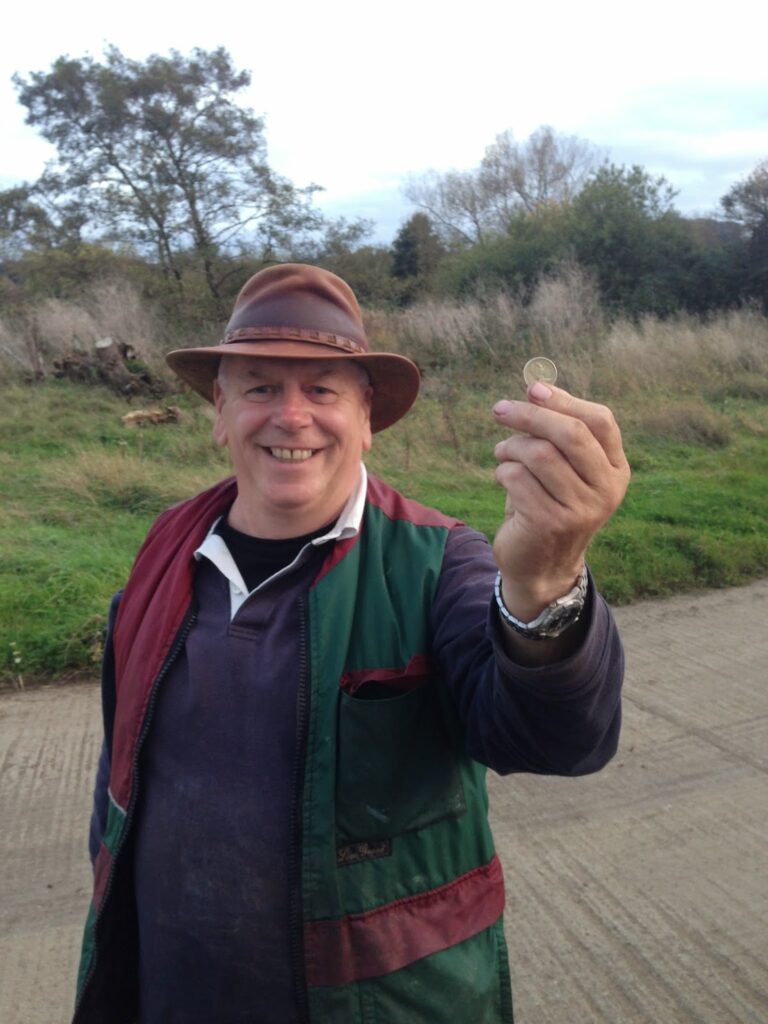 Baz was overjoyed at taking a pound off me!
Better still I scored one point today and everybody who had done well in the first match had finished well down in their sections today and vice versa meaning the league is wide open after two matches. I'd had a busy day today and I can honestly say I've had a bite every chuck but just couldn't catch enough quality to challenge Baz's weight. I'd probably lost a pound of fish but they wouldn't have made a difference. The river is still very low and clear and we desperately need some rain (but not too much please!).
1 – Barry Morgan (Baz Angling) – 11lb 10oz
2 – Rob Cox (Ilminster) – 7lb 9oz
3 – Jamie Rich (Against Men and Fish/Burt Baits) – 4lb 4oz
Sections
A – Graham Field (Taunton) – 3lb 1oz
B – Frank Woodard (Ilminster) – 4lb 2oz
Next up – Round three of the V.E.S. league
What's new – Lots of page updates
Check Out – How Chard juniors got on last week at Perry St