A couple of weeks ago I was contacted by Icon Films to see if I'd review a fishing app they were developing. I knew they were the company that produced the popular River Monsters show and for a moment (just a moment mind!) I got all excited thinking perhaps they wanted me to be the next Jeremy Wade! Any hope of my dream job, travelling the world and getting paid to fish soon faded when I spoke to their Marketing Manager who confirmed that they did indeed want me to review an app. Still I was rather flattered to be asked, now I'm not that naïve to not realise it's quite a clever marketing technique to get free advertising but it's great that some bigger companies now know who I am and it certainly can't do the blog any harm.

They sent through the press release yesterday and below are the main points from it,
'River Monsters and Go-Fish partner-up to create angling app 'River Monsters Fish On!' launching on iOS 19th December 2014′

'River Monsters Fish On! is the essential tool for anglers and River Monsters fans of all ages, combining a simple, easy to use digital logbook, with exclusive River Monsters content and knowledge'

I hadn't actually come across the Go-Fish app before but then as I've said in previous reviews I'm fairly new to this app malarkey. Reading through the rest of the press release, the Go-Fish app was originally launched in 2010 and to date has over 320K downloads with over 70,000 logged catches, pretty impressive figures I'm sure you'll agree. The promotional blurb goes on to say,
'The partnership with River Monsters brings a re-brand and exclusive River Monsters content to the app including a Top 10 profile, allowing users to view the most extreme catches from the extreme angling show and to compare them against their own. A 2nd phase launch, coming in 2015, will see the release of the Android app as well as offering all users the opportunity to purchase access to additional River Monsters content and app features.'

I was also asked if I would like to trial the app before the release date on the 19th December and of course I said yes and felt quite privileged to have the opportunity to be involved. I downloaded it, registered and set about having a play, my first impressions were that it looked great (see screenshot below) and that at a very basic level it's just an electronic anglers diary/logbook. The majority of anglers (including me) keep a record of their fishing trips and catches and this app enables you to do this and upload photos and details of where and when you were fishing.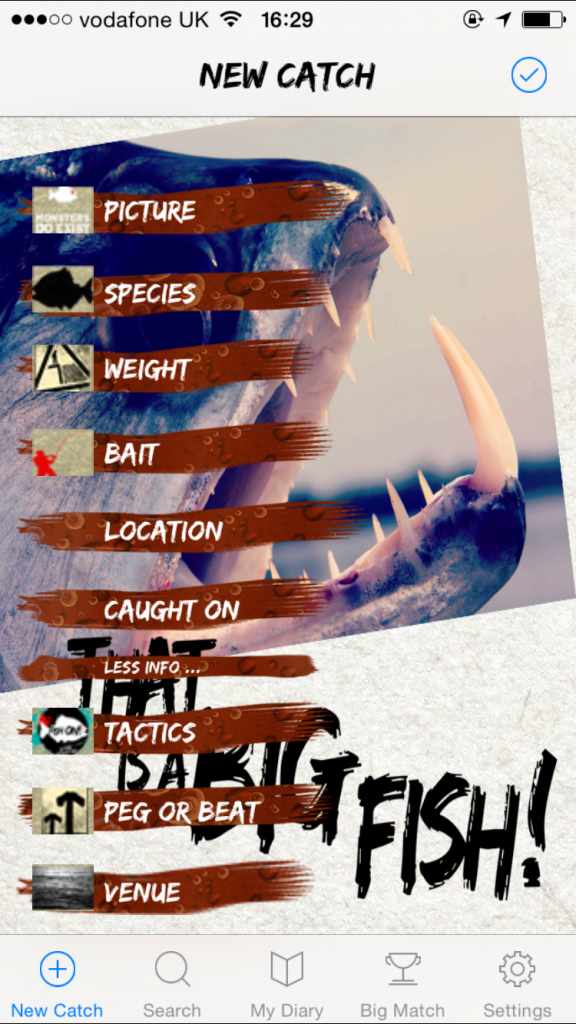 As you can see from the screenshot, the first menu choice is 'New Catch' which is pretty self explanatory and here you upload a photo of your catch and then enter the species, weight (you can choose pounds or kilos) and the bait you used to catch it. You can also enter tactics, peg or beat and venue.

The next option is 'Search' which does exactly what is says on the tin, I tried a few random searches using different fish species and even countries and it seemed to work well. I did notice that anglers in Germany had obviously entered fish species in German, for example 'spiegelkarpfen' which is mirror carp so I'm not sure if you searched for carp, whether the results would include carp in other languages!
The third menu option is 'My Diary' and in here are the catches you've uploaded. Then you come to 'Big Match' which is like a hit parade of the users and their catches for that month using the average weight of your catches per trip. With my averages I certainly won't be in the 'Top Twenty' anytime soon! The last option is 'Settings' where you can find your profile, choose whether you want to show weights in imperial or metric, set a search range, choose to show fisheries and you can add fisheries here as well.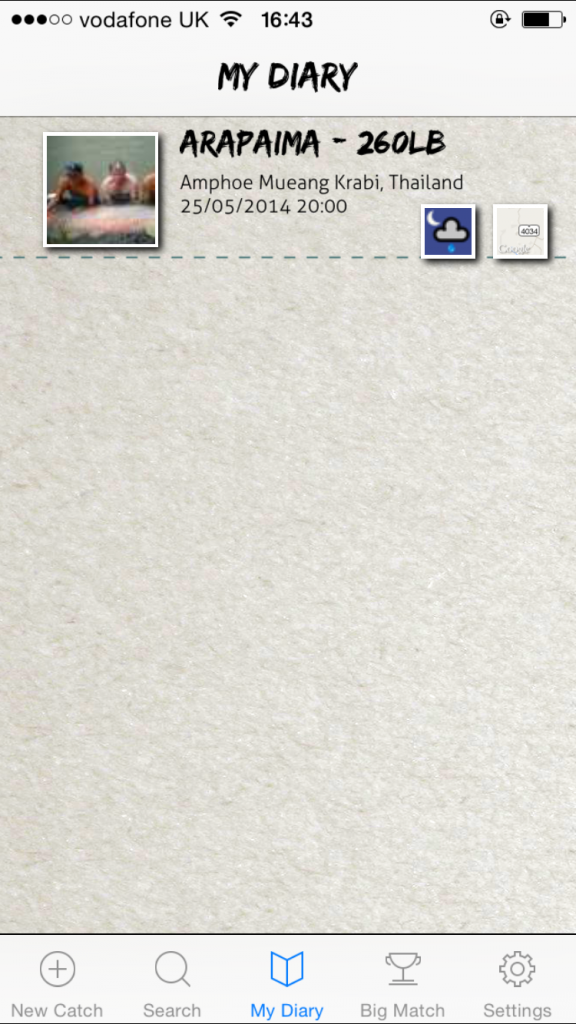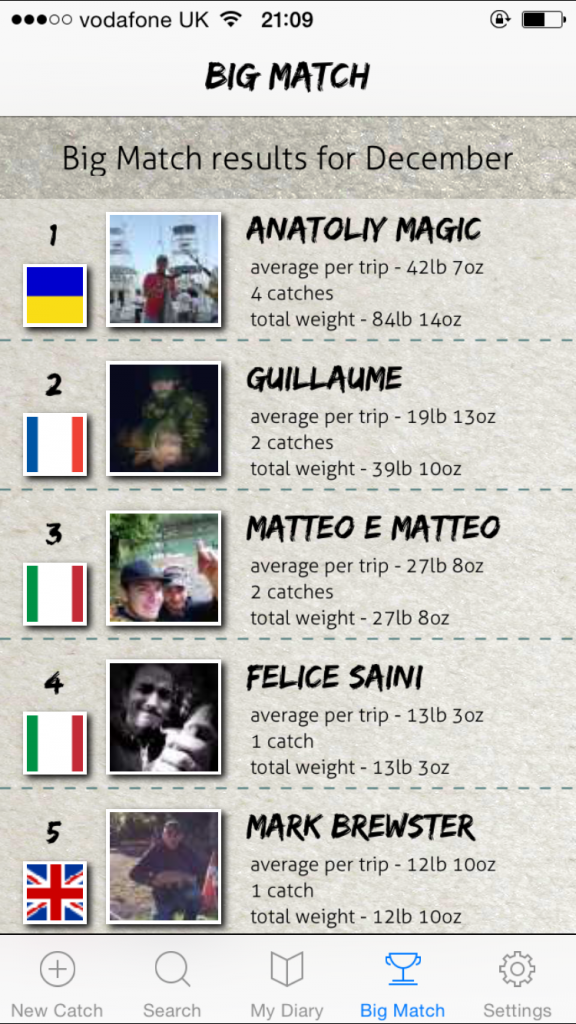 There is also a help section in 'Settings' with some FAQ's and at the end there is some info on logging catches which I found quite interesting. Basically if you log a catch while you are fishing, the app uses the photos internal data for 'geo location' and 'date taken' and any catches logged this way will be entered into the 'Big Match'. What did surprise me though was the next section on 'Logging catches at other times…' which explains that any catches showing a location far from water (for example, your house) will be marked as personal and removed from the public list. The entry will not be deleted but will only be shown in the 'My Diary' section of your app.

Now I struggled with this a little bit, I don't take my phone fishing with me for a couple of reasons, firstly phones and water don't mix and secondly when I'm fishing I don't want my phone going off all the time (not that I'm that popular anyway!) so the majority of my catches wouldn't be logged until I got to the car or at home and then not make it into the public domain as they weren't logged near water. It does say that if you submit a previously taken picture and add a genuine location the go-fish team may decide to show your catch in the public list.

They also say that a catch might not be in the public list if the location pin does not appear to be near water, if the weight given is wildly exaggerated or if the date and time of the catch don't match the conditions in the picture. I quite like that catches are vetted because some of the claimed weights of fish you seen in the angling weeklies are quite frankly, laughable!

It's a great looking app and nice and easy to use and I'm sure it will do well when it's released, given the popularity of the tv show. I'm also guessing there may be a few changes to the app yet as it's still in the final stages of testing. As much as I like the idea of this 'geo location' and using the photos internal data, I can't help but feel that a lot of anglers will want to enter their catches in the comfort of their homes, which of course you can do but I do get the feeling that it's frowned upon somewhat!

I will, of course, keep this review updated as I play around with it more and features are improved or added.
More River Monsters news
Icon Films also sent me the press release for the new series of River Monsters which starts on Jan 6th 2015 on ITV at 7:30pm.
'Extreme angler Jeremy Wade returns to the Amazon as he takes viewers on an all new spine-tingling adventure in the sixth series of the ITV hit River Monsters. The journey lands him deep into South America in search of the alleged killers lurking in the water, With locations so remote, and mysteries so bizarre, he must dedicate an entire year to his latest quest.'