Ilminster didn't have a match on this weekend so I booked into Summerhayes for my first match there since September. The weather is still incredibly mild for December although we have had the odd frost over the last couple of weeks. The match was supposed to be on Longs but Pete switched it to Sellicks as Longs was hard going on Wednesday with just 6lb odd winning the silvers. There were twelve anglers fishing but the Wickhams weren't in attendance so at least I couldn't lose a pound to Glynn today!
After a coffee, it was time to draw and I pulled out peg 17 which can be alright for skimmers, Pete had put in every other peg so we all had plenty of room with the exception of Jess Jordan and Alan Jenkins who were next to each other on pegs 14 and 15. For bait I had some micros I'd soaked last night, Bait Tech 4mm expanders plus some bread for punching. I also mixed up a little Pro Nat and Thatchers Dark 50:50 but if I'm honest I don't use groundbait here much so haven't got a lot of confidence in it. I set up two rigs, a 0.4 gram Malman Pencil with 0.10mm bottom and size 18 Tubertini 808 and a little Trabucco dibber for the punch with the same hook and hooklength.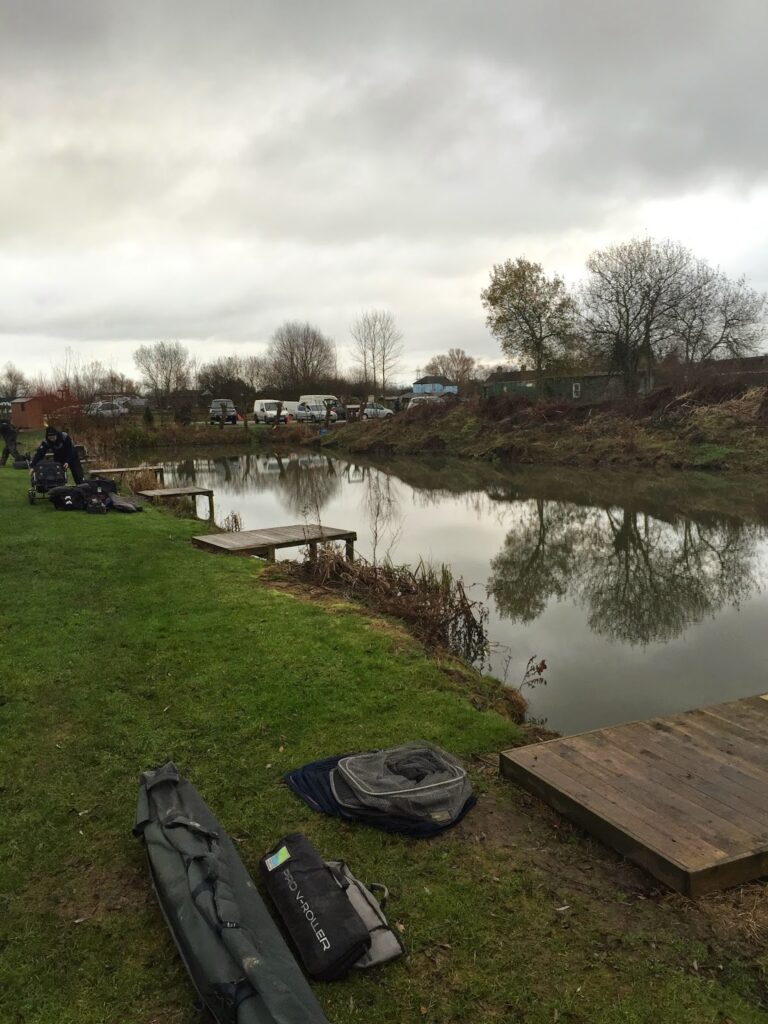 Peg 17 looking down towards peg 23
On the whistle I cupped in a pinch of micros on two lines at ten metres and the same on two shorter lines at five metres, I also cupped in a ball of groundbait on another line at five metres to give me a different option. While these lines settled, I started dobbing with 4mm punched bread on the inside lines at about five metres to the left and right where I had some reeds. I was getting the odd indication and missed a couple of bites but after an hour I hadn't caught and judging by the lack of action around me, it was going to be hard. In fact the only anglers I'd seen catch were Jess and Alan who'd caught a couple of small rudd and roach from the lily pads between the two pegs.
I went out and tried the longer lines with an expander but no bites here either and I tried the three shorter lines with the same result. With nearly an hour and three quarters gone and nothing in the net I was back on the bread down the right hand margin when the float sailed away and I connected with a carp. The fish hardly fought at all and I netted a 3lb fish to get off the mark, I then missed another bite before catching a small rudd. At this stage I hadn't seen anybody on our side catch a carp so was fairly pleased with the way things were going.
No more fish from either inside line so I went back out to ten metres but with punch on the hook, I was feeding a tiny amount of micros via the toss pot and lifting and dropping the rig and started getting the odd indication but just couldn't hit them and I assumed it was small fish. Alan was still getting small fish and then added a carp and I could see Roger Russell in peg 12 netting the odd silver fish and I wasn't sure what to do next. Most of my bites were coming just after the rig settled and I finally hit what I thought was a small carp, as quite a bit of blue hydro came out of the pole, but it actually turned out to be a 1.5lb crucian hooked under the chin – bonus!
I kept trying the left hand ten metre line and the three five metre lines but never had a bite from any off them but it was important to rest my main line as I found I'd get a couple of bites before having to rest it for ten minutes. My next fish was a decent skimmer and all of a sudden I was doing okay again, I rested the main swim again and when I went back again I had another good skimmer nearly straight away and was starting to enjoy myself. Next chuck I've hooked a decent skimmer on the drop but this one came off and I just knew that fish would cost me one way or another.
Alan was now getting a few carp amongst the roach and rudd but had lost a few in the lilies as well and was looking good for a frame place. I felt my best chance was if I could get a few more skimmers and I missed a couple more bites before catching a small roach and it was time to rest that swim again. I tried the other four lines and even had another brief go at dobbing down the edges but the only place I could get bites was on the right hand ten metre line and that had slowed up since I lost that skimmer. I tried fishing off the feed but this didn't seem to be the answer and time was running out.
With about an hour to go, the two anglers on pegs 19 and 21 packed up leaving just Colin W in peg 23 on our side. Roger was still catching small fish and I knew I needed a couple more skimmers to beat him and Alan was still catching the odd carp and had to be one of the front runners. I was still getting the odd bite but just couldn't hit them and just before the all out I missed a good indication on punch and the number of bites I'd missed today had been frustrating. I packed up and took my box back to the car before catching up with the scales.
A quick glance at the board revealed it had fished hard with Adie Bishop leading from peg 4 with 19lb 5oz which also included 5lb of silvers and as it was also the golden peg he was in line for a bumper payday. Pegs 6 and 8 didn't bother weighing and then Craig S in peg 10 went into the lead with 21lb 7oz of carp although Adie would still get half the golden peg fund if he won the silvers. Roger was next and he'd worked hard to weigh 4lb 6oz of small roach and skimmers and I now needed Adie to frame if I was to pick up an envelope today.
Jess had 16lb 5oz and then Alan fell just short with 21lb 6oz and would have to settle for second place pushing Adie into third which meant he'd win the silvers as it was worth more. My single carp weighed 3lb 3oz and my silvers went 3lb 6oz and I'd have been a lot closer with that lost skimmer and I'd missed too many bites today. Colin in peg 23 only had one fish but it was a lovely crucian of 2lb 11oz and we then headed to the hut for coffee, crisps and the results.
1 – Craig S (Summerhayes) – 21lb 7oz
2 – Alan Jenkins (Summerhayes) – 21lb 6oz
3 – Jess Jordan (Summerhayes) – 16lb 5oz
Silvers
1 – Adie Bishop (Summerhayes) – 5lb
2 – Roger Russell (Tackleuk) – 4lb 6oz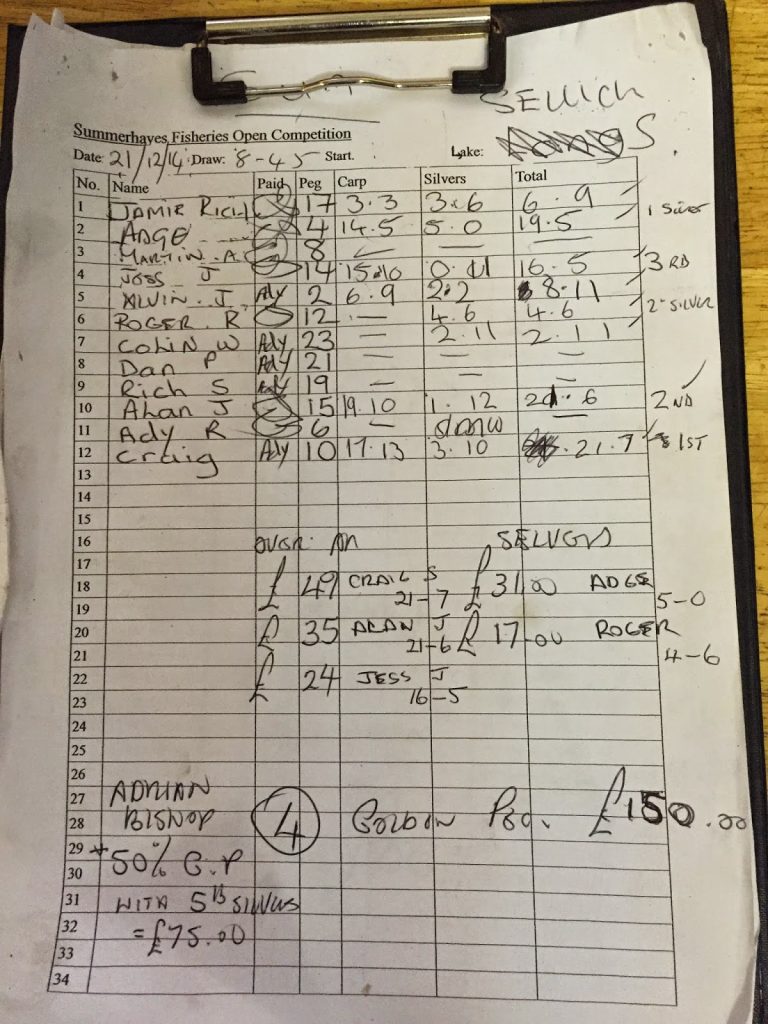 Next up – I'm going to try and fit in another visit to Summerhayes before the New Year
What's new – Loads of page updates
Check Out – My River Monsters Fish On! app review (below)
I'd like to take this opportunity to wish you all a Merry Xmas,Tight Lines and thanks for reading, if you like the blog or have any feedback good or bad, please let me know or send me some photos of your latest catch and I'll put them on the news page and on Facebook.