With the year drawing to a close I booked into the mid week open on Longs, this was to be the last chance saloon for an envelope as I hadn't managed one this month yet. I wasn't confident though because as regular readers know, I like to fish for silvers and only 2lb 12oz was enough to win in last Sunday's match. I'd also been receiving some texts from the Torquay Tart saying that I'd been running long enough and he was going to hunt me down today. This was bad news as I had hoped he'd packed in fishing and opened a chip shop with the amount of times he's been battered!
I arrived in good time and there were already quite a few cars there, one of the first people I saw was Brendon and he'd brought along his mate Howard who was a really nice chap so God knows what he was doing hanging around with the Tart! We decided to all put a pound in the pot and the best silvers weight would take the £3. The next thing I noticed was that the pond was iced up and Pete had the aerator running in a bid to get rid of it, Captain Adie also took to the boat to break it up. All the signs were there that this was going to be a very tough match.
I paid my pools and had a very welcome cup of coffee while having a chat to Roger Russell and some of the other anglers including Glynn Wickham who confirmed we'd have our usual silvers side bet. More and more anglers turned up and Pete actually had 21 booked in which is a great turnout considering it's a mid week match and on New Year's Eve as well. Pete took the decision to actually split the field into two matches using Longs and Sellicks and paying out the top three on each lake plus the top two silvers which meant you had almost a one in two chance of winning some money.
Pete announced the draw and said we'd fish from 10:15 to 15:30, I quite fancied being on Sellicks as I felt there was the chance of a few decent skimmers, the Tart pulled out peg 11 on Longs and it's a really good peg for silvers and carp, by the time I stuck my hand in the bucket there weren't many balls left, I opened my hand to reveal peg 34 on Longs, a really consistent peg in a great area, Bill Hopping had won last weeks match with 49lb from peg 35. I knew it had to be a good area as Heardy had drawn peg 36 and wanted a pound on it. Clive Cunningham was on peg 32 and would be fishing for silvers and also wanted a side bet on silvers and this could be an expensive day!
I got my gear to the peg and put my nets in before trying to clear some of the ice with my landing net, I didn't spend too much time doing it though as the forecast was that it was going to warm up later, which would hopefully get rid of it. As I was setting up, Scotty Russell turned up late as he'd overslept, he was down on peg 28 with Brendon's travelling partner Howard on peg 30 and Glynn was down on peg 23. I ended up rushing around a bit and knew I wouldn't be ready in time, I mixed up some Bait Tech Pro Nat Dark with some Thatchers Dark and set up a MW F1 Slim 10 x 11 with 0.10mm bottom and size 18 808 to fish at 11 metres. I intended to fish two lines at this distance, one with maggot or pinkie over groundbait and the other with expanders over micros.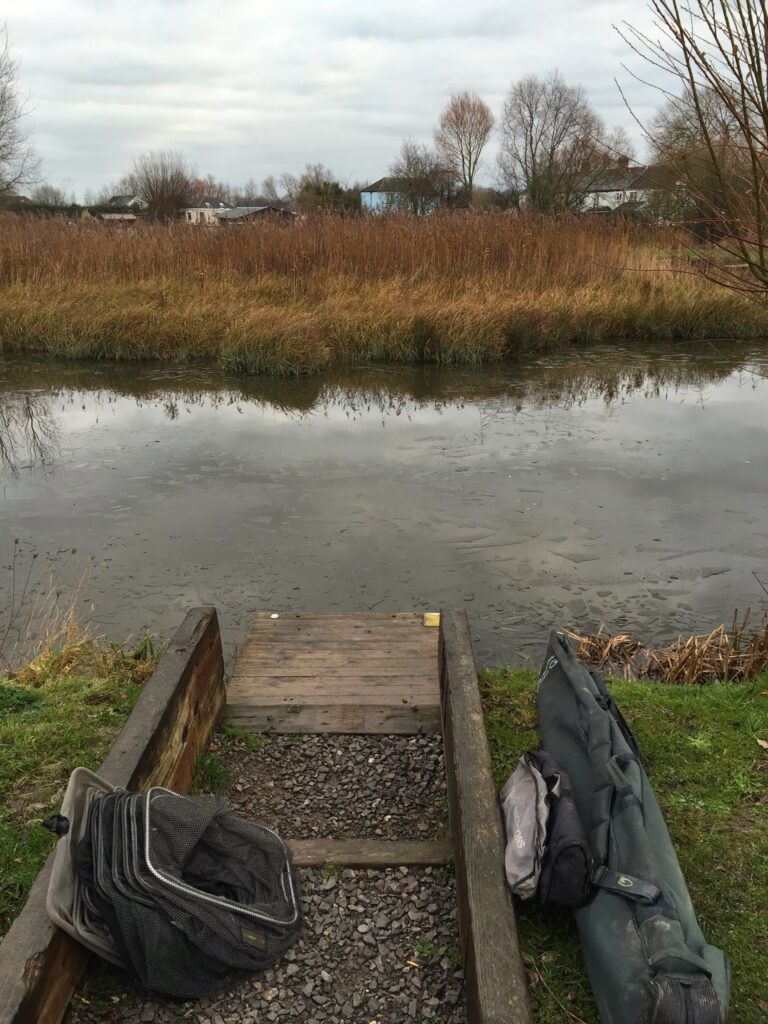 Peg 34, you can see the ice and also the clump of reeds at 13 metres and the bays on either side
My other rig was a little Trabucco float with 0.10mm bottom and size 18 808 to dob punched bread along the far bank. Pete shouted the all in and I wasn't quite ready but I didn't think I was going to miss a lot in the early stages with all the ice about. I cupped in a walnut size ball of groundbait containing no feed at 11 metres angled to my left and a pinch of micros at the same distance to the right. I won't mention either of these lines again as I never went over them all match! I baited up with a 4mm piece of bread punch and shipped out to the clump of reeds straight out in front of me at 13 metres. It was a bit of a nightmare trying to avoid the ice and Martin was having the same problem, I did have a few indications but any thoughts of carp disappeared when my first fish was a tiny half an ounce roach.
I tried double maggot but never had a sniff on it, I tried the inside towards the empty pallet between me and Martin and he had the same idea but neither of us had a bite here. The wind then started blowing the floating ice up the lake so at least I could fish across and I kept trying different areas and after about an hour I've had a bite at 13 metres in the bay to my right and safely netted my first carp which was about 3lb and at this early stage I hadn't seen anyone else catch a carp. Martin had lost one which left his rig in a bit of a mess so there were a few fish prepared to have a go. It had gotten noticeably warmer and the ice had now all but gone and then Martin landed a small carp. With no more bites I added another section and pushed the rig across to the reeds at 14.5 metres in the bay to my right. I was lifting and dropping the rig when the float buried and I was soon netting a small carp around the pound mark, my third one followed shortly after, this one even smaller at about 12oz but I was happy to be putting fish in the net.
Bruce Hunt wandered around from peg 7 and I heard him say to Heardy that he'd had six carp in an hour and a half but now couldn't buy a bite. He wandered down to see how Scotty was doing and I added my fourth carp, on his return he reported that Scott had five carp. I was getting regular bites and added another four carp quite quickly to put me on eight and we still had three hours to go. Martin Addicot arrived for a walk round and sat with me as I landed my last two fish and it felt like there were quite a few fish there but then typically I could only catch tiny roach. I'd seen the Tart land a couple and Heardy had two or three more and there wasn't much between us. I kept trying different areas along the far bank but all I could catch was the odd tiny roach and Martin was clawing back my early lead although he'd lost a few as well. I also managed to hook someone's lost rig by the clump in front of me and lost my hooklength.
James Cooper arrived for a look round and was only wearing shorts!, he popped down to see Scott and said he was on six carp so I was still two fish ahead but I needed to find those carp again. My ninth carp came from the far bank at 14.5 metres to the left but it was another pup of 10oz or so and the only carp I caught from there. Heardy had another couple of fish and I reckoned we were now neck and neck. Those tiny roach were being a real pain and I probably had a dozen or so with around the same number flying off on the strike! In amongst the roach I would get the odd carp from the right hand bay and managed another four to put me on 13 and I felt I'd edged ahead of Heardy again but there was still half an hour to go.
The last thirty minutes was a bit of an anti-climax and I only added a few more plippy roach, luckily Heardy didn't add any more either and he reckoned I'd won it easily, I wasn't so sure. As I packed up, Pete had already started the weigh in as he hadn't fished today, Alan Jenkins in peg 1 didn't trouble the scales and Bruce had eight carp and a crucian for 15lb 6oz from peg 7. I finished loading the car and caught up with the scales as they reached Scott, he'd ended up with eight carp for 15lb 15oz and I hoped I had that. Howard didn't weigh and then Clive Cunningham had worked really hard to weigh in 1lb 10oz of tiny roach to go into the silvers lead and take a pound off me.
Then it was my turn and my 13 carp went 30lb 13oz which was more than I thought and as I pulled my silvers net out I asked what the Tart had weighed and Martin Addicot on weighboard duty said 3oz, I plonked my silvers haul in the weigh sling and was overjoyed when the digital readout displayed 6oz which meant I'd won the £3 side pot and doubled the Tarts silvers weight, let that be a lesson to you! That left Heardy who had 19lb 15oz which meant I'd won the lake and recorded only my fourth ever win at Summerhayes. I did lose yet another pound to Glynn but a rare nugget off of Heardy made up for it and I finished 3-2 up on the day.
Back at the results we all had a welcome hot drink and I picked up £49 for winning the lake and as Mark Leahy had the top weight on Sellicks with 16lb 5oz I was actually the top weight on the day as well. What a perfect end to the year, I felt I'd fished a tidy match as I hadn't lost a carp all day and to spank the Torquay Tarts ass yet again was the icing on the cake. A few people commented about me turning to the 'Darkside' but as much as I enjoyed today I can't see me doing it too often as I'd much rather catch a nice net of skimmers.
Longs
1 – Jamie Rich (Against Men and Fish/Burt Baits) – 31lb 3oz
2 – Martin Heard (Tiverton) – 19lb 15oz
3 – Scott Russell (Tackleuk) – 15lb 15oz
Silvers
1 – Clive Cunningham (Summerhayes) – 1lb 10oz
2 – Glynn Wickham (Summerhayes) – 1lb 8oz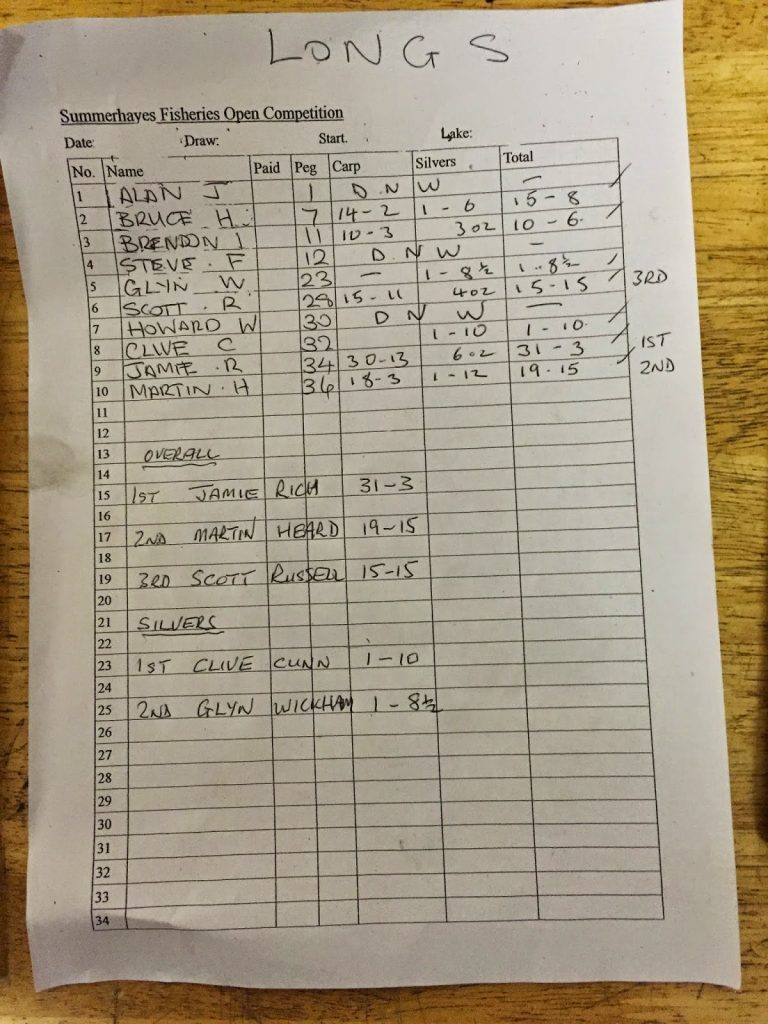 Sellicks
1 – Mark Leahy (Street) – 16lb 5oz
2 – Craig S (Summerhayes) – 9lb
3 – John H (Summerhayes) – 8lb 11oz
Silvers
1 – Adie Bishop (Summerhayes) – 4lb
2 – Jamie C (Summerhayes) – 1lb 13oz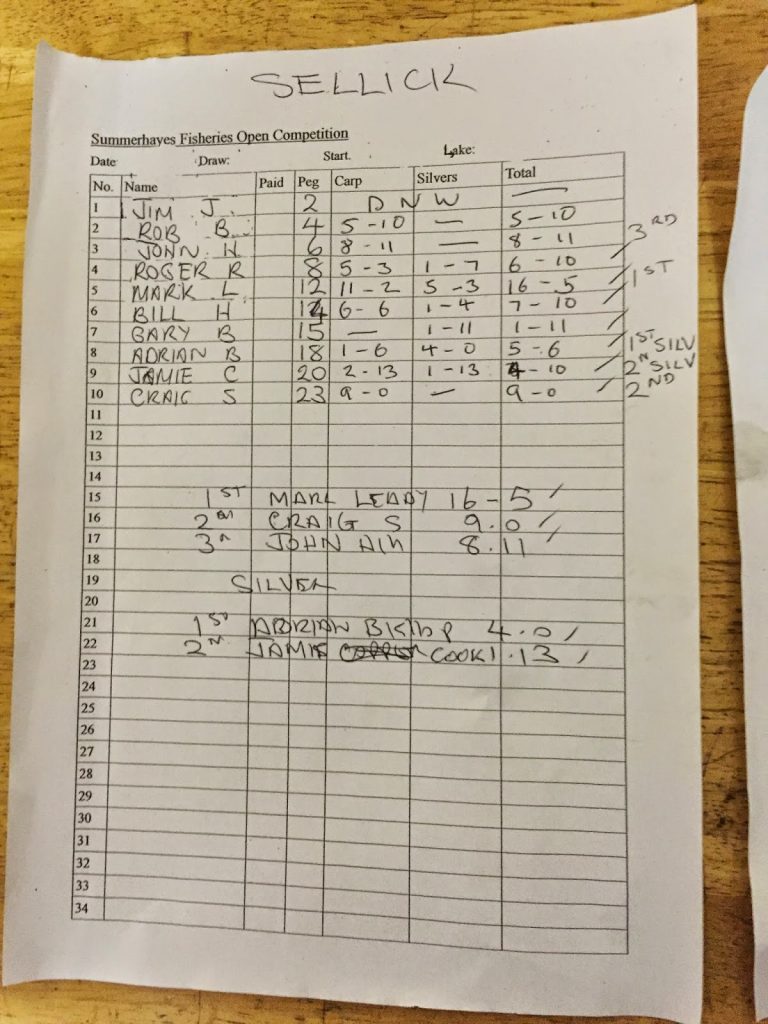 Next up – River Isle
What's new – Loads of page updates
Check Out – My review of 2014 coming very soon
Well with midnight approaching I'd like to take this opportunity to wish you all a…
Happy New Year