Here's my review of the last year
January 2014
With the Isle flooded we were at Dillington for this match, I was quite looking forward to it and should have known better, I caught some good roach but lost a lump when the hook pulled and then managed to snap my 10 metre section later on. I finished with 4lb 12oz for nowhere, Ashley Tomkins won with a nice net of quality roach weighing 9lb 7oz. Surely things can only get better?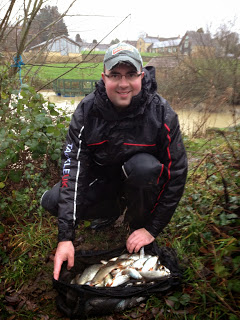 Ash with his winning 9lb 7oz
We were back on the pond for the next match and I had quite an enjoyable day catching some quality roach and rudd but spent too long on caster and weighed 8lb 14oz which was enough for third and my first pick up of the year. Scott Russell won with 10lb 9oz and Ashley Tomkins was just behind with 10lb 2oz.
My next trip was with fellow blogger Russell Hilton to the Taunton and Bridgwater Canal, the weather was awful and I thought we might be in for another disaster. It actually turned out to be a cracking day, I had two perch including a new pb of 2lb 6oz and three pike with the best going 8lb 5oz (another pb) and I lost one too. Russell had four nice perch but lost a good pike.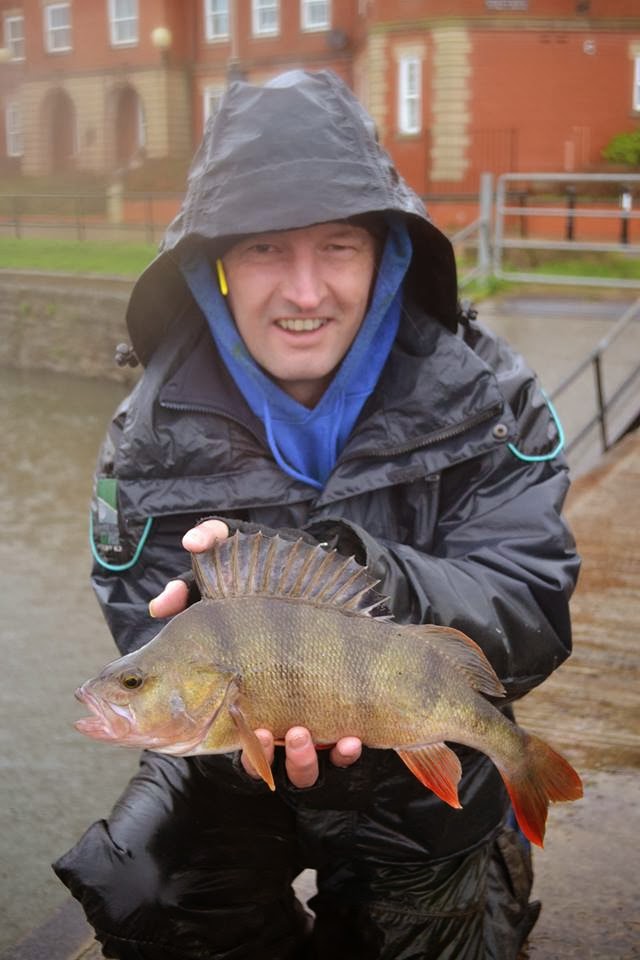 2lb 6oz perch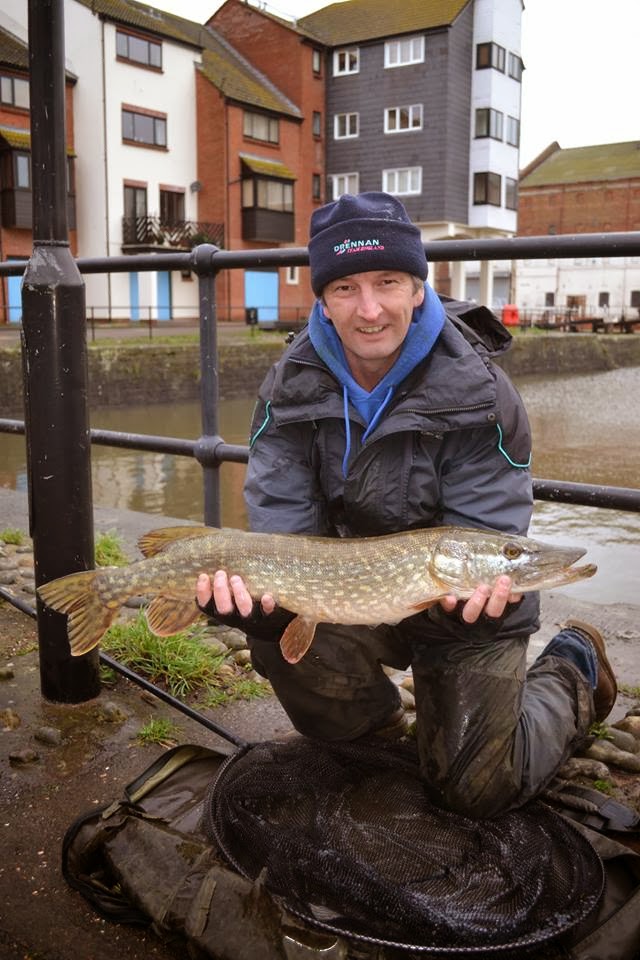 8lb 5oz pike, a new pb
I always enjoy Russell's company but it was nice to finally catch some fish too and two new pb's was the icing on the cake.
The following day we were back at a very coloured Dillington and a hard frost didn't help, I had 6lb 4oz which included a nice perch around a pound and it was enough for my first win of the year and to keep me top of the league with two matches to go.
The next match saw us at Dillington again and once again the weather was awful, I drew peg 4 which was also the golden peg and had Scott Russell on peg 3. I caught from the off and my peg got better as the day went on and I caught well on caster for the last couple of hours to finish with 122 fish (all roach and rudd) for 11lb 5oz.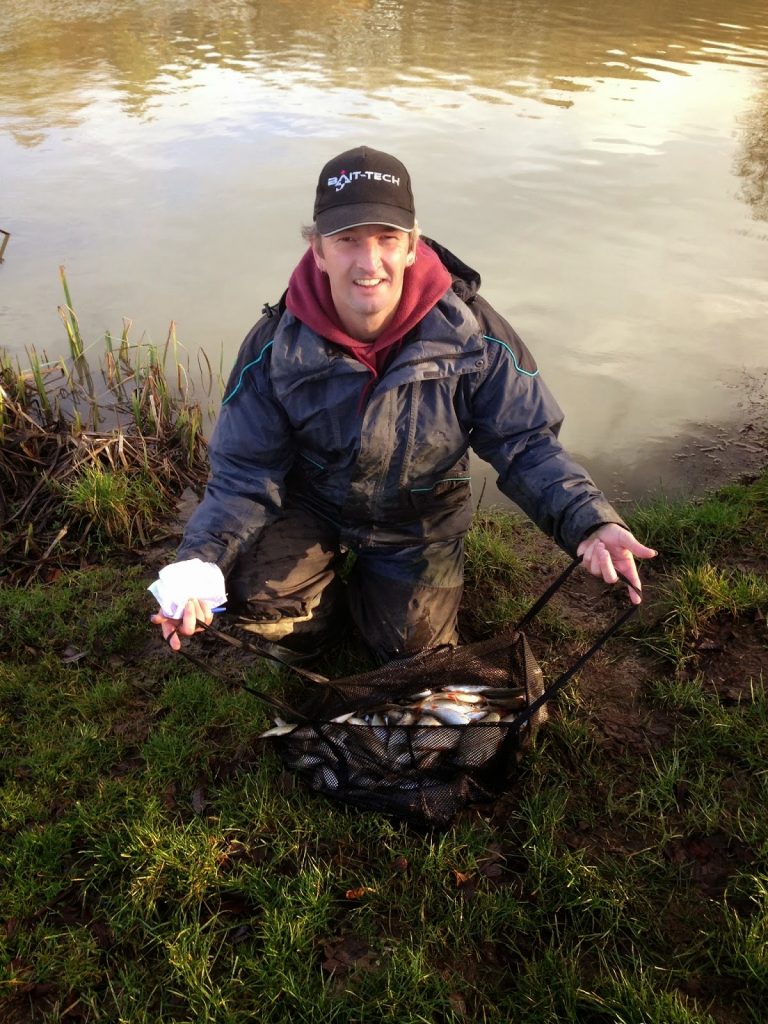 My 11lb 5oz was enough to win on the day
It was enough to win on the day beating Scotty who was second with 9lb 3oz and I recorded my second win on the trot and only my second ever golden peg win.
Highlights – winning two matches (including a golden peg) and a brilliant day with Russell
Lowlights – the awful weather and snapping my pole again!
February 2014

My first match of the month was my first match at Emerald Pool near Highbridge and the place is rammed with silvers, I had 160 fish for 44lb 10oz and nowhere! Dom Sullivan won with an amazing 98lb 14oz of quality skimmers, roach, hybrids and tench on worm over casters and groundbait.
The following day I was back at Dillington for the penultimate Royal Oak league match and I caught in spells but really thought Justin had beaten me, a good last hour on caster saw me catch some quality roach and I weighed 12lb 10oz to win again. Bruce finished second with 9lb 7oz and Justin had 8lb 11oz for third.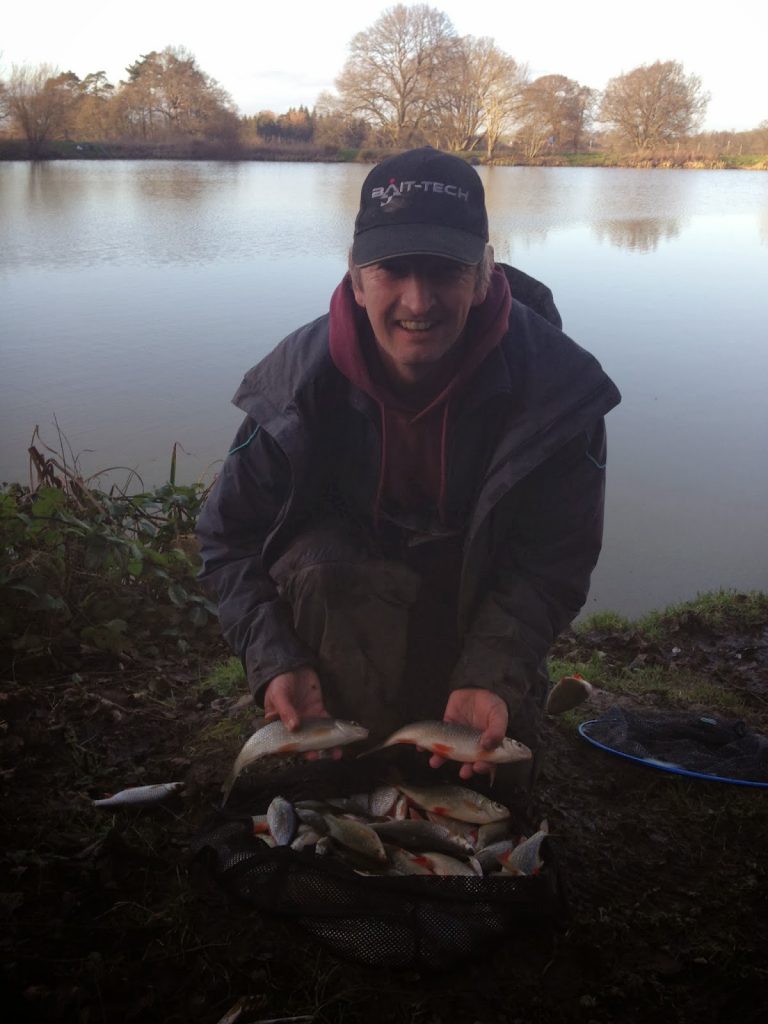 Another win, this time with 12lb 10oz
My section win meant that with one match to go I was two points ahead of Robin Cox and just needed to avoid a disaster in the last match.
The final match arrived and so did a break in the awful weather, the river was still unfishable though so we were back on the pond. I had another cracking day catching 84 fish (roach, rudd and a single perch) for 14lb 15oz and my fourth win at Dillington on the trot. I also secured the league title with Robin second and Bruce third.
The following week saw us back out the pond for the final V.E.S. Precision match and it fished it's head off, Bruce Hunt won on the day with 18lb 9oz which included two big chub and roach over a pound, I was second with 143 fish for 17lb 10oz (nearly all roach and rudd with a few perch). I tied with Pete Lonton on points but won the league thanks to a superior weight advantage, what a cracking day!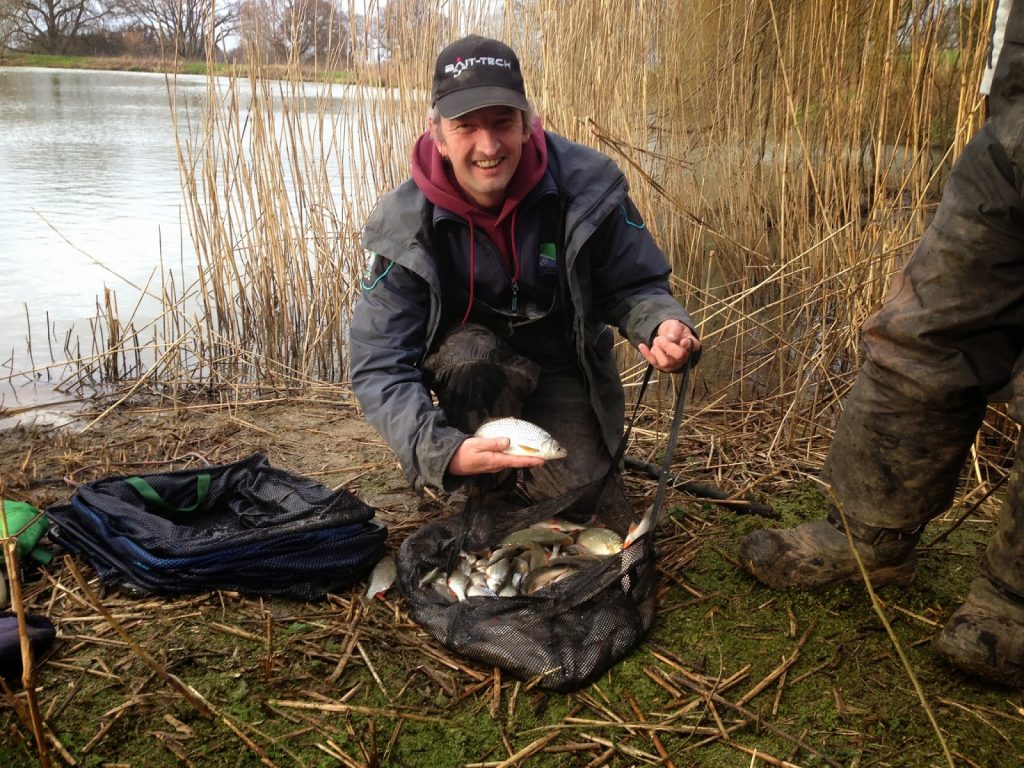 17lb 10oz of quality roach and rudd
Highlights – finally winning the V.E.S. Precision league
Lowlights – more awful weather!
March 2014


The first match of the month was Barney's Pairs with a section on the canal and one on the pond, I was out the pond and my partner, Justin Charles was down the canal. The weather was atrocious but I managed 7lb of roach and rudd for second behind Graham Field who had 7lb 8oz. Justin was top weight down the canal with 8lb 9oz so we won it with three points and Rob Cox and Graham were second with four points.
Me and Janders were on Sellicks at Summerhayes the following week and we both had a lovely day, I had 23lb of skimmers and 35lb 12oz of carp to win only my second match at the venue and Janders had 12lb 12oz of skimmers to win the silvers and it was a very happy car driving home.
I was back at Summerhayes the following week but this time with Robin Cox and the match was on Longs. I drew peg 18 and started quite well with three good skimmers and a small tench plus some bits in the first couple of hours but then struggled in the middle of the match due to the wind. The last two hours were much better and I added some big skimmers and a crucian plus the odd carp. My carp weighed 11lb 4oz and my silvers went a level 13lb which was enough for second in the silvers and another pick up. Alvin Jones won with a fantastic 47lb 14oz which included 36lb 10oz of big skimmers and tench.
Sellicks was the venue for the next match and I drew peg 15 which is a great carp peg although it does occasionally throw up the odd weight of skimmers, the wind was a nightmare but I managed 34lb 8oz of carp and 5lb of skimmers for 39lb 8oz and second place overall behind Bill Hopping with 47lb 12oz.
With a few days off work I booked into the Wednesday match at Summerhayes and was pleasantly surprised when Pete said we were on Longs for the day. Things got even better when I pulled peg 11 out of the bucket, it's a great silvers peg and has been on fire in recent weeks. I had visions of beating my best silvers weight but actually struggled a little bit and also caught quite a few nuisance carp (13 including an 8lb lump). I weighed 32lb of carp and 15lb 11oz of silvers for 47lb 11oz which was just shy of Steve Kedge who had 50lb 8oz for second place, I sneaked into second in the silvers and picked up a tenner to keep my good run going.
The last match of the month saw me back on Sellicks and the same peg as last time, it fished quite hard but I had 13 skimmers for 7lb and 5 carp for 13lb 8oz, I won the silvers and picked up £42 but with only 23lb 6oz needed to win today, I needed one more carp and had lost several but to be fair so had others so a really tight frame. A great end to the month which saw me pick up every match.
Highlights – winning Barney's Pairs and my first match win on Sellicks
Lowlights – not getting on the river (due to the never ending rain!)
April 2014


The first match of the month was back at Summerhayes and back on Longs and I couldn't believe it when I pulled peg 34 out of the draw bag, a peg I've been dreaming about! It just didn't happen though and I really struggled without really knowing why, I finished with 17lb 1oz which included 8lb 8oz of silvers. I wasn't actually far off fourth place which was 18lb odd but I was gutted that I didn't do a big weight of silvers and my good run came to an end.

The following week Janders, Rob and me were back, the weather looked lovely but the wind got up and was wicked, I drew a good carp peg but fished for silvers and ended up with 18lb 8oz of carp and 7lb of silvers and sneaked into fifth place overall and picked up £23. The icing on the cake was taking another pound off the Torquay Tart. Adie Bishop won with 53lb 8oz from peg 26.
Easter saw me at Perry St for the Good Friday match and with no corner pegs in, the end pegs dominated and I drew a middle peg and caught three carp and an eel for 13lb 4oz and nowhere. To make matters worse I even lost a pound to Brendon!
The first match of the Perry St league saw us fish in atrocious conditions and I drew peg 2, lost more than I caught and finished stone cold last in the match with three carp for 5lb 10oz.
Highlights – taking a pound off the Torquay Tart
Lowlights – a bad run of results and losing a pound to the Torquay Tart!
May 2014


The bad run continued with the second match of the Perry St League, I drew peg 20 and struggled for ten carp for a level 20lb with all the leading weights coming from the other end of the pond. The following day I was at Trinity Waters in Bridgwater, it was my first visit and the match was on Woodland Lake, big weights of carp normally win but as always I would fish for silvers, it was a bit of a struggle with strong winds but I had ten skimmers for 9lb 7oz and second in the silvers (by default) and I picked up £40. Steve Kedge had the top silvers weight with 28lb 2oz of mainly roach, caught fishing two sections to hand. A cracking venue and I will definitely be back for another go.
My next match was Ilminster's first Summer League fixture at Dillington, I didn't really fancy peg 24 by the pumphouse but of course drew it! On the plus side it was sheltered from the worst of the wind and I had a fantastic days fishing catching quality roach and rudd all day, I even included two good chub and a little tench for good measure. My weight of 22lb 8oz was top on the day and my best weight out the pond to date.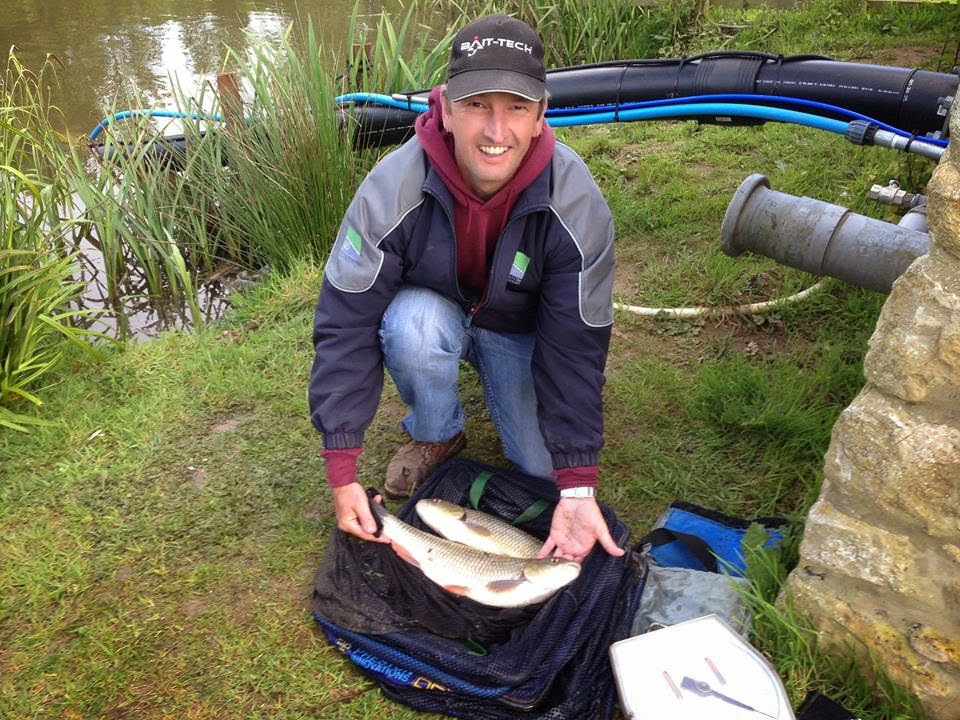 I had two good chub for 6lb 2oz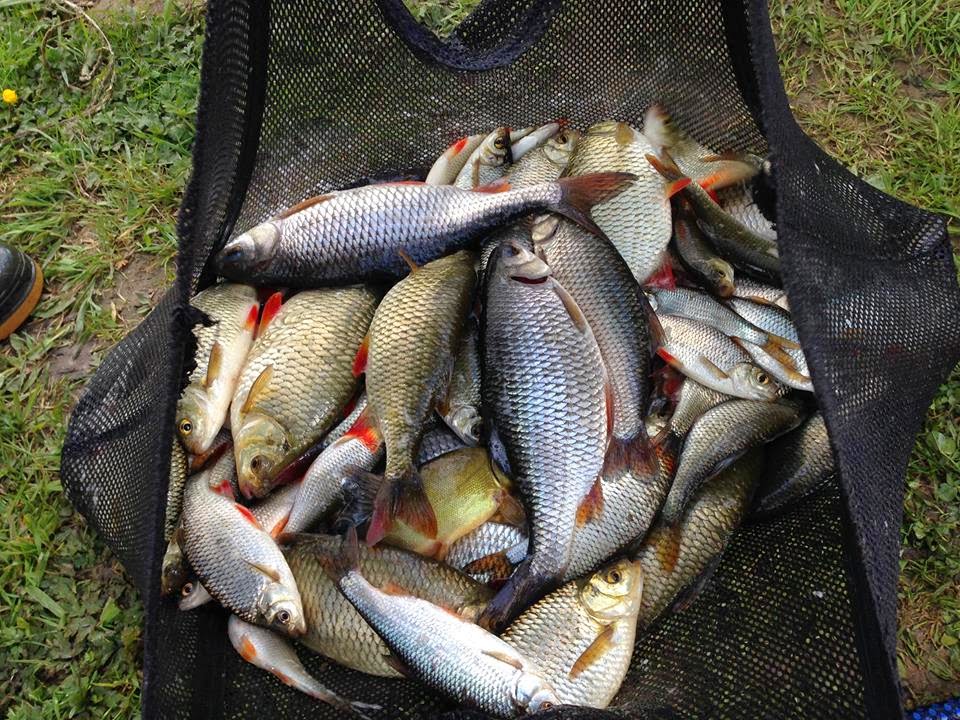 and 16lb 6oz of quality roach and rudd
The following day I boarded a plane for my sixth trip to the fantastic Gillhams Resort in Thailand, for this visit I had seven days fishing booked leaving my another seven days to do lots of sight seeing. Best fish of the trip was a pb equalling arapaima of 260lb, I did get a new pb in the shape of a 10lb pacu. I also caught Siamese carp to 60lb, Asian Redtail catfish and Amazon Redtails to 45lb. The 300lb 'arry and 100lb Siamese eluded me but that gives me an excuse to go back again!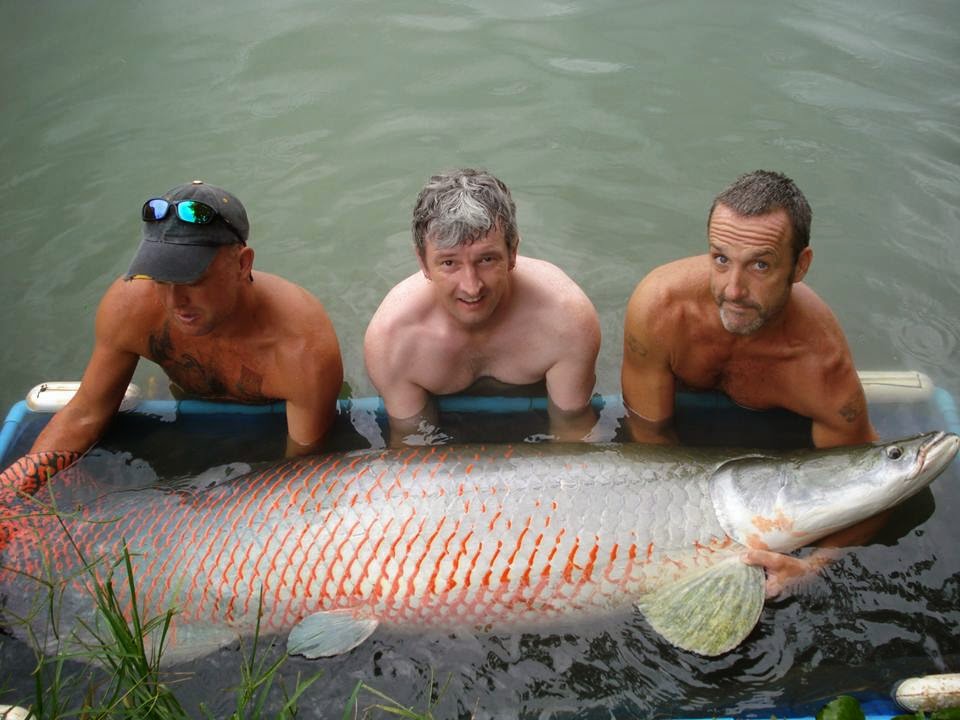 260lb arapaima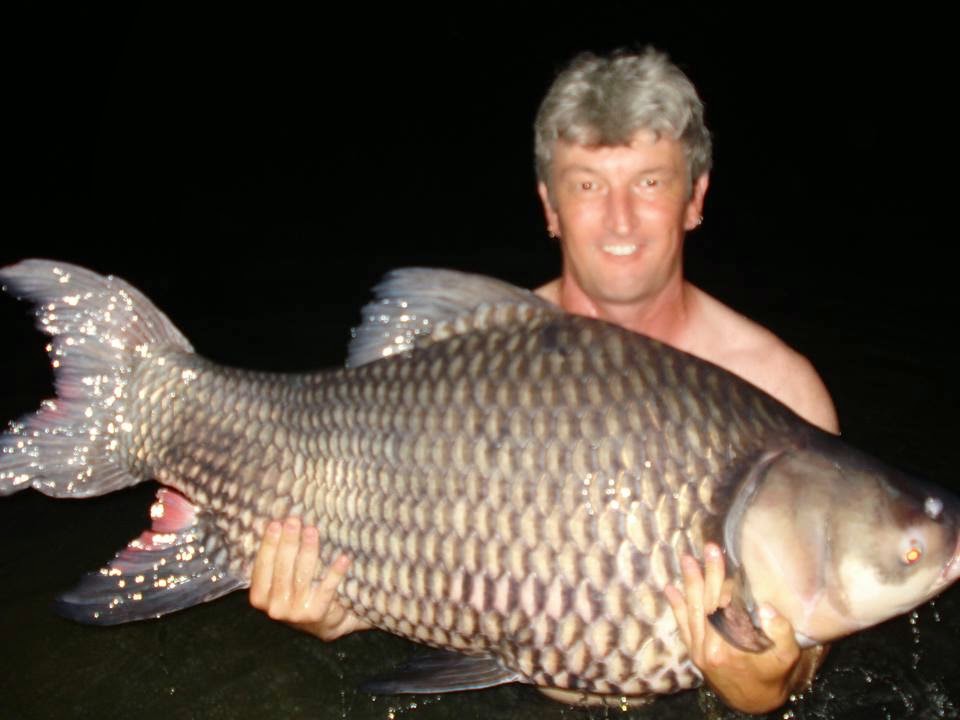 60lb Siamese carp
Highlights – a cracking day at Dillington and Gillhams of course!
Lowlights – another poor result at Perry St
June 2014

My first match back was round five of the Perry St League and the draw sequence put me in peg 10, the best peg on the pond! After a slow start I was putting a few fish together and ended with twelve carp for 40lb 5oz and second place behind Graham 'Dino' Pepper who had 43lb 13oz from peg 13. I lost a good fish at the net too! Still I collected a nice little envelope containing £80 plus £1's off Chanter, Janders and Picky.
I was back at Dillington for the next match and the pond fished really well, I had some quality roach and rudd for 14lb 4oz and third place behind Fieldy who had 327 fish for 16lb 5oz and Bruce Hunt who had two lovely bream in his winning 18lb 10oz from peg 23.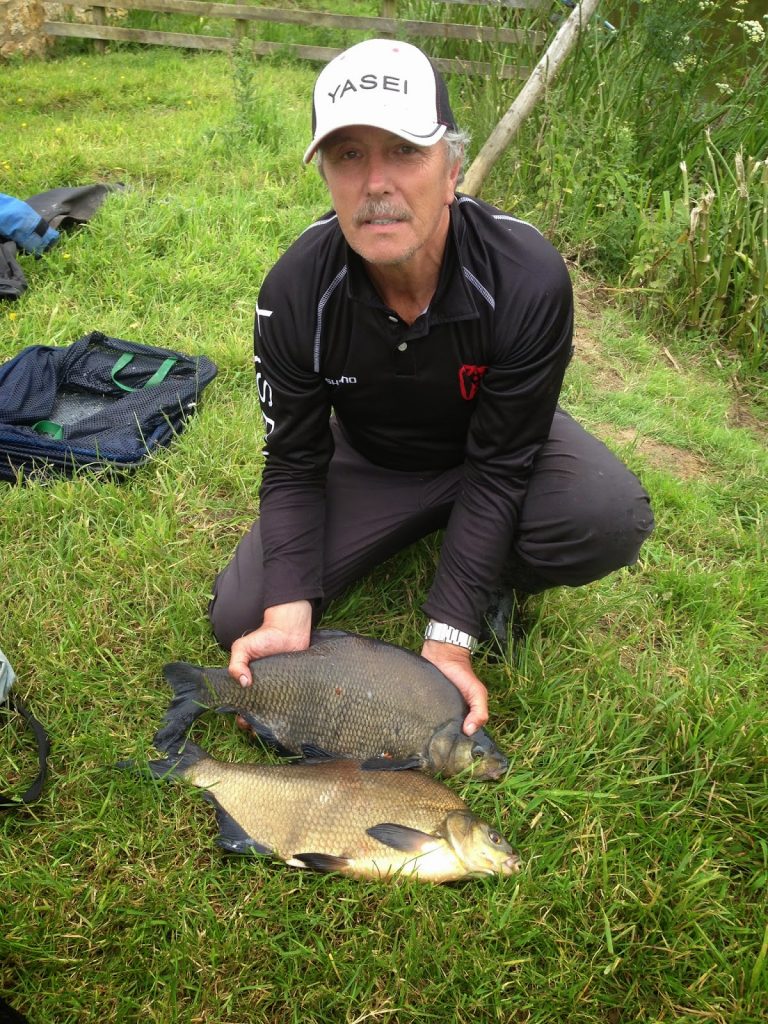 Bruce with his two slabs
Round six of the Perry St League was next and I drew peg 14 and with lots of carp cruising around, I fancied I might get a few shallow, I ended up with 14 carp for 53lb 7oz for only my fifth ever win on the pond, what a cracking day and I picked up £100 plus £1's off Picky and Exeter Mike.
When I drew Bruce's winning peg from the other week I was confident of another good day at Dillington but I struggled and just couldn't string any quality fish together ending up with 9lb 8oz and I was a long way behind Fieldy's winning 16lb 3oz.
The final match of the month was round seven of the Perry St League, we were a few anglers short and pegs 10 and 11 weren't taken which evened things out for the rest of us, I drew peg 4 and fished shallow all day, catching carp quite steadily and ended up with 16 for 48lb 8oz and another win at Perry St!
Highlights – two wins at Perry St and my most profitable month to date!
Lowlights – getting duffed up by the whip boys at Dillington
July 2014
After winning the previous two matches at Perry St I was quite confident going into round eight and I really should have known better! I was in peg 16 and got off to a great start, landing five carp in the first two hours but when the action slowed I stayed fishing shallow when I really should have fished my other lines. I only managed three more carp in the remaining four hours and my 22lb 14oz was 5lb off framing. The Hoff won with 40lb 8oz from peg 10.
My first match at Summerhayes for a while saw me draw peg 24 which isn't great for silvers and really windy conditions made it a struggle and I finished with 29lb 8oz for nowhere. Then it was back to Perry St and hot, flat calm conditions made the fishing really hard going for most, I had five carp shallow for 19lb 10oz which was enough for fourth place and a nice £50 pick up although I lost two fish which would have got me second place! Paul Homewood won convincingly with 48lb 12oz.
The final match of the Perry St league saw much better conditions and some excellent weights were recorded, I was in peg 6 and caught 16 carp shallow for 53lb 12oz which was good enough for third place and £60. Jamie Parkhouse won on the day from peg 14 with 76lb, he also won the league with 60 points followed by the Hoff on 69 and me on 77 which I was quite pleased with after such a poor start in the first match.
Highlights – a good end to the month with two results at Perry St
Lowlights – struggling at Summerhayes
August 2014
My first match of the month saw me back at Dillington, I had a nice days fishing, ending with 184 fish for 14lb 3oz and I finished third behind Fieldy with 15lb 4oz and Ashley Tomkins who won with a brilliant 21lb 10oz of quality roach and rudd. I picked up £15 which helped cover the cost of the day and got the month up and running.
I was at Summerhayes for my next match and we fished in horrendous conditions as we were hit by the tail end of hurricane Bertha! I drew peg 9 and caught the bulk of my 11lb 13oz silvers in the first hour and a half, then all I could catch was carp and ended with a total weight of 37lb 1oz for nowhere.
Round eight of the Summer league at Dillington saw a tight frame once again and I sneaked into third place with 10lb 8oz of roach and rudd, pipping Stuart Alford by an ounce! Bruce 'whipped' us all with 14lb 2oz and Justin was second with 11lb 1oz.
I was looking forward to the Bank Holiday weekend and a pairs festival at Summerhayes, on the first day I finished second in my section on Sellicks with 8lb 13oz of skimmers and my partner Ray Wickham was second on Longs also with 8lb 13oz. So going into day two we had 4 points and were lying second in the silvers behind Nigel and Glynn Wickham who had a perfect 2 point score.
Day two arrived (and so did the rain!) and a good draw was essential and we didn't get it, Ray drew an out and out carp on Sellicks and when it was my turn to draw, peg 39 was still in the bucket and I hate that peg with a passion and of course I drew it! I really struggled for 5lb 6oz which gave me 5 points and a blow out. Ray did a bit better finishing third in his section with 6lb 6oz to give us 12 points in total. We ended up just missing out as 11 points was last in the money but the draw had beaten us today and I went home wet and disappointed.
My last match of the month was at Dillington and I struggled again if I'm honest, I kept swapping between a depth rig and a shallow rig without really catching well on either and ended up with 8lb 10oz and a section win. I lost too many fish and missed loads of bites which was costly as Bruce was second with 9lb 4oz, Fieldy won by a mile with over 300 fish for 17lb 11oz on his favoured whip approach.
Highlights – a decent first day in the two day pairs festival
Lowlights – drawing peg 39 on day two!
September 2014

I phoned Pete at Summerhayes to book in for the first match of the month and he said the match was on Sellicks and possibly Lily as well depending on numbers, when I got to the venue the number of cars told me we'd be on both lakes. I just can't get on with Lily and normally draw it if it's being used, thankfully I managed to pull out peg 21 on Sellicks which is also a decent silvers peg (although not as good as peg 3 where Glynn Wickham drew!). I caught skimmers (and a lovely crucian carp around a pound) quite well until the last hour when I could only catch carp. My 13lb 2oz of silvers was enough for second (behind Glynn yet again!) and I picked up £25 to get the month up and running.
The last Summer League match at Dillington saw me draw peg 24 but once again I've missed loads of bites fishing shallow and at times I was only hitting one in ten! I ended up with 88 fish for 9lb 10oz which was enough for third place and £22. Bruce Hunt won with 16lb 4oz and Fieldy was second with 11lb 13oz and won the league and Bruce pipped Rob Cox to grab second place.
My final match of the month was on Longs at Summerhayes and I drew peg 12 which is one of the better silvers pegs, it's not as good as peg 32 though and guess who had drawn that?, yep, Glynn Wickham of course! I also had Ray Wickham next door on peg 11 and we had a right peg to peg battle. I caught well until the last hour and Ray had a couple of big skimmers late and I thought he'd beaten me but I just edged it with 16lb 10oz to his 15lb 12oz. People were saying Glynn had 20lb plus but it was a lot closer than that and he only just pipped me with 17lb 3oz but he still took yet another pound off me!
Highlights – an envelope in all three matches
Lowlights – Glynn beating me again (twice!)
October 2014
I was really looking forward to getting back on the river but I drew at Redbridge and deep down thought it might be too early for it and I was right, my two roach, one gudgeon plus five minnows gave me a grand total of 7oz!
The second match saw me at Isle Brewers on peg 122 and I had a bite every chuck but mostly from small fish with odd better roach and dace to weigh 4lb 4oz to sneak into third place and pick up £20. I also secured a precious section win for the league. Langport invader Baz Morgan won the match with 11lb 10oz from peg 17, picking up the golden peg money and a pound off me along the way.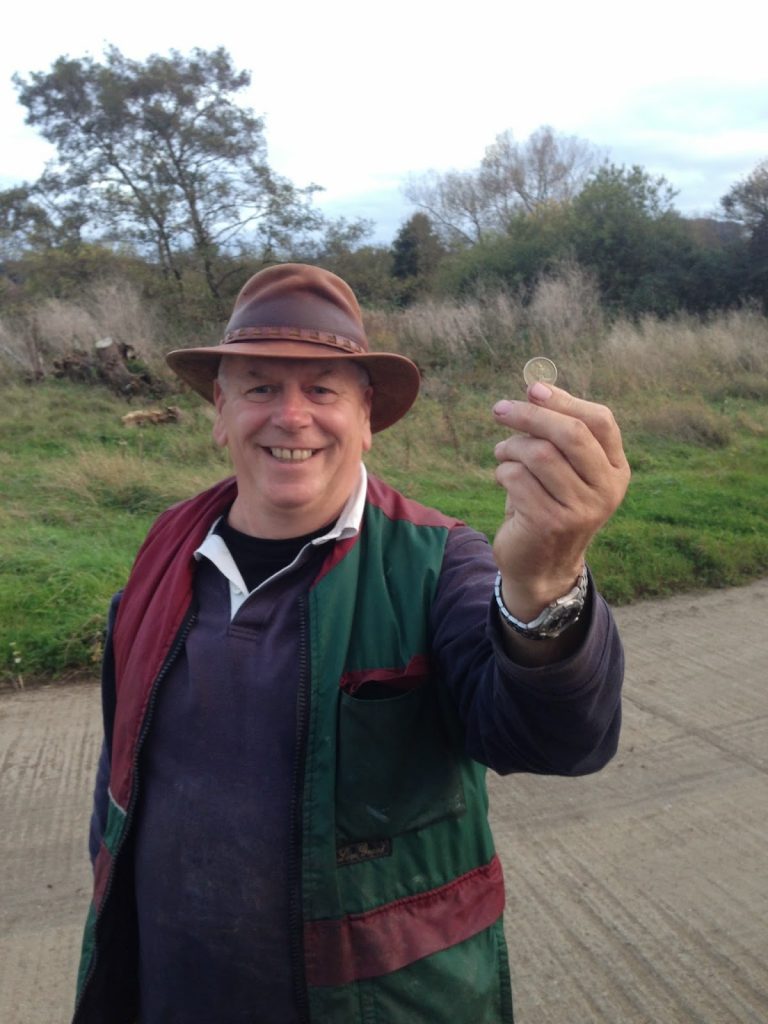 Baz had a profitable day
Highlights – third place (and a section win) in the second V.E.S. match
Lowlights – a disastrous first match!
November 2014
In round three of the V.E.S. league I drew peg 128 which is one of the best pegs on the river, it was up and coloured and I thought I would be in for a good day but I just couldn't get the fish lined up and had to chase them around to end with 3lb 12oz which put me fourth in my five peg section – not good! Hurf won his first ever match with 7lb 4oz from peg 120, well done mate.
After heavy rain we were out the pond for round four, I had a fairly enjoyable day catching 6lb 13oz for a section win and I did win my pounds back from Baz and Hurf. The whip boys dominated with Martin winning with 11lb 10oz followed by Bruce and Fieldy.
Highlights – drawing peg 128
Lowlights – cocking up peg 128!
December 2014

I drew peg 115 at Redbridge in the Xmas Fayre and was expecting it to be hard, I had four bites in four chucks, losing a good fish before landing two chub for 4lb (one weighed 3lb 6oz) and then never had another indication. Tony Newman won from peg 109 with four chub for 11lb 13oz and he lost two, Rob Cox was second with 6lb 12oz from 128 and Neil Dring third with 5lb 7oz from 129 so the good fish I lost cost me.
My first match at Summerhayes for a while saw me struggle for 3lb 6oz of silvers but as only 4lb 6oz was needed for second and 5lb for first and I lost a good skimmer I wasn't far away.
My final match of the year was at Summerhayes on New Year's Eve and on arriving, most of Longs was frozen which didn't bode well, with 21 fishing Pete decided to have two matches split between Longs and Sellicks. I fancied Sellicks but wasn't too upset when I drew peg 34 on Longs, a great peg. I had a steady day catching 13 carp and a few roach on dobbed punched bread for 31lb 3oz and top weight on the day. The icing on the cake was when my 6oz of roach doubled Brendon's silvers weight and I took yet another pound off him.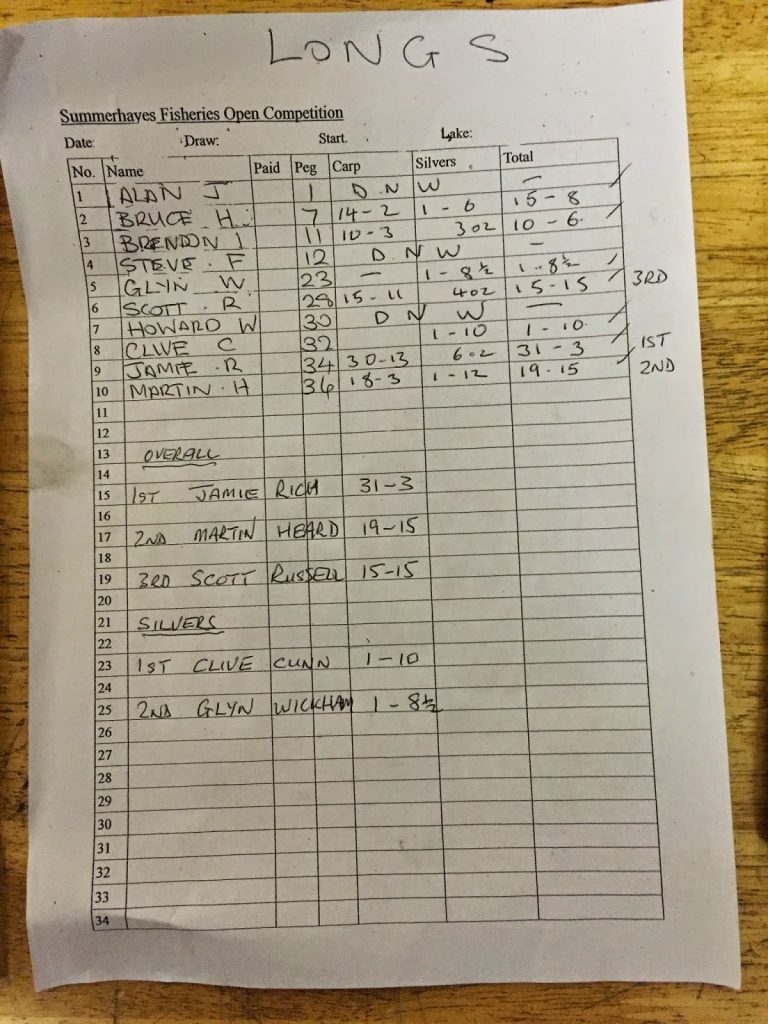 Highlights – winning at Summerhayes on the last day of 2014
Lowlights – lost fish costing me in the first two matches
Summary

After a dodgy start to the year when I snapped my pole things improved rapidly and I was winning matches all over the place including my first win on Sellicks and only my second ever golden peg win with a nice net of roach at Dillington. I also managed to win the V.E.S. Precision league after many years of trying and enjoyed some fantastic roach fishing out the pond along the way. For good measure I also won the Royal Oak league and had my best month ever winnings wise. For the first nine months I was on track to have my best year ever but things tailed off towards the end of the year although I easily surpassed last years total.
A great day with Russell Hilton on the top end of the Taunton and Bridgwater canal saw me set two new pb's with pike of 8lb 5oz and perch of 2lb 6oz. I headed to Gillhams in May and added a third pb with a 10lb pacu and also equalled my biggest ever fish with a 260lb arapaima, another great trip.
I've got lots planned for next year already with an assault on the tench in Cheddar reservoir pencilled in with Russell Hilton and I haven't forgotten that flounder or those pesky mullet either. I'm also hoping to get back to Thailand and Gillhams but also a couple of other venues as well. Of course I will still be bringing you match reports, the latest tackle reviews and some great interviews too.
Matches won – 9
Silvers wins – 1
Golden peg wins – 1
Winnings – £1281
Matches fished – 47
Number of pick ups – 30
Success rate – 63%
New venue pb match weights
Dillington – 22lb 8oz
Summerhayes – 58lb 12oz
Emerald Pool – 44lb 10oz
New pb's
Perch – 2lb 6oz – Taunton and Bridgwater Canal
Pike – 8lb 5oz – Taunton and Bridgwater Canal
Pacu – 10lb – Gillhams