I was hoping my first match of the year would be on the river but heavy rain yesterday scuppered that, I got to the Oak for the draw and there was a disappointing turnout and Rob is on about not running a league next year which will be a real shame. He said today we'd be either out the pond or down the canal, I really fancied the latter but after the flip of a coin, we were headed to the pond for a days fishing. With a pleasure angler in peg 17, Rob pegged the far side with us all in a row, I pulled out peg 7 which put me in the middle with Fieldy on one side and Baz Morgan on the other.
After getting my box level, I mixed up some of the excellent Bait Tech Pro Nat Dark before getting the rest of my gear ready. Baz had a tree above him to the left and was already predicting it would be a pain but still asked if I wanted a side bet and I also had one with Steve P in peg 4. I set up a 0.5 gram Drennan Roach float with a size 18 B611 hook to 0.08mm bottom to fish at 10 metres, the pond was fairly coloured and I hoped some quality roach would show today. My other rig was a Preston Chianti with spread shot to fish shallow but I wasn't expecting this rig to get a lot of use today.
Graham next door was going to fish short with liquidised bread and punch after doing well in pleasure sessions so it would be interesting to see how he got on, Justin on the end peg also had a whip set up and Baz had a whip set up with a couple of sections added and he also set up his Drennan Acolyte pole which looks a nice bit of kit. Rob tooted his whistle to get us under way and I cupped in two balls of groundbait at 10 metres before starting with single red maggot on the hook. First put in the float sailed away and I swung in a small roach and next chuck I had another so I slipped on a caster to see if I could catch quality.
I missed several bites before catching a roach of the same stamp as the maggot fish so I tried double maggot and had a lovely rudd of 8oz or so and then had a decent roach before losing another when one of the maggots folded over the point of the hook. It slowed up a little bit then but I wasn't too worried as nobody was bagging yet and the two whip/short pole boys to my left were struggling, in fact Fieldy only had three of four fish! After an hour I had nineteen fish but had only netted a couple and was hoping the caster would come good later.
Baz went out to his 13 metre long pole line and had a couple of better roach quite quickly before losing a good roach and his rig ended up in the tree, after much swearing he lost that rig and had to get another one out and spent a while getting it right but they're never quite the same are they? Fieldy had added another section and was now catching small fish really well and Justin was starting to motor as well. I kept trying caster but was missing loads of bites and I still couldn't catch those bigger roach, I added twenty five fish in the second hour but I reckoned there now wasn't much between Justin, Fieldy, me and Baz.
Then I looked up and a fair bit of elastic was coming out of Baz's pole tip as he played a decent skimmer around the 12oz-1lb mark but just as he was about to net it, the hook pulled with this rig ending up in the tree as well. This triggered a severe bout of Tourette's and Baz wasn't having a good day, of course we didn't laugh much! After sorting himself out again he hooked another decent skimbob and safely netted this one and maybe he might have the last laugh yet.
I tried the shallow rig and had a couple of small fish but missed a lot of bites so went back to the deeper rig but despite getting a bite a chuck on caster, it was mainly from roach around an ounce apiece and I was going nowhere fast. Justin and Fieldy were now catching really well and to stand any chance I needed to catch a better stamp of roach in the last couple of hours. Baz was still having a bit of a nightmare, he could catch really well on the whip but kept going over his longer line in search of more skimmers.
I had another quick go with the shallow rig and had a few fish but the pond was flat calm which wasn't helping my cause much. Baz has then hooked a lump on his elasticated whip which turned out to be a pound plus perch and I was sure that had put him ahead of me. Typically as the light started to fade towards the end of the match some better roach started showing and I wasn't missing many bites but it looked to be the same for the others as well and I saw Fieldy and Justin both net some good fish.
I ended up with 118 fish which at an ounce apiece would give me 7lb but I hoped I had nearer 10lb, Fieldy did his usual 'I've only got tiny fish' and was admitting to 7 or 8lb but as he had 161 fish I knew that would give him double figures at least. I thought Justin would win as he had caught all day and then it would be Fieldy and Baz for second and third.
Rob arrived with the scales and we started with Justin who had a lovely net of fish for 13lb 6oz which included some lovely roach, then Fieldy's 'tiny fish' weighed 11lb 7oz and I knew I didn't have that. My weight was called at 9lb 13oz and I was a little disappointed with that. We got to Baz who said he had nowhere near that but when he pulled his net out it was obviously going to be close and I was relieved when the needle stopped just short at 9lb 8oz. If Baz had fished the whip all day I think he would have pushed Justin's weight but then again he's probably lost/bumped enough to have been close. Rob had 5lb 9oz and Steve had struggled a bit for 2lb 2oz so I actually sneaked third place and got my money back plus nuggets off Steve and Baz.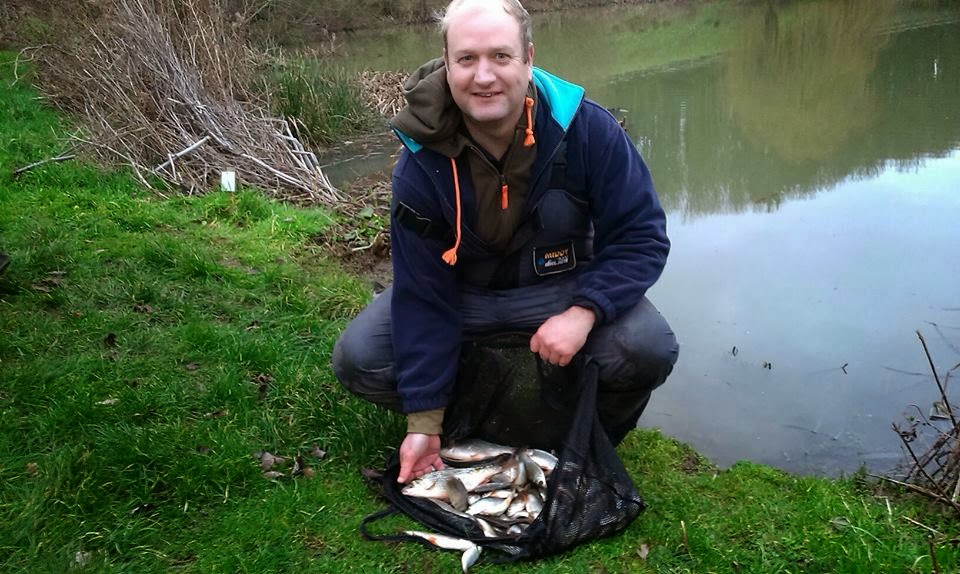 Justin has 13lb 6oz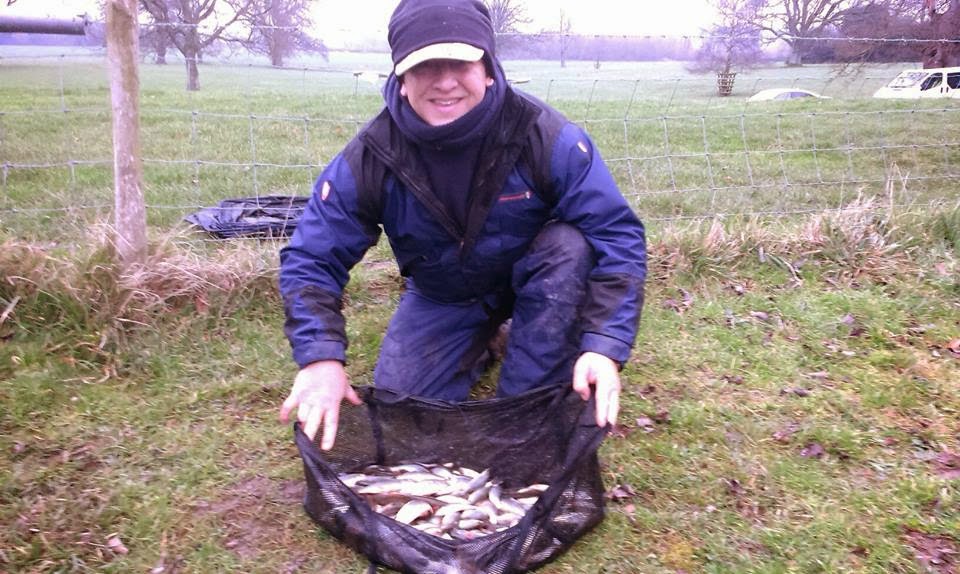 Fieldy only had 'tiny fish' for his 11lb 7oz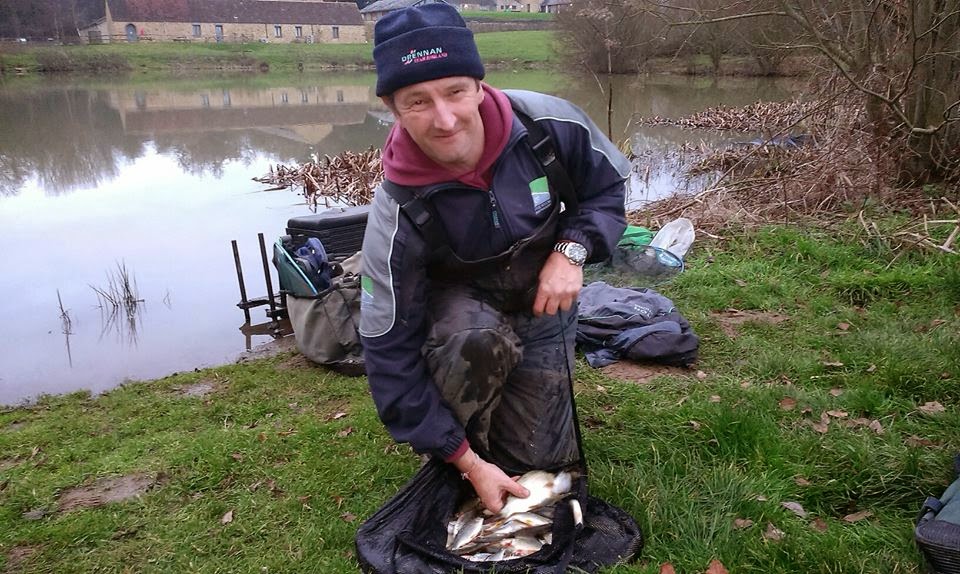 I just sneaked third with 9lb 13oz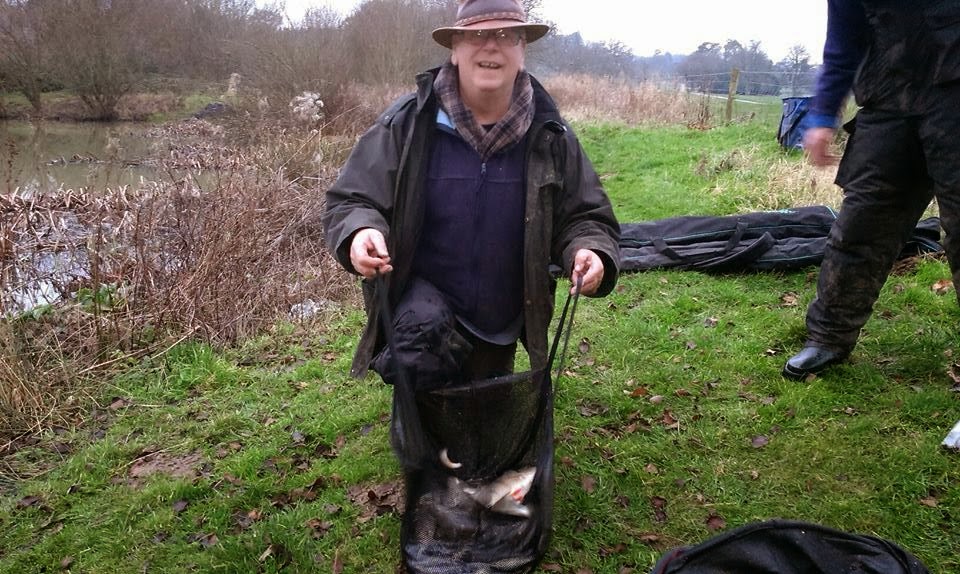 Baz had 9lb 8oz (and a bad case of Tourettes!)
*Many thanks to Graham Field for the photos
I do enjoy fishing Dillington and there can't be that many non-carp venues where you get bites all day and need double figures to frame in January! But saying that I do also find it incredibly frustrating, at the moment the whip is still the boss method and taking the lion's share of the winnings but it's just not for me. I'm not knocking the guys that do it as they're very good at it and it wins a lot of matches. You can win with quality fish as Ashley proved when he had over 21lb on caster shallow and this time last year I had bags of netter roach and rudd to just shy of 18lb but I still think it needs thinning out a little bit.
1 – Justin Charles (Ilminster) – 13lb 6oz
2 – Graham Field (Taunton) – 11lb 7oz
3 – Jamie Rich (Against Men and Fish) – 9lb 13oz
League wise, Robin Cox leads with seven points followed by Justin on eight and Steve on eleven. I can't go without saying what a shame it will be if the Royal Oak league goes under, I can understand how frustrating it must be for Rob when some weeks only four people turn up but I don't know what the club can do, people just don't want to fish rivers or natural venues. At this rate the Isle will only have a handful of matches on it and I can see our water going the same way as Horlicks which is a crying shame.
Next up – River Isle (hopefully)
What's new – Loads of page updates
Check Out – My review of 2014 (below)