We had more rain Friday night and Saturday morning and Rob made the decision to switch it to the pond which I didn't mind because you are guaranteed plenty of bites. I got to the draw and along with the regulars, Tackleuk's Scotty Russell was fishing today as well. After a sausage sarnie and a cup of coffee it was time for the draw, I really fancied a peg on the near side but of course drew peg 5 on the field side. Rob was on my right in peg 3 and Hurf was my next door neighbour on my left (and wearing a rather fetching pink hoodie!). We arranged the usual pound side bet and Steve P, Heardy and Baz all wanted one as well and this could be an expensive day!
The pond was fairly calm at our end although the lads on the bottom bank were in for a blustery day. I got my box level before mixing up half a bag of Pro Nat Dark and then set my rigs up for today, a 0.5 gram Drennan Roach with 0.10mm bottom and size 18 Middy 63-13, a pattern I was trying for the first time today and a Preston Chianti for fishing shallow with the same hook and hooklength. I was just about ready when Rob blew for the start and cupped in two balls of groundbait at 10 metres. First chuck with double red maggot on the hook, the float buried and roach number one was deposited in my keepnet, the float kept going under and a procession of roach joined their colleague in temporary captivity. I was getting mainly small fish and switched to caster to try to improve the stamp of fish but it didn't really help. I wasn't too worried at this early stage as I was doing better than the people I could see and as we approached the end of the first hour, Heardy shouted up asking how mainly I had, I told him I had 26 fish and he replied he had 18.
I finished the first sixty minutes with 29 fish and although I was catching well, bites were slowing up so I briefly tried the shallow rig but this wasn't the answer and I only had a few small roach on it. I got to 37 fish and Rob said he'd had 46 but it did look like he was catching a lot of small fish. I only added 19 fish to put me on 48 after two hours which was okay but I was a little worried about the lack of quality. After the third hour I was up to 66 fish but probably only had around 4lb and needed the better roach to put in an appearance soon.
The downward trend continued in hour four where I only added another 14 fish although I did bump quite a few and had several come off as I was shipping back. Another quick go with the shallow rig was a waste of time and after a good start I was now struggling, Rob was still catching well on the whip and had netted a few fish as well, but down the windy end it looked hard work and Scotty had even gone for a walk! Going into the last part of the match I was still getting odd roach and had a couple of better fish which I netted but just couldn't get them lined up. Hurf netted a nice skimmer but I hadn't seen him catch much to go with it.
Rob blew to signal the end of the match and I'd ended up with 102 fish, Heardy said he'd finished with 125 fish but they were all tiny (we hear that from Fieldy every week and now Heardy's at it too!). I packed up and went to get the scales from my car, before starting the weigh in at Baz, he said he had 10lb but when he pulled his net out he had three or four decent skimmers, a good perch plus some lovely roach for 12lb 3oz and then said he was a little disappointed as he thought he had more! So I was a pound down already with three side bets to go, Rob was next and he was at it as well, saying he only had tiny fish, but actually weighed 9lb 3oz. My fish weighed 7lb 12oz which was less than I thought, Hurf had 3lb 10oz and the side bet score was 1-1 with two to go.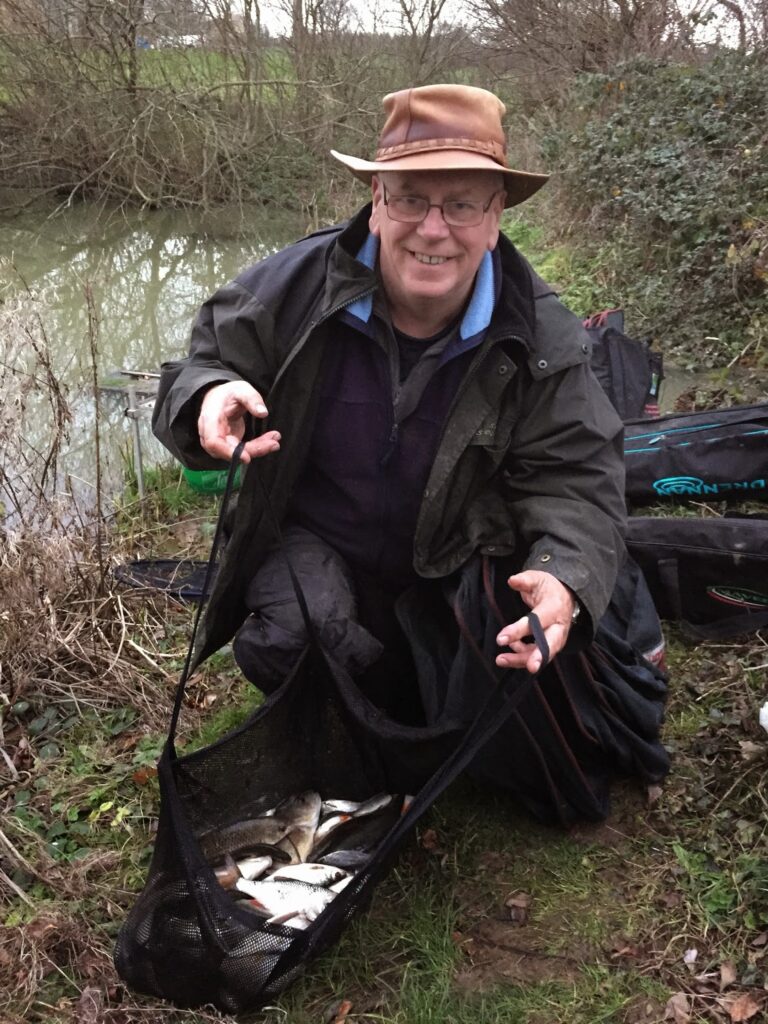 Baz had some quality fish in his 12lb 3oz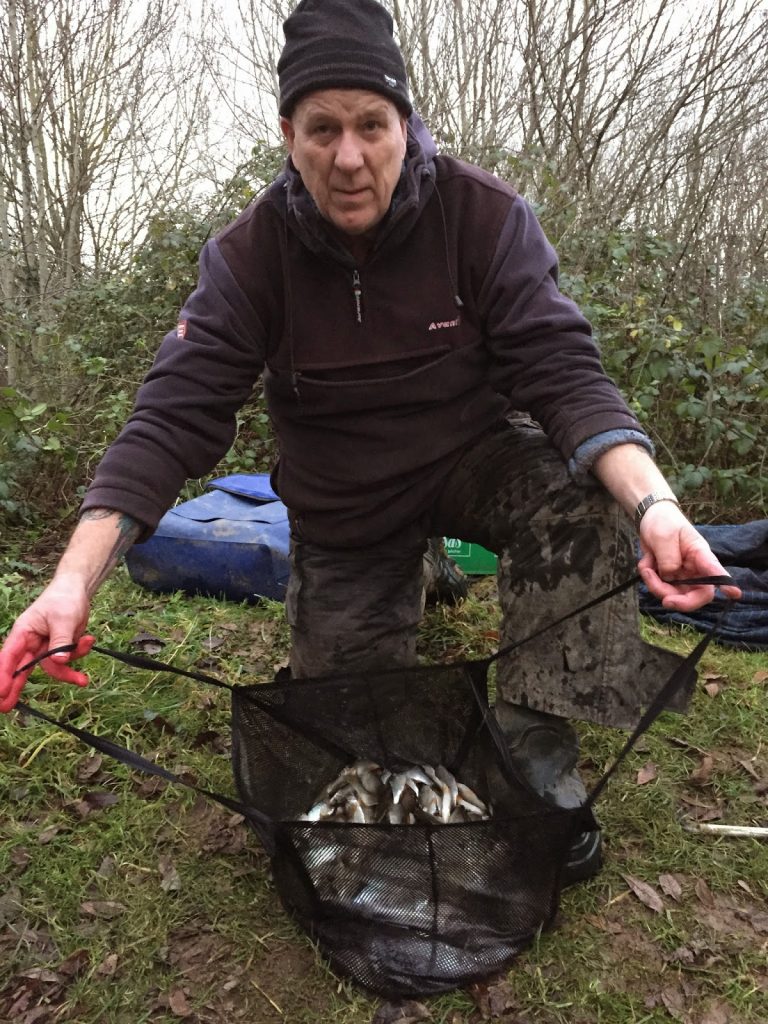 Rob had a lot of fish for 9lb 3oz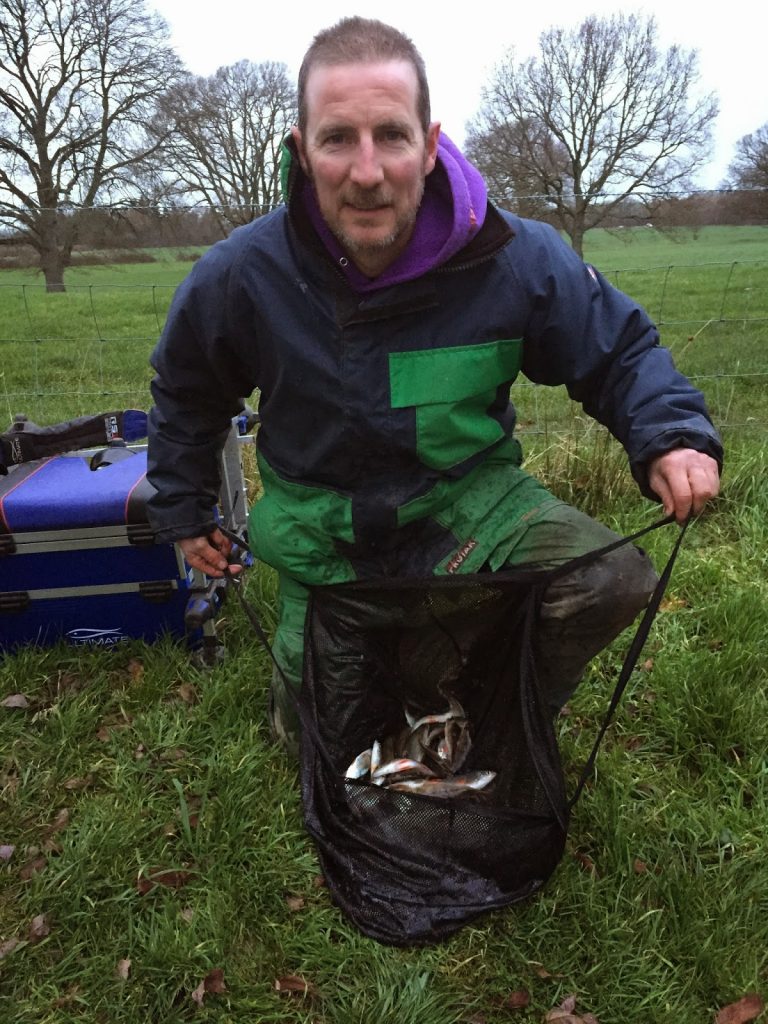 Hurf had 3lb 10oz and was wearing a lovely pink hoodie!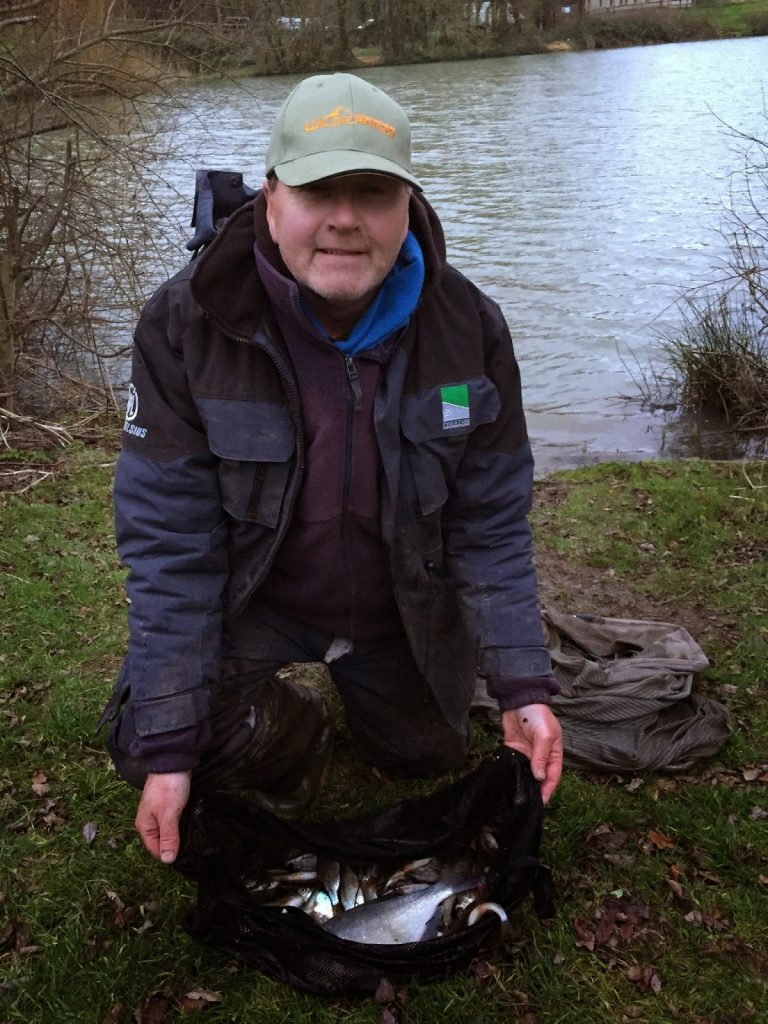 Heardy's net of small fish (and skimmer!)
Justin was next and it looked like he'd been catching all day but had a lot of small fish for 6lb 3oz, last in the section was Martin 'Tiny Fish' Heard and he did have a lot of small fish but had neglected to mention the 12oz-1lb skimmer which made all the difference as he weighed 8lb 7oz, took a nugget off me and pushed me down to fourth in the section, and any chance of making the top three in the league is slipping away. Back at the results and when the anglers in the other section got back, Bruce Hunt finished second overall with 11lb 10oz from peg 23 opposite Baz and he had a couple of nice skimmers as well, Jake Woodard had 10lb 1oz from peg 19 to finish third and Fieldy won that section with 7lb 8oz of tiny fish from peg 14. Big Frank had 6lb 10oz from 19, Scotty had fished for big fish for the last two hours but didn't get one and weighed a level 5lb and last but not least was Steve P who had a nice 2lb chub but not a lot to go with it as he weighed 3lb 4oz so at least I finished evens on the side bet front.
Hurf's day got even better when he loaded his van but forgot his carryall and then promptly drove over it and then headed on up the road with his landing net attached to his rear bumper! We managed to flag him down but not before Bruce ran over his carryall as well! Luckily there wasn't too much damage done. I must admit I didn't enjoy today much either and I hope we're on the river for the next couple. It was encouraging to see quite a few good skimmers featuring in catches but there's just too many small fish for my liking. It's a funny venue and evolving all the time but at the same time it's very frustrating, I've enjoyed several sustained runs of success and just when you think you have it sussed, it turns round and kicks you in the balls but that's fishing I suppose.
1 – Baz Morgan (Baz Angling) – 12lb 3oz
2 – Bruce Hunt (Tiverton) – 11lb 10oz
3 – Jake Woodard (Ilminster) – 10lb 1oz
Sections
A – Robin Cox (Ilminster) – 9lb 3oz
B – Graham Field (Taunton) – 7lb 8oz
After five matches and dropping the worst result, Heardy still leads with six points followed by Fieldy with eight and Frank and Rob on ten, I'm on eleven and Bruce has twelve so apart from Heardy, it's quite tight.
Next up – River Isle (no more rain please!!!)
What's new – Loads of page updates
Check Out – My last match (below)