250,000
hits, yes you read that right, quarter of a million (if only I had a £1 for each page view!), a figure that I could only dream about when I started blogging way back in 2006 (where did those nine years go?). As I've said before I didn't start with any grand master plan in mind, I just loved fishing and really enjoyed writing and this blog was just a journal detailing the matches I fished. Through the blog I've met (and fished with) some great people, I've written for fishing magazines and other angling websites and even appeared in Match Fishing magazine! An unexpected (but very welcome) perk has been various companies sending me stuff to review and I try to be as honest and thorough as I can be.
More and more anglers are posting their match results on Facebook which is great and I love seeing how everybody else has got on but it is very noticeable and it makes me laugh that the majority only ever post something when they've done well. One noticeable exception is Des Shipp and I find it refreshing that he tells the world when he gets it wrong (it doesn't happen very often mind!). I've always been quite proud that however I've done, you get to read about it, warts and all! Sometimes it's tough to write about my latest match when it's been a disaster or I've got things badly wrong or lost that match winning fish at the net or even, God forbid, lost a pound to the Torquay Tart! (but then even a blind squirrel finds a nut occasionally!).
It can be a real labour of love sometimes, especially when it's gone 12:00 on a Sunday night and I still haven't finished writing up that days match and I've got work in a few hours but then somebody will message me asking where that days blog is and it makes it all worthwhile. The feedback I get about the blog is all good and people can be so nice. It did make me smile when somebody recently told me that this blog is their Monday morning reading when they are sat on the toilet (you know who you are!). I love the fact that people check out the blog to see if they got a mention and sometimes anglers will contact me to advertise a meeting, match dates or see if I'll cover a junior match which I'm more than happy to do if I can.
I realise this year is only just over three months old but it's been eventful so far, I didn't manage to defend my V.E.S. Precision title and finished a disappointing fourth but on the plus side, the river fished it's head off and I won one match with over 21lb of clonking great roach and in the last league match I had 11lb 7oz and was only fifth in my seven peg section! Dillington continues to fish really well and I won the lake in Barney's Pairs Open with 14lb 8oz of quality roach and rudd. I still love fishing Summerhayes and so far this year I've framed on a few occasions, topped my best silvers weight and won my first two day event with Ray Wickham as my partner.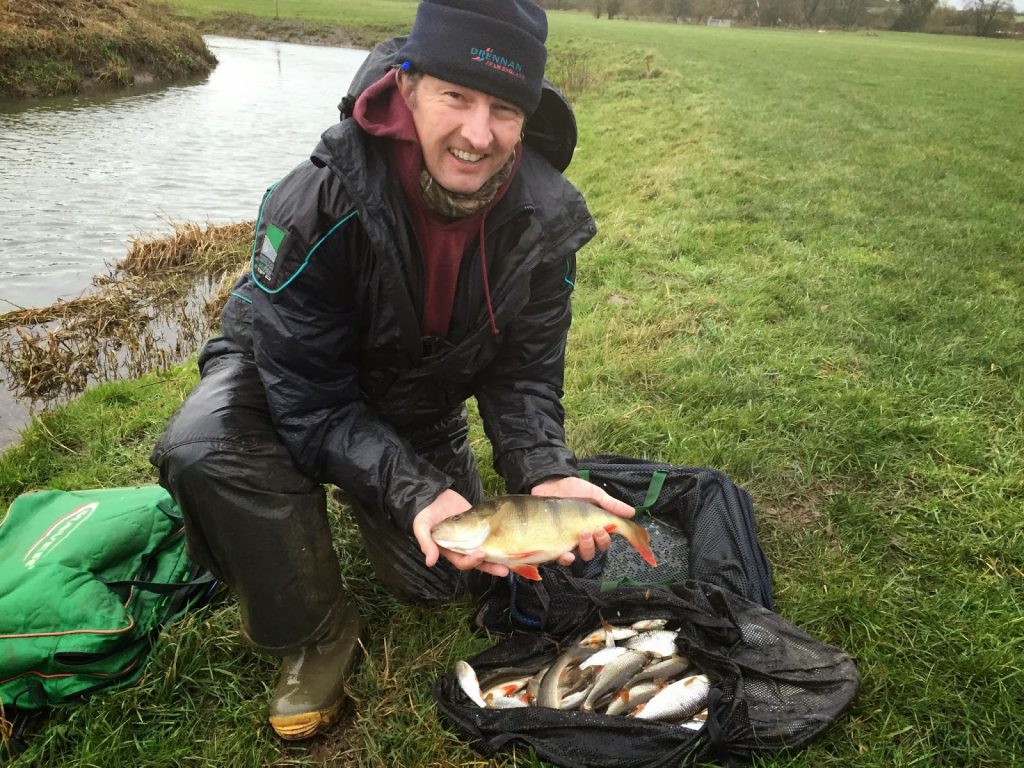 I had 11lb 7oz in the last league match which included a lovely 2lb perch
There's lots to look forward to on the horizon, on Saturday there's the Gary Bull Fundraiser at Summerhayes with over 60 anglers fishing including Des Shipp, the Perry St league starts in a couple of weeks and I'm itching to get back down to Seaton and have another go at those mullet. There will also hopefully be some more trips with Russell Hilton and my annual trip to Thailand.
So a massive thank you to everybody that has read the blog, taken the time to contact me with good feedback or had a chat at a match. Thanks also to fellow bloggers who have helped to spread the word and I make no apologies for once again thanking the lovely Hayley at Bait Tech for all her help and support. Please keep reading and don't forget to contact me with feedback, any photos you'd like to see on the blog, in fact anything fishy. Next stop, half a million hits!