I phoned Pete in the week to put my name down and was hoping the match would be on Sellicks but no such luck and we would be on Longs again. If you're a regular reader of this blog, you'll know I've been struggling on Longs and I just can't seem to put a decent net of silvers together. In my last couple of matches I've drawn on the road side and despite being really good pegs for silvers, I've not done very well at all and fancied a change of scenery today. If I could have picked a peg today, I would probably have gone for either 11 or 12 as they've been producing some skimmers.
The draw was announced and Glynn pulled out peg 34 and I thought he'd do a better job on it than I did the other week, Ray ended up on 37 which can be good for carp but hasn't got much silvers form. I stuck my hand in the bucket and there were only a couple of balls left, I opened my hand and peg 10 was staring back at me, close, but no cigar! I still quite fancied it and things got better when Pete said peg 11 wasn't in. After trying meat rather unsuccessfully in my last match, I decided to stick with what I know today, 4mm Bait-Tech expanders over micros and groundbait, changing to a banded 6mm pellet if small fish became a problem.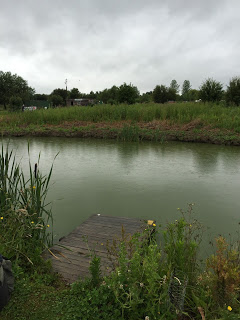 Peg 10 on Longs
Rigs were the usual 10 x 11 MW F1 Slim for two lines at 8.5 metres and another at 10 metres to the left and a 0.4 gram Malman Pencil for 5 metres. Adie signalled the start and I cupped in half a pot of micros on the right hand 8.5 metre line, the left hand 10 metre line and the 5 metre line. The middle 8.5 metre line got two balls of groundbait containing some micros. I started on the right hand line and had to wait a little while for my first bite which resulted in a 3oz skimbob, I missed a couple of bites before switching to the central line. I had a few more small skimmers and then a couple around the 6oz mark along with a little roach, so a steady first hour with around a pound and a quarter in the net.
From what I could see, nobody was catching that well, Gareth on peg 8 and Dan Squires on peg 6 were getting odd carp, fishing shallow to the island but the anglers opposite on the road side looked to be struggling at this early stage. Going into the second hour I've had a decent skimmer around a pound and a half and then shortly after another of 12oz, this was more like it! A couple more blades followed, all from the groundbait line, before bites slowed up, I cupped in a little more feed on both 8.5 metre lines before trying the 10 metre line for the first time but never had a bite there.
So after two hours I was on around 3-4lb which I was happy with as low double figures has been a good silvers weight recently. I had a small carp from the right hand line so came in on the 5 metre line for the first time where I'd been putting in small amounts of micros every time I shipped out. I had to wait ages for a bite and then missed it and then missed the next one too!, I was just about to go back on the longer lines when the float sailed away and a fair bit of blue hydro was pulled out on the strike and I was soon slipping the net under another decent skimmer. I had a couple more 2-3oz fish but I needed those bigger skimbobs if I was to do any good so I decided to try a banded 6mm.
I bumped a fish on the right hand 8.5 metre line before the next bite saw a good skimmer come flying out of the water, as I shipped back very gently I glanced back to make sure the pole was on the roller but when I looked back there seemed to be an awful lot of elastic out for a 12oz skimmer! I guess that the skimmer came off and the rig somehow became attached to a very angry foulhooked carp, thankfully the hook pulled out after a couple of minutes. I tried the other lines but after a steady start to the match, I was now struggling and a long way off my 10lb target.
My carp must have been getting lonely because it kept trying to jump out of my net, then on it's umpteenth escape bid it hit the rim of the keepnet and in almost comedy slow motion, pivoted over and gained its freedom, my carp net was now devoid of carp! I wasn't too bothered to be honest as I was never going to win any prizes for carp today.
I was getting quite a few indications at 5 metres but missed several before catching another decent skimmer, I then briefly hooked a fish which felt like either a tench or a crucian but the hook pulled out. I had a couple of small carp, including one hooked in the wing, and lost a couple of foulhookers as well. Then my next fish didn't feel like a carp and a beautiful 12oz golden tench popped up!, a few minutes later I've had a green one of a similar size and I was starting to put a few fish in the net as we got towards the end of the match.
My next two fish were carp which didn't help much and time was running out, with five minutes to go the float sailed away and a good fish was on, it shot off and I initially thought it was a carp but then it stopped and as I gently shipped back I could see it swirling near the surface but couldn't see what it was and will never know because the poxy hook pulled out! That was the last of the action for me and I ended up with 19 silvers (16 skimmers, 2 tench and a roach) plus 4 carp, I thought I had 6-7lb of silvers although I'd lost enough to be nearer 10lb.
Alvin was on peg 13 and as I was packing up, he asked how I'd got on, I told him and he said he'd had some good skimmers on meat so I was pretty sure he'd beaten me. As I loaded the car, the weigh in started with Ray Wickham in peg 37, he had nearly 25lb of carp but only 8oz of silvers, John D in peg 39 had 40lb 6oz of carp, Roger had struggled in peg 1 and then Richard in peg 4 had 22lb 4oz of carp. Dan had 4lb 5oz of silvers which included a goldfish and then added 39lb of carp (including a pretty Koi) to give him a total of 43lb 5oz and the lead.
Gareth was next and had 27lb 4oz of carp before we got to me, my four accidental carp weighed 6lb 8oz and then my silvers weighed 8lb 5oz which was a little more than I thought but I knew it wouldn't be enough. Jimmy in peg 12 had 20lb 4oz of carp and then Alvin had 27lb 7oz of carp and 12lb 12oz of silvers to push me down into second. I took the rest of my kit back to the car just as Glynn and Ray were heading off, Glynn paid me his pound (the first one I've had off him for a while) as he hadn't bothered weighing and had suffered a similar sort of day in 34 as I'd had a few weeks back.
Bill 'The Paste King' Hopping had done well catching 50lb from peg 19 and Rene in peg 21 had 38lb before the scales reached the other side, Mark Leahy just pipped me with 8lb 13oz of small fish from peg 28, Ashley Tomkins didn't weigh in peg 29, Roy Hughes had a few carp and 5lb 15oz of silvers and then Chris Boulton on peg 32 plonked 70lb 5oz of carp on the scales to go to the top of the leaderboard. So I'd managed to hang on to third in the silvers and picked up £16 which helped pay for the day.
Todays board
1 – Chris Boulton (Summerhayes) – 70lb 5oz
2 – Bill Hopping (Summerhayes) – 50lb
3 – Dan Squires (Summerhayes) – 43lb 5oz
4 – John D (Summerhayes) – 40lb 6oz
5 – Rene (Summerhayes) – 38lb
Silvers
1 – Alvin Jones (County Gardening) – 12lb 12oz
2 – Mark Leahy (Summerhayes) – 8lb 13oz
3 – Jamie Rich (Against Men and Fish) – 8lb 5oz
Next up – Perry St
What's new – Lots of page updates
Check Out – My latest ramblings (below)