The last match of the series arrived and we all knew where we'd be fishing today, I was on peg 2 with Blaker on peg 8 and although I had a two point advantage, I still felt he would be the slight favourite to take the title from that peg. We were two anglers short today and there were a couple of stand ins as well, one of these was the Torquay Tart who was fishing for Jamie P in peg 1 so any chance of a quiet day was out the window! He was wearing a pair of orange shades and said he'd just bought some orange trainers and was thinking of changing his rather nice black Rive box to the Mango version! Never right that boy!, it's bad enough you can hear him from miles away and now he wants to ensure we can see him too! I remember Jan Porter was the 'Man in Red' but now we get the 'Tango Twat!'.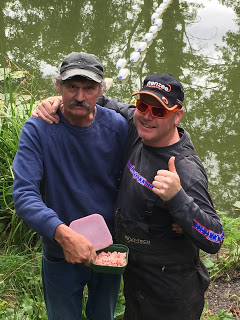 Butch with the Tango Tart
As I was setting my kit up, I was a little concerned that the pond was flat calm which wasn't ideal for shallow fishing and although there were a few fish cruising, I didn't think they'd hang about with a pole over their heads. I set up the usual three rigs, an inline dibber for up in the water, a Drennan 0.4 gram Carp Float for the five metre meat line and my little Trabucco float for fishing by the cormorant roost on the inside. The Tart had started moaning that he was sat on an ants nest which cheered me up no end!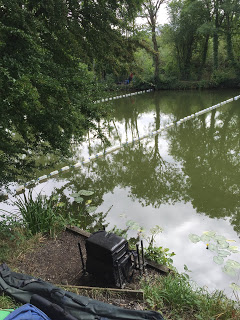 Peg 2
Les blew for the start and I fed some meat and 8mm pellets on the inside along with some meat at 5 metres before starting shallow with a 6mm hair rigged banded pellet at 11.5 metres. I was getting the odd small dip but I'm sure it was small fish and then Hainsey in peg 20 drew first blood with a small carp. I had a tree on my left which meant I couldn't really see what was happening apart from the Tart in peg 1, Hainsey, Mike Smith in 19, Bish in 17 and I could just about see what Picky was up to in peg 3, so when I heard reports that Blaker already had four carp I had to try something else so picked up the five metre rig. I had a couple of good bites which of course I missed and when Mike had a carp and then Picky, although it was far too early to panic just yet, things definitely weren't going to plan and things got worse when the Tart landed his first carp too.
I was still missing bites on the meat and then just as the first hour was drawing to a close I finally hit one and the result was a 2oz roach! I had another but I was going nowhere fast, Mike and Hainsey both landed their second carp and Picky had hooked a few more although I wasn't sure if he'd landed them or not. I was now fishing the inside line and missed another sail away bite when the Tart has latched into his second fish and he was full of it, 'Are you having curry sauce with your chips?', 'Do you want a battered sausage?', I was just starting to think of all the gloating texts that would be coming my way when my float shot under and I was finally into a carp and after a brief tussle, I netted one about 3lb and although I was still behind the Tart, it had quietened him down for the time being.
From what I could hear it sounded like the other end was fishing a lot better than ours, with nearly two hours gone, Bish hadn't got off the mark yet, Mike, Hainsey and the Tango Man all had two apiece and Picky had two or three. I then added my second carp to at least stay in touch with those around me before the Tart hooked another that snagged him in the lilies and despite his best efforts, it wasn't coming out. I was watching him fanny about when my pole got dragged round as an angry carp took off but after a few seconds the hook pulled out which I probably deserved for laughing at his misfortune.
We'd now reached the halfway point and I knew the league was slipping away, with no more bites on the inside I had another go shallow and missed what looked like a proper bite before hooking a carp that tore off and the bloody hook pulled out of that one too! Another go at five metres met with no response so it was back on the inside line and I've had two more carp quite quickly with one a decent fish of 5lb or so and I'd at least gone ahead of the Tart for now and thought I'd better ask him which chippie he'd be stopping off at on his way home!
Bish then landed a couple of fish in quick succession from his long line and the Tart hooked a carp that led him a merry dance through the lilies with his white hydro but he skilfully (cough, cough) managed to get it out and when Hainsey had a flying skimmer it felt like a few fish were feeding now. I added two more carp (and two roach) and started to think I might be able to put a few fish together but then typically I couldn't get a bite. Andy turned up for a chinwag and although there wasn't a lot happening in my peg, he was kept entertained when Hainsey hooked a carp on his light rig that decided it wanted to explore every inch of his peg plus most of the Tart's too!
As we headed into the last hour, a few more fish were being caught down our end (with the exception of me!), I decided to rest the inside for a bit and see if any bigger fish had settled on the five metre line where the odd bubble was coming up but I missed a couple of bites before dropping off a roach and that was enough of that. Bish landed another fish and then Mike started catching from his inside line and when Picky slipped the net under a nice tench, it was starting to look like I might be joining the Tart for fish, chips and mushy peas!
With only 30 mins left I was back on the inside when I hooked a fish that tore off only for the hook to pull out of the third fish of the day and I had a horrible feeling that I really needed that fish. I did land the next two to put me on eight and there were still a few minutes left, then nearly right on time I missed a bite and my over enthusiastic strike saw the rig snagged up, I managed to get it back and untangle it but as soon as I lowered the rig back in, Les blew his whistle to end the match and the league.
I was pretty sure my eight carp would beat most people around me but I knew I wouldn't be able to compete with the other end and this was confirmed when Les came down and said that Blaker had caught well along with Exeter Mike in peg 9, Shane in 10 and Bushy in 11, and my only hope now was if the latter three had beaten Blaker and I finished just behind him. I was still packing up when the scales arrived to weigh in the Tart and he was moaning about all the ant bites he had received, so it's a good job he's sponsored by Savlon and when he weighed 15lb 10oz, I said he could probably get sponsored by Pukka Pies as well and should enquire at the chippie on the way home!
My eight carp (and four roach) went 30lb 12oz and when Picky weighed 10lb I added his pound to the beautiful golden nugget that the Tart had just given me. As the scales carried on up the bank, Chilly weighed 17lb 12oz, Oz had 20lb 14oz and Les 16lb 12oz so at least I'd won my six peg section (due to being two anglers short Les was only paying the top three and three sections today). I went back to finish packing up and it wasn't long before the other anglers started heading back after being weighed in. I asked Shane how he'd got on and he said he'd had a level 50lb from peg 10 and Blaker had just pipped him by 4oz to win on the day and as both Exeter Mike and Bushy had beaten me, Blaker would also win the league.
I must admit to feeling quite deflated as I would have loved to have won the league but I don't think I could have done anymore today, I had the best weight at our end of the pond (pegs 1-7 and 16-20) with four of the five top weights coming from pegs 8, 9, 10 and 11. At the results I won £40 for the section and £90 for second in the league so a nice little pick up and I'd enjoyed a cracking series with an envelope every match. A massive congratulations must go to Paul Blake who fully deserved to be the Perry St League Champion, he won four of the rounds and had the two best weights with 93lb 2oz and 78lb 10oz – well done mate.
The club would also like to say a huge thanks to Les Braunton for running another excellent league as it really is a difficult task and match organisers don't get the credit they deserve.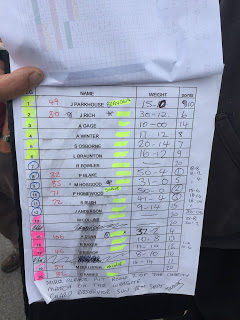 Board for the last match
1 – Paul Blake (Chard) – 50lb 4oz
2 – Shane Jeffery (Chard) – 50lb
3 – Steve Bush (Chard) – 41lb 4oz
Sections
A – Jamie Rich (Against Men and Fish) – 30lb 12oz
B – Mike Hosgood (Nr Exeter) – 31lb
C – Alan Dunn (Chard) – 32lb 2oz
2015 Perry St League Champion – Paul Blake
Final League Positions
1 – Paul Blake – 33 pts
2 – Jamie Rich – 36 pts
3 – Steve Bishop – 58 pts
4 – Jamie Parkhouse – 59 pts
5 – Mark Hollister – 70 pts
6 – Paul Homewood – 73 pts
In other news, I was supposed to be fishing another charity match at Summerhayes next Saturday but due to quite a few people pulling out, it's had to be cancelled which is a real shame and reiterates my comment above about what a thankless task it is to be a match organiser!
Next up – Dillington
What's new – Lots of page updates and look out for another interview coming soon
Check Out – My last match (below)